SOAR – Student Orientation, Advising and Registration
SOAR introduces you and your family to academics and student life at Sheridan College. You will get all your questions answered and learn about key campus programs, services, and resources that will make your overall college experience better and help you succeed. We will also guide you through initial academic advising, course selection, and class registration. SOAR is currently only for Sheridan College students. Click here if you are a Gillette College student.
This year, SOAR looks a little different due to the COVID-19 pandemic. If you have already signed up for a SOAR date, one of our advisors will contact you soon to set up a video conferencing appointment. Phone appointments are an option for those without internet access at home. If you haven't signed up for a SOAR date yet, you can request an appointment by calling 307-675-0100 or going to www.sheridan.edu/appointment You will need to set up an account using your Sheridan.edu email address.
During your SOAR appointment, your advisor will help you:
Set up your academic plan based on your program
Register for fall 2020 classes
Get enrolled in orientation
---
Orientation
Research shows students who attend and complete orientation are more likely graduate. This year, there are two components to orientation at Sheridan College:
Online: When you register for classes with your advisor, you will be enrolled in an HMDV 1005 course. This course will have a Canvas (our learning management system) site that will have online activities for you to complete.
In Person: Friday, August 21 at 2 p.m. for all new students to Sheridan College.
Please look for more information throughout the summer.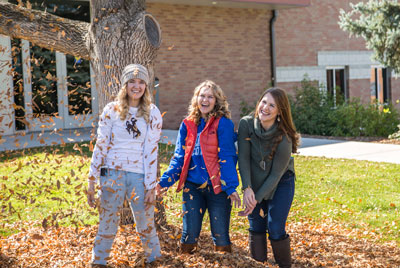 Connect With Us!
We are here to help make your transition to Sheridan College as smooth as possible. We will be continuing to communicate with you through:
Testing Information for SOAR
Most programs require English and/or math classes.  There are 3 ways to place into college level or developmental level courses:
Official ACT scores.  These are valid within 3 years of high school graduation.  Scores on an official high school transcript are acceptable.

English 1-17 = developmental English
English 18-36 = English I
Math 1-20 = developmental math Pre-algebra
Math 21-22 = developmental math Intermediate Algebra or college level Problem Solving or Applied Math
Math 23-24 = Pre-calculus Algebra
Math 25-26 = Pre-calculus Trigonometry or Statistics
Math 27-36 = Calculus I
Accuplacer placement exam for reading and math.  Valid for 3 years from test date.  Each test is $10.

Reading 200-254 = developmental English
Reading 255-300 = English 1
Arithmetic 200-259 = developmental pre-algebra
Arithmetic 260-300 or Advanced Algebraic Functions (AAF) 200-239 = developmental intermediate Algebra, Problem Solving or Applied Math
Advanced Algebraic Functions (AAF) 240-259 = Pre-calculus Algebra
Advanced Algebraic Functions (AAF) 260-300 = Pre-calculus Trigonometry, Statistics, Business Calculus I, or Business Finite Mathematics
Completed college English or math class with a grade of 'C' or higher as listed on official college transcripts.
If you do not place into college level English or math, we highly recommend you come to SOAR at 8:00 to take the Accuplacer placement tests.  A $10 test can save a lot of time and tuition!
Contact Enrollment Services at 307-675-0100 if you have any questions on testing.