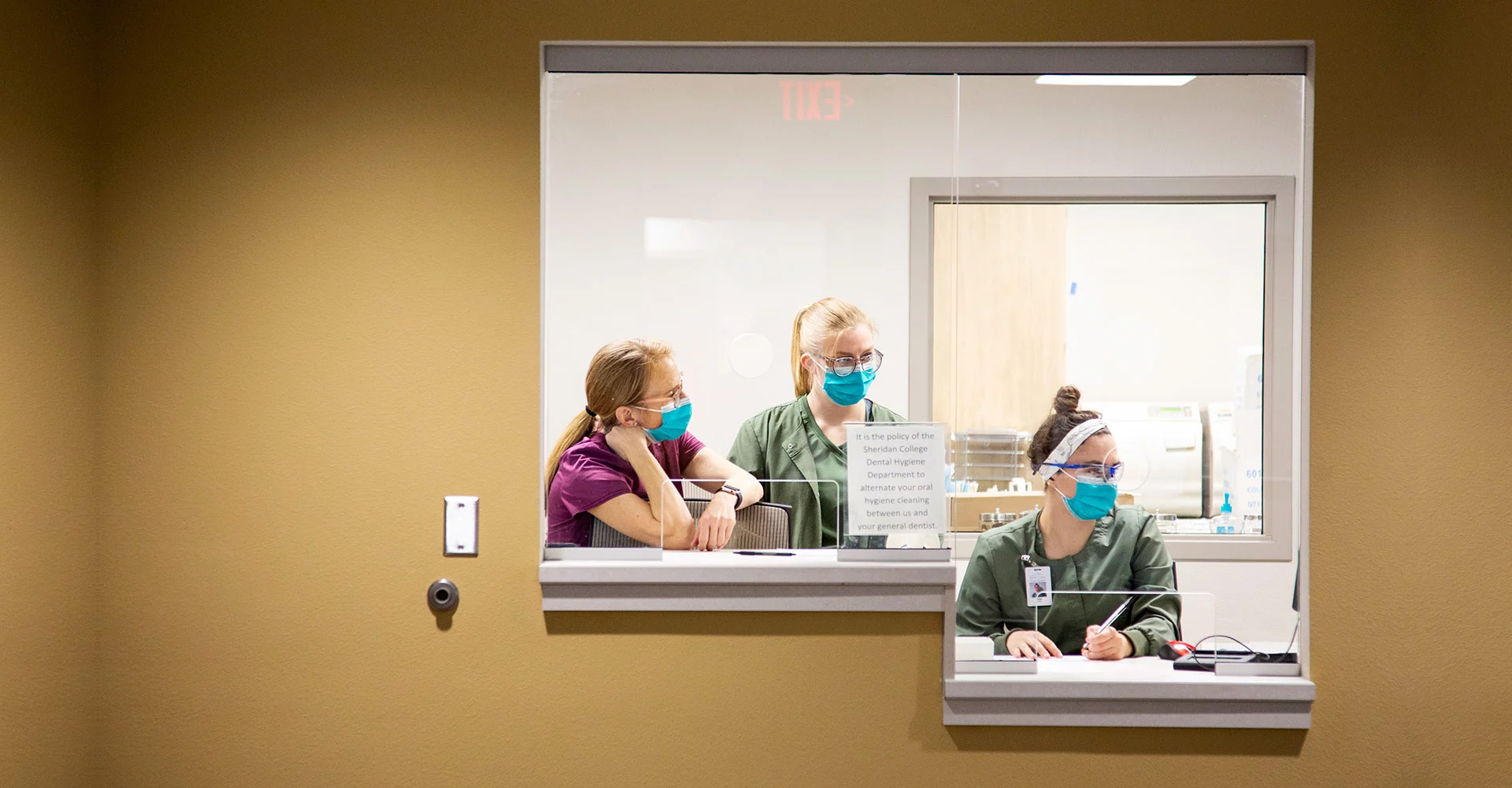 Sheridan College Kim and Mary Kay Love Dental Hygiene Clinic
The Kim and Mary Kay Love Dental Hygiene Clinic is a full-service clinic open to the public. We provide patient education and individualized therapeutic services to help patients reach their oral health goals at a reduced cost. The clinic is conveniently located on campus in the B.F. and Rose H. Perkins Health Science Center.
The following services are available:
Oral Prophylaxis – Teeth cleaning
Topical Fluoride Application – Must be preceded by prophylaxis at the same appointment time
Full Mouth X-ray Survey – X-rays will be sent to your dentist upon request, by the dentist or to you
Pit and Fissure Sealants – To prevent tooth decay in grooves of teeth
Mouth guards – For sports
Sheridan College sophomore and junior students in the dental hygiene program provide the services in a learning situation. Students are supervised by faculty members and a clinic dentist.
Students work more slowly than experienced graduates. Clients are frequently required to return for completion of services. Persons whose schedules will not allow them to return for further appointments should not plan to use our on-campus clinic.
All persons whose dental hygiene care requirements are consistent with the program's educational goals are eligible for care. The Dental Hygiene Clinic provides nondiscriminatory treatment regardless of race, color, religion, gender, sexual orientation, nationality or ethnic origin, age, military status, or disability. This includes individuals who may have or have been exposed to human immunodeficiency virus (HIV) and/or hepatitis B virus (HBV).
Schedule Your Appointment
Please call the clinic at: 307-675-0400
Clinic Days
Spring Semester (January – April)
Monday, 1:15 p.m.

Tuesday, 8:30 a.m. & 1:15 p.m.

Wednesday, 8:30 a.m.

Thursday, 8:30 a.m. & 1:15 p.m.

Friday, 8:30 a.m.
Children & Adolescents
Children and adolescents are accepted for treatment in the Dental Hygiene Clinic. Minors under the age of 18 must have a parent or legal guardian register with them at the reception desk. Parent or legal guardian must stay at the clinic until the health history and treatment plan have been reviewed and signed (approximately 45 minutes). A health history, treatment plan, and release form are required.
Parents should not leave the clinic reception area while a child is being treated in the clinic. Children may not accompany parents receiving treatment into the clinic area or be left unattended in the clinic reception area. Arrangements should be made to leave children at home who are not receiving treatment.