Accreditation
The Northern Wyoming Community College District is accredited by the Higher Learning Commission, a regional accreditation agency recognized by the United States Department of Education.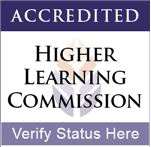 Higher Learning Commission
230 South LaSalle Street, Suite 7-500, Chicago, Illinois 60604-1411
Phone: (800) 621-7440 / (312) 263-0456
The Associate Degree Nursing Program at Northern Wyoming Community College District located in Sheridan, Wyoming and Gillette, Wyoming is accredited by the:
Accreditation Commission for Education in Nursing (ACEN)
3390 Peachtree Road NE, Suite 1400
Atlanta, Georgia 30326.
Phone: 404-975-5000
The most recent accreditation decision (Spring 2019) made by the ACEN Board of Commissioners for the NWCCD Associate Degree Nursing Program is Continuing Accreditation.
Academic Quality Improvement Program (AQIP)
NWCCD has participated in the Higher Learning Commission's (HLC) Academic Quality Improvement Program (AQIP) Pathway to Accreditation since February 2005. This pathway is based on principles of continuous quality improvement, which is the foundation for all planning and ongoing efforts to fulfill NWCCD's mission of student success.
We document our commitment to continuous improvement in our Systems Portfolio and various reports, as well as through our AQIP Action Projects and Strategic Planning. Evidence of institutional health and effectiveness can be found in our Institutional Scorecard, and more detailed measures are reported in our Systems Portfolio.
For more information please contact:
President's Office
Whitney Building, Administration Wing
Sheridan, WY 82801
Voice: 307-675-0800
 AQIP Systems Portfolio
Every four years NWCCD submits its Systems Portfolio to the Higher Learning Commission's Academic Quality Improvement Program (AQIP) for review and feedback by a panel of peers. Our most current systems portfolio can be found below.
AQIP Action Projects
Action Projects are specific, time-limited initiatives focused on improvement related to our continuous quality initiative or our strategic plan. Each project requires broad engagement from across the appropriate college area(s).
An archive of past action projects is available via the Higher Learning Commission website.
Additional Program Accreditation and Memberships
NWCCD's Nursing Program is approved by the Wyoming State Board of Nursing and accredited by the Accreditation Commission for Education in Nursing, Inc. The Dental Hygiene Program is accredited by the Commission on Dental Accreditation. Certification is available in some technical programs through state and national program accreditation.
The College maintains institutional memberships in the American Association of Community Colleges, Council of North Central Two‐Year Colleges, the National Junior College Athletic Association, and other professional organizations.