You Served Us. Let Us Serve You.
Our mission is to create student veteran success through education, support and assistance for you and your family. Thank you for your service.

The Northern Wyoming Community College District offers comprehensive veteran-specific resources, including helping you understand and apply for veteran benefits and on-going support for your educational experience.
NWCCD was named a Military Friendly School by GI Jobs Magazine in 2013, 2014, 2015, 2016 and 2017.
Meet Our Veterans Advisor
Brian Yeager is a prior service Marine and a native of the Powder River Basin of Wyoming. For over a decade Brian has worked with various organizations to provide veterans and their families in rural Northeastern Wyoming with support and benefits to achieve their goals. Brian is committed to creating a supportive and accessible campus environment for all current military members, veterans and their dependents.
Credit for Prior Learning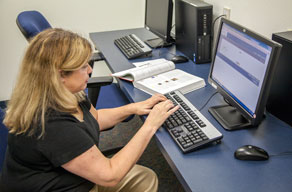 NWCCD values the education you have received as a member of the military, students should visit with our Veteran Advisors to learn about credit for prior learning.