NWCCD Scholarships
Northern Wyoming Community College District (NWCCD) offers a variety of scholarships to assist students in achieving their educational goals. Applications will be forwarded to your program(s) of interest. Submit your application today!
Official offers will come from the financial aid office after March 31 and will continue throughout the summer. Scholarship recipients are notified via email when they are offered a scholarship. Students should check their @sheridan.edu email accounts frequently throughout the summer. A thank you note serves as the student's formal acceptance of the scholarship. A deadline will be stated in the offer email. The thank you note will be due to the financial aid office by the stated deadline.
**2021/2022 scholarship recipients are notified via email and text message. Please activate your @sheridan.edu email account as soon as possible. Scholarship notifications will be sent as follows: round 1 – March 30, round 2 – May 30, round 3 – July 31. Please check your college email frequently. Thank you notes must be handwritten (not typed) and received in the financial aid office by the deadline indicated in the offer email.**
If funds are available for spring semester and/or summer semester, the application will have these semesters listed. If available, spring scholarship offers are emailed around December 1 and summer scholarship offers are emailed around May 1.
We also offer scholarships that require essays or additional information from the applicant. Scholarships requesting additional information are posted within MyNWCCD. You must be an accepted student with access to MyNWCCD in order to apply to these scholarships.
This list is subject to change and availability, and may not be inclusive of all opportunities. GC = Gillette College scholarships, SC = Sheridan College scholarships.
Gillette College Nursing Scholarships
Pfau and Lundock Scholarship (GC)
Sgt Ryan Zorn Scholarship (GC)
L. Cpl. Jacob Ross Memorial Scholarships (GC)
Tia and Mickey Doud Scholarship (GC)
Tammy Hladky Foundation Scholarship (GC)
Christine R & Jack K Nisselius Scholarship Fund (GC)
Boundless Opportunity Scholarship (GC & SC)
NWCCD Veterans Scholarships (GC & SC)
Jane Lodge Kidneigh Medved Memorial Scholarship (SC)
Chester Powell Scholarship (SC)
Delta Dental Scholarship (SC)
Fallen Soldier Memorial Scholarship (SC)
Kim & Mary Kay Love Scholarship (SC): Deadline April 1 each year
Marion & Wayland H Cato, Jr Endowed Scholarship (SC)
Wayland H Cato Jr – Robert G Berger Endowed Scholarship (SC)
Powder Horn Perkins Scholarship (SC)
Zac Gibbs Memorial Scholarship (SC): Spring scholarship
High Academic Achievement Scholarship
New students entering the fall semester after high school graduation who score an ACT composite of 25 or higher are eligible for the High Academic Achievement Scholarship at NWCCD. No application is required.  Be sure to submit your ACT scores to the admissions office. Students will need to be registered before the award will be applied to their student account.
Must be used the fall semester immediately following your high school graduation.
Available to ALL students with an ACT composite score of 25 or higher – In State, WUE, and Out of State.
Can be used for 4 consecutive semesters at Sheridan College or Gillette College.
Pays between 12 and 15 credits of in-state tuition & fees per semester, based on registration. If you are a WUE or an Out of State student, you will be required to pay the difference after the in-state amount is applied to your tuition & fees.
Scholarship cannot be used in conjunction with other sources of financial aid deemed solely for tuition and fees. Scholarship can be used in conjunction with the Hathaway Scholarship (for WY students).
Awards will be prorated for enrollment between 12 and 15 credits. Award amounts for 2020/2021 will range from $1,716 to $2,145.
Must maintain full-time status (12 credits) and maintain a semester and cumulative GPA of 3.0. GPA is reviewed after each semester. Student is notified in writing if scholarship is lost. Scholarship eligibility cannot be regained.
Hathaway Scholarships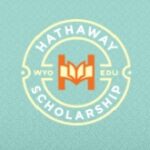 Apply, transfer or check eligibility for the Hathaway Scholarship.
The Hathaway Scholarship assists Wyoming high school graduates pay for college. There are four levels offered based on your high school GPA.
Wyoming Works Grant

Wyoming Works is a grant program to help you pay for training that leads to a good job. NWCCD offers over 30 programs that adult learners can qualify to receive money to pay for college.
View the list of programs, eligibility requirements and more information.
External Scholarships and Interest Free Loans