The Hathaway Scholarship (For Wyoming High School Graduates)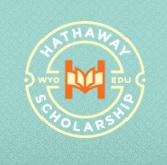 Education: The State's Greatest Investment
The State of Wyoming has established a generous scholarship program in the name of former Wyoming Governor Stan Hathaway that provides an incentive for Wyoming students to prepare for and pursue post-secondary education within the State of Wyoming.  The Wyoming Department of Education's program, which began with the high school graduating class of 2006, provides merit- and need-based awards to eligible students.
Follow this link to read more about the Hathaway Scholarship: http://hathawayscholarship.org/
Follow this link to view Hathaway Scholarship information for Parents: http://hathawayscholarship.org/planning/parents/
The Hathaway Scholarship is not an entitlement and awards are subject to legislative appropriation.  The Legislature has the authority to modify or terminate the Hathaway Scholarship Program at any time.
How Do I Apply for The Hathaway Scholarship?
Applying for the Hathaway Scholarship at the Northern Wyoming Community College District's Sheridan College or Gillette College is easy! Just do the following process and timeline:
1. Complete the Hathaway Scholarship application.
2. Complete your admission file by providing your final official high school transcript to NWCCD's Admissions Office upon graduation and provide any ACT scores you may have. All information must be received by the first day of the semester you want to start receiving the Hathaway Scholarship.
The Financial Aid office will inform you of your Hathaway scholarship via your Financial Aid Self-Service account and email.  Please allow 4-6 weeks for processing after submitting the required paperwork (final official High School transcript showing your graduation date, Hathaway Scholarship application, and ACT scores).
Hathaway Requests: