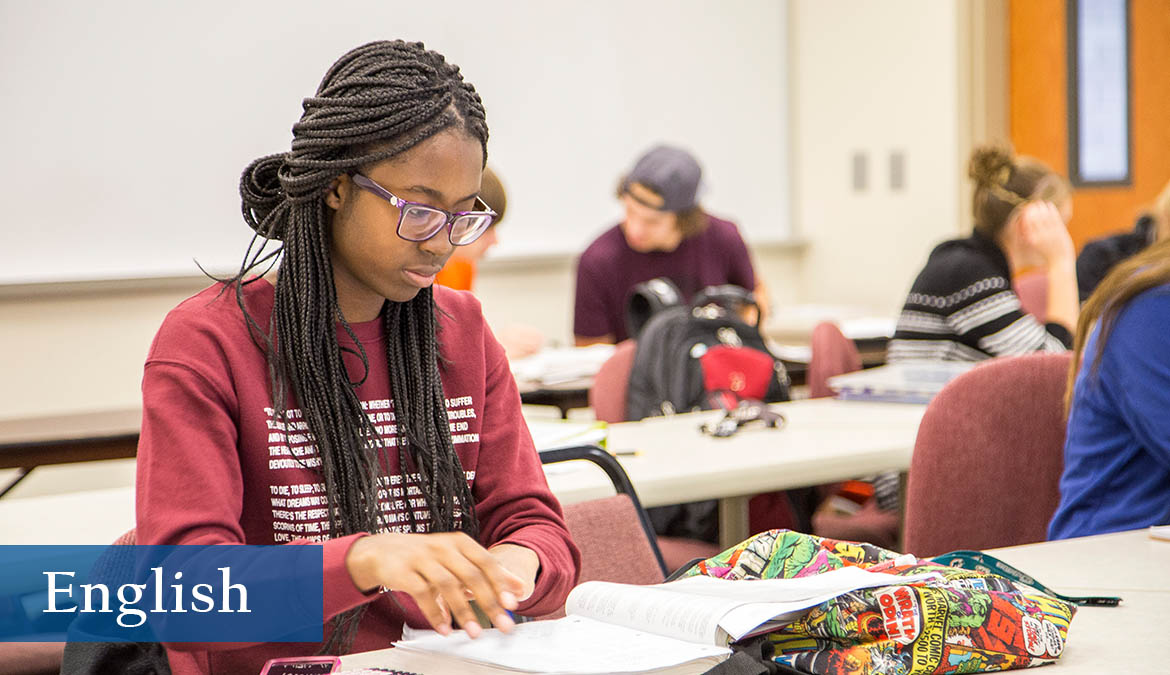 English Degree
It's true an English degree may lead to a career in literature or creative writing. An English degree can also lead to a number of jobs and careers across several fields, as organizations and companies need employees who can write and communicate clearly and effectively.
English graduates are equipped to pursue jobs in communications, public relations, journalism, marketing, teaching, business, technical writing and more. With a strong writing background, many English graduates attend law school and work as attorneys and lawyers. Northern Wyoming Community College District's (NWCCD) Associate of Arts in English will help you prepare for a higher education or a career in a number of fields.
As a student in our English degree program, you will build strong writing skills, as well as critical thinking and reading abilities.
The program provides an introduction to literary traditions, creative writing and critical approaches to literature. Your elective course options will include U.S. Literature, World Literature, creative writing in fiction, nonfiction and poetry, Literature of the Holocaust, Western American Literature and more.
Why NWCCD?
NWCCD features some of the best English faculty – including award winning authors – and Writing Centers in the state of Wyoming.
The NWCCD English degree can help you transfer to pursue a Bachelor's degree or apply your skills and knowledge to your work.
Industry Outlook
As an English graduate, you may pursue a number of job opportunities including stenography, communications, journalism, marketing, library science, teaching, technical writing and creative writing. Earning NWCCD's Associate degree in English will give you the foundation to launch or enhance your career. The U.S. Bureau of Labor Statistics predicts that from 2016-2026 nearly 23,800 jobs will be added to the field of advertising, promotions, and marketing managers, an increase of 10%.  The Bureau also predicts job growth for public relation specialists, lawyers, public administration, and more.
Faculty and Community
With several award-winning authors, NWCCD's English faculty members are not only experts when it comes to the English language, they are dedicated to helping students succeed. Our faculty member are diverse, with wide-ranging expertise, and are eager to connect with students through one-on-one advising and personal mentoring.  Faculty members are dedicated to helping you learn and achieve your goals.
Students in NWCCD's English program enjoy the shared interaction with faculty, opportunities for creative expression, and cross-disciplinary study and discussion. NWCCD also provides excellent opportunities for learning. The Writing Center provides an outstanding teaching lab environment for English majors to gain experience in writing, critiquing and learning about online writing resources, as well as leadership opportunities working with peers and faculty.
NWCCD features a large variety of creative independent study courses designed to fit student interests. Several faculty members also run a blog that provides an opportunity for student guest writers.
Careers and Opportunities
From marketing and copywriting to reporting and interviewing, English graduates use their communication skills to thrive in today's connected world. An English degree is a stepping stone to many different areas of study because it helps you build critical thinking and reading skills. For example, undergraduate students who are interested in attend law school are encouraged to earn an English degree because it is a precursor to learning how to write, communicate, argue, persuade and articulate your ideas. Demand across numerous job fields is high for workers with English degrees. With a degree in English, you may find work in fields like:
Journalism
Creative Writing
Marketing
Business
Law
Communications
Public Relations
Public Administration
Technical Writing
Library Science
Teaching