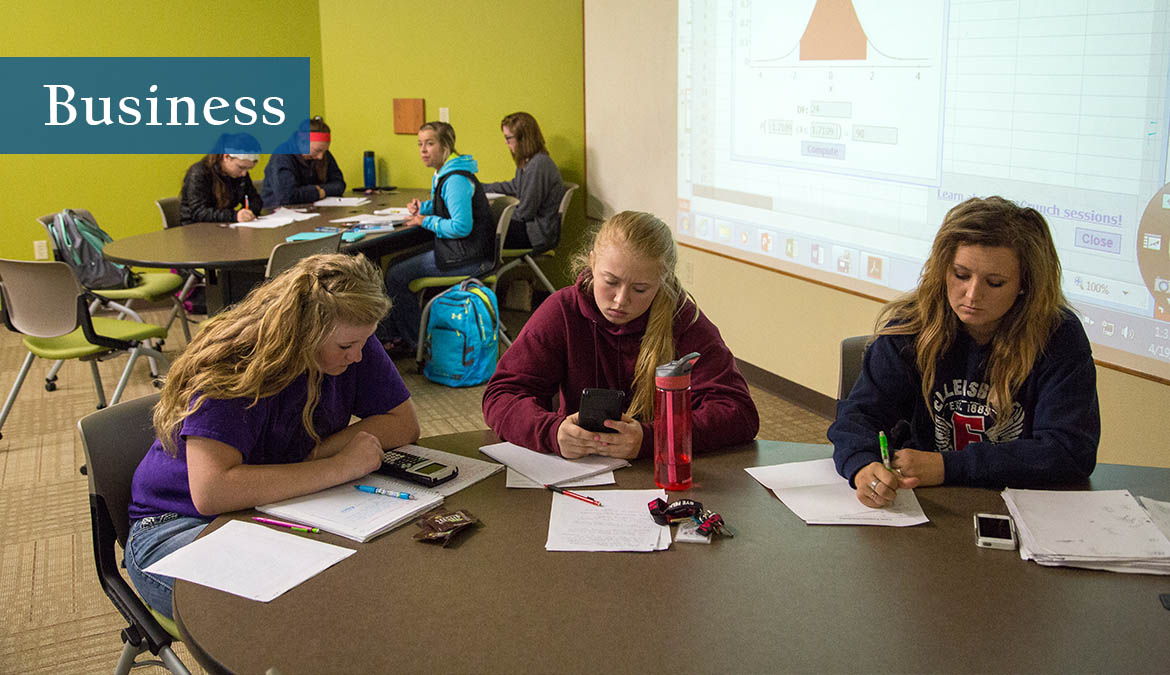 Business Degree
Business leaders shape the world. From marketing to finance, accounting to economics, a degree in Business will provide you the foundation to pursue a number of thriving careers. Northern Wyoming Community College District's (NWCCD) Business program blends real-world application, experiential learning and theoretical knowledge to equip you with the skills to succeed. An Associate Degree in Business from NWCCD will prepare you to lead, inspire, create, manage and grow.
Our faculty members understand how businesses work and bring their insight to the classroom. Whether for profit or nonprofit, business enterprises coordinate the special skills, talents and abilities of labor in the production of products and delivery of services that serve to fulfill society's never-ending desires. This practical approach anchors our NWCCD Business degree, giving you the educational experience and credentials you are looking for.
Why NWCCD?
NWCCD's Business degree is available entirely online.
Our Business program features small class sizes, experienced faculty, and courses that focus on real-world applications.
Learn in a regionally recognized Business program with courses ranging from management to marketing, finance to microeconomics.

Available at NWCCD and Online.
Industry Outlook
Thinking about a career in business? From small start-ups to Fortune 500 companies and everything in between, businesses of all sizes are thriving in every state and across the globe. The U.S. Bureau of Labor Statistics predicts steady job growth in several business-related jobs, including 138,300 new market research analyst jobs from 2016 – 2026, an increase of 23%.
Faculty and Community
NWCCD Business faculty are here to help you. They will guide you through relevant, applicable courses, help you build key skills and mentor you as you pursue your goals. Whether you are looking to own and operate your own business, or pursue a higher degree, majoring in Business can provide you the right platform to succeed.
Students enjoy our outstanding faculty who integrate theory and practical application into their college experiences. NWCCD offers a wide array of Business courses in a variety of delivery methods that meet your interests and needs.
Many students who receive Associate degrees in Business from NWCCD transfer to four-year colleges to complete a higher program of study in business. NWCCD partners with the University of Wyoming to provide a seamless transfer process for students interested in pursuing a Bachelor's degree in Business from UW. Students also have successfully transferred to colleges and universities across the U.S.
Careers and Opportunities
Business school graduates pursue careers and jobs in numerous fields. NWCCD's Associate of Applied Science, Associate of Science and Certificate programs in Business will ensure you have the skills and knowledge to launch your career and advance your career to new heights. Business degree graduates often find jobs in the following fields:
Business Administration
Market Research Analyst
Economist
Cost Estimator
Financial Analyst
Fundraiser
Human Resource Specialist
Loan Officer
Management Analyst
Accountant
Event Planner
Budget Analyst