FOR IMMEDIATE RELEASE: March 23, 2018
Contact: Wendy Smith, Director of Marketing and Public Information (307) 675-0412, wsmith@sheridan.edu
Claire Barnes, Writer/Editor (307) 675-0416, cbarnes@sheridan.edu
Sheridan, Wyo. — Sheridan College student Kaycen Townsend, a health sciences major from Sheridan, was recently selected as Wyoming's 2018 New Century Transfer Pathway Scholar. More than 2,000 students were nominated from more than 1,600 college campuses across the country, and only one New Century Transfer Pathway Scholar is selected from each state. Townsend is the fifth Wyoming New Century Pathway Scholar in the last six years from the Northern Wyoming Community College District, including Sheridan College and Gillette College.
New Century Transfer Pathway Scholars are selected based on their academic accomplishments, leadership, activities and how they extend their intellectual talents beyond the classroom. The program is sponsored by The Coca-Cola Foundation, the Coca-Cola Scholars Foundation, Phi Theta Kappa and the American Association of Community Colleges. Townsend will receive a $2,250 scholarship and be recognized at Phi Theta Kappa's Presidents Breakfast in Dallas, Texas on April 30 during the AACC Convention.
Townsend is a volleyball athlete and maintains a 4.0 GPA as a student at Sheridan College. She is president of the National Society of Leadership and Success and also volunteers with Big Brothers/Big Sisters and other organizations in the community. She will graduate with her Associate of Science in Health Science this spring. She plans to continue at Sheridan College to pursue her Associate Degree in Nursing and begin courses toward her bachelor's degree concurrently through Sheridan College's partnership with the University of Wyoming. Eventually, Townsend wants to become a nurse practitioner.
"I'm honored to receive this award and have the opportunity to represent Sheridan College at the convention in Texas," said Townsend. "I received a great education and have grown a lot as a person while I've been a student at Sheridan College.
Phi Theta Kappa is the premier honor society recognizing the academic achievement of community college students to grow as scholars and leaders. The Society is made up of more than 3.5 million members and nearly 1,300 chapters in nine nations. Learn more at ptk.org.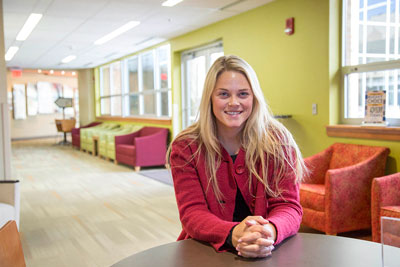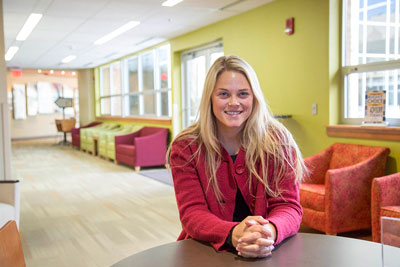 Photo: Kaycen Townsend at Sheridan College on March 22.