FOR IMMEDIATE RELEASE:
May 13, 2019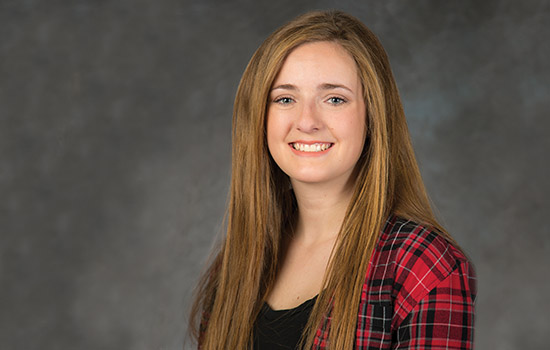 Sheridan College graduate Madison Anderson is the recipient of this year's President's Award. The announcement came as a surprise to Anderson during Saturday's Commencement Ceremony at the Bruce Hoffman Golden Dome.
From Ten Sleep, Wyoming, Anderson received her Associate of Science in Agriculture Business and graduated with a 4.0 cumulative GPA. During her first year at Sheridan College, she served as a Wyoming State FFA Officer and won the National Professional Agricultural Student State Sales Contest in Louisville, Kentucky.
This past year, Anderson served as president of the Sheridan College student senate and represented Sheridan College in Washington, D.C., at the Community College National Legislative Summit in March. She also won the Wyoming State Farm Bureau Collegiate Meet, placed second at the National Professional Agriculture Student Extemporaneous Speaking Contest and was an intern at the Wyoming State FFA Conference.
"Madison's accomplishments literally have been acknowledged nationwide," said President Dr. Paul Young. "We are so incredibly proud of her and look forward to following what is sure to be her successful career."
Anderson is continuing her education at the University of Wyoming this fall where she plans to pursue her bachelor's in International Agriculture Business. She will serve as an intern for Sen. Barrasso in this summer.
"This has really been a fantastic two years for me," Anderson said during her acceptance speech. "I have met incredible people, had incredible opportunities and that's all thanks to the faculty, staff and people who made Sheridan College feel like home to me. I know I'm leaving here absolutely prepared for the next step in my education."
One graduating Sheridan College student receives the President's Award each year and is selected based on cumulative GPA and their participation and leadership within both Sheridan College and the broader community.