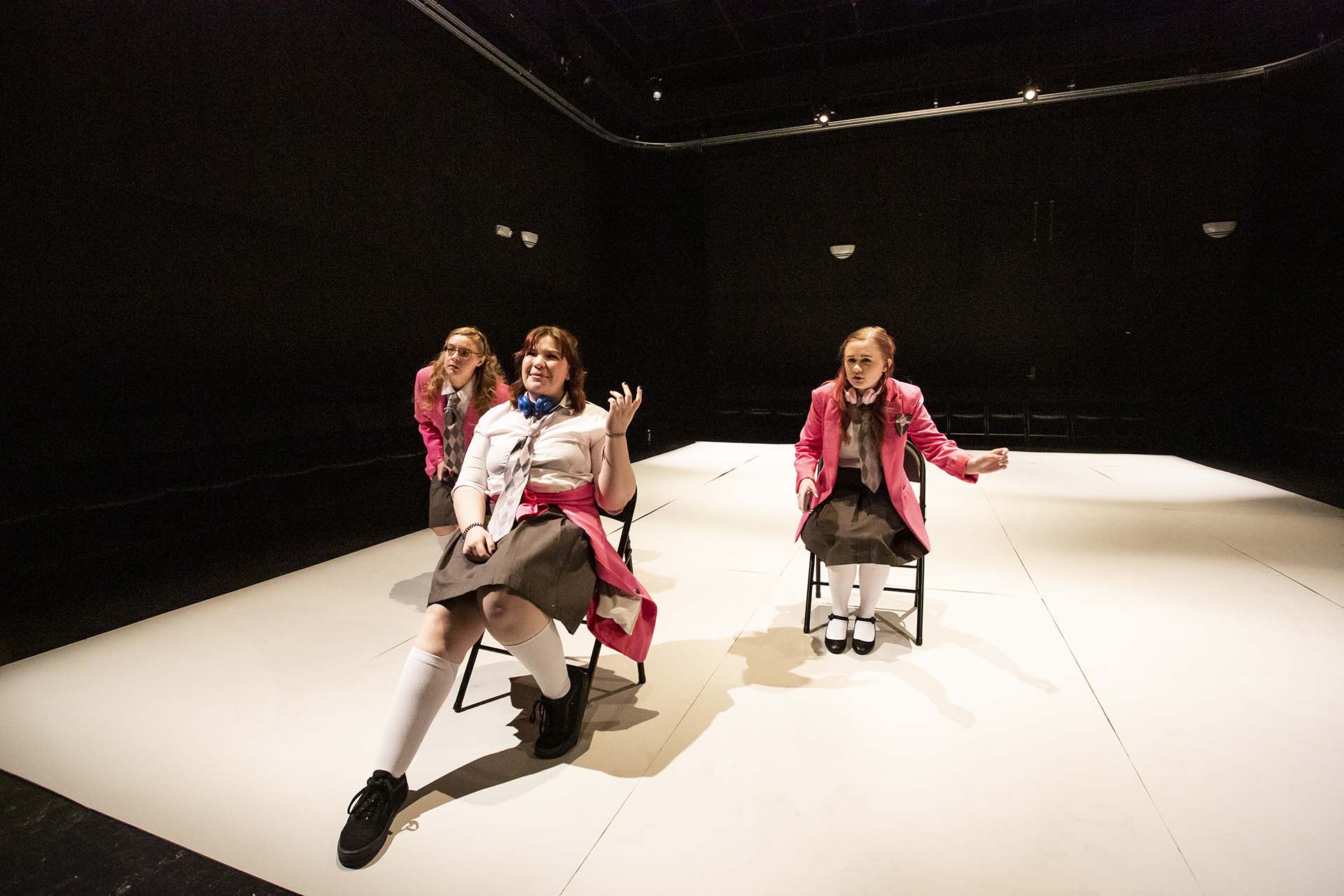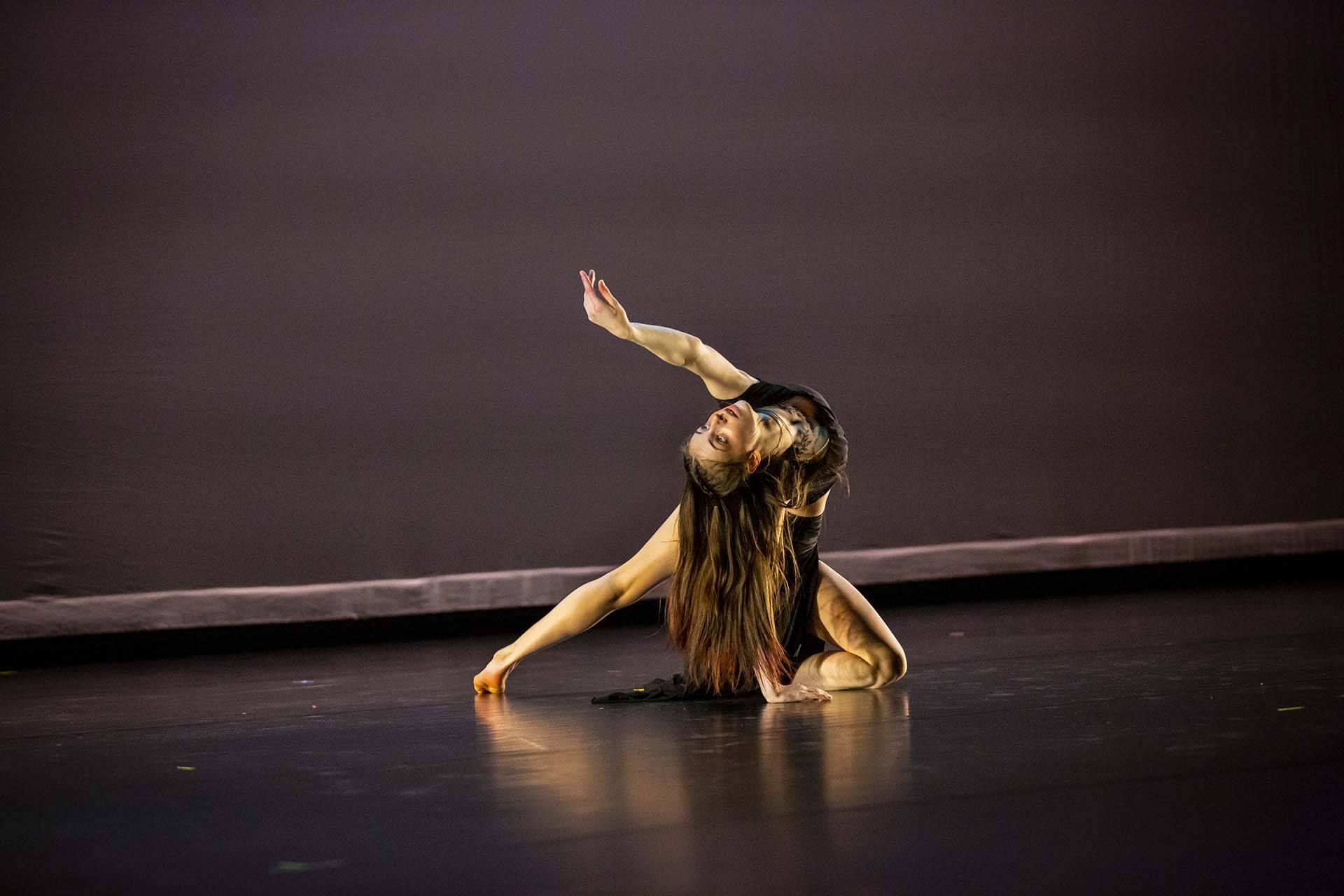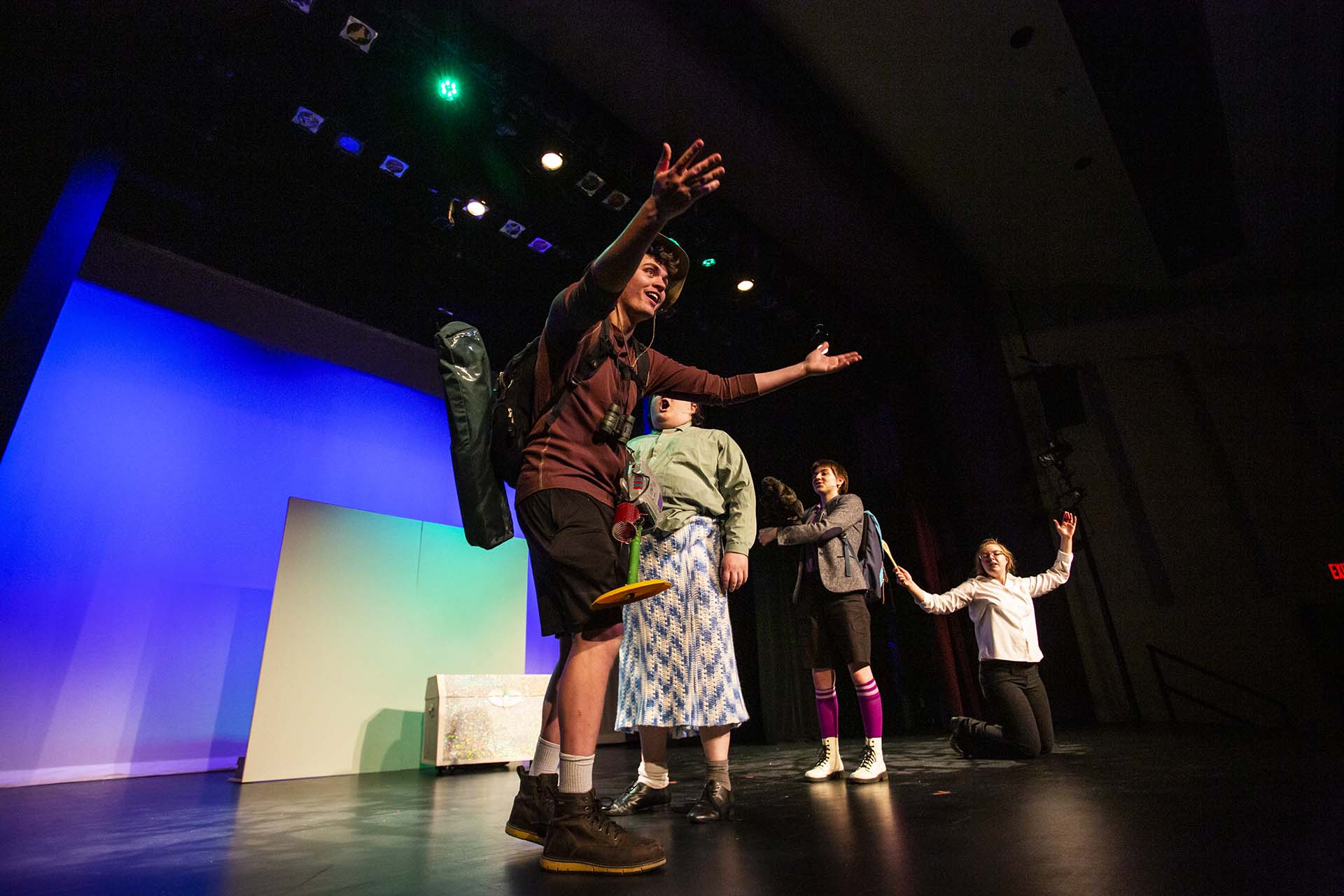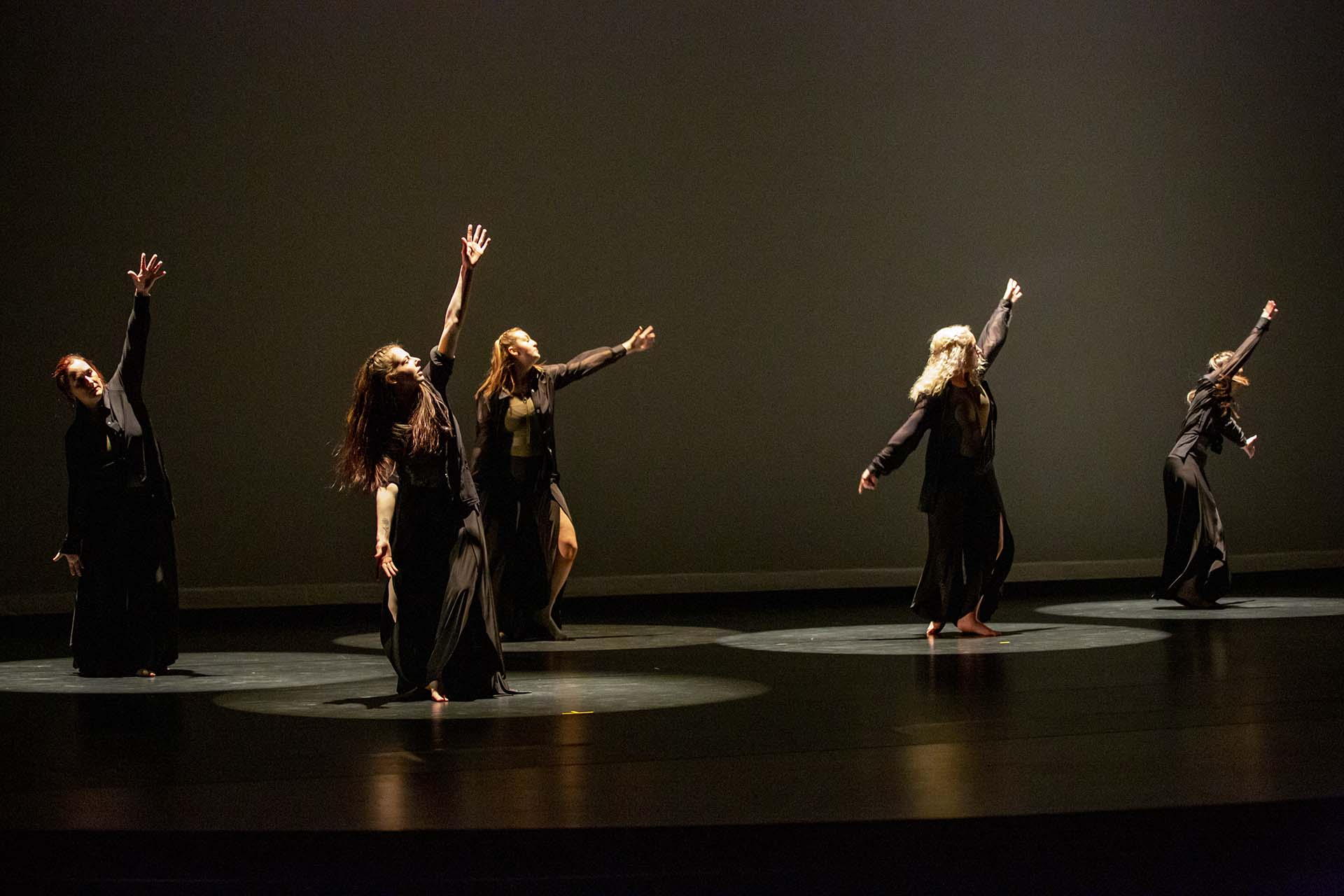 Theater & Dance Program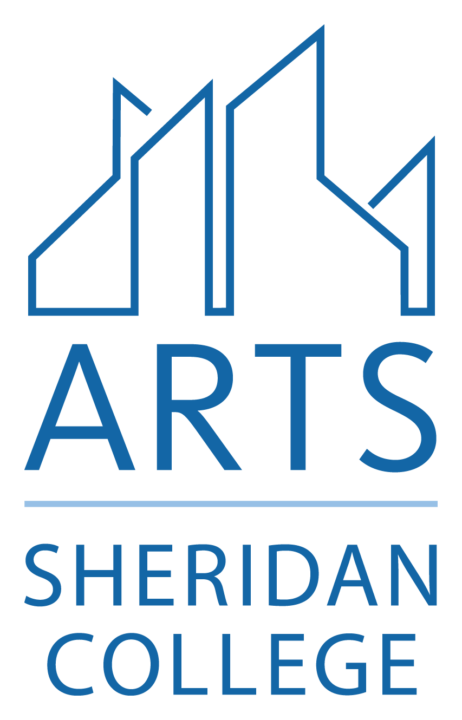 Dance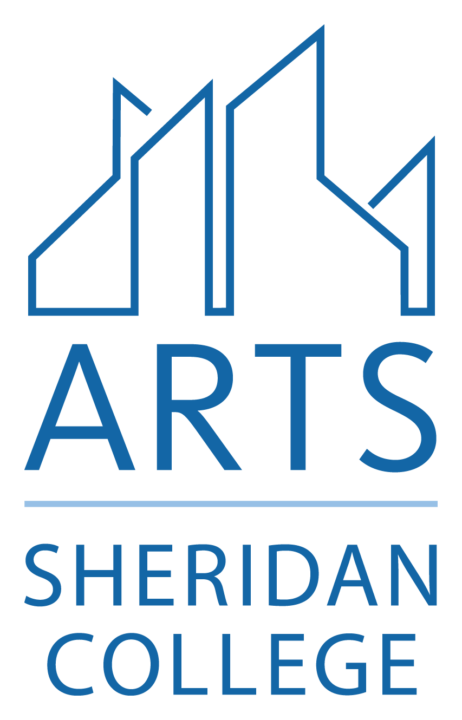 Theater & Dance
Are you interested in pursuing a career in Theatre and Dance? Have you found your passion and are ready to pursue it? Sheridan College's Theatre and Dance program is ready to welcome you. The program can be tailored to suit each student's interest in dance, performance, technical theatre or musical theatre. Students are given regular opportunities to collaborate with industry professionals. Our faculty brings a wealth of experience from across America and Europe. They specialize in contemporary performance practice but most importantly, our faculty believes in taking care of the whole student and supporting them as they grow on their educational journey.
Sheridan College's Theater & Dance program prepares you for a wide range of occupations. The skills of problem solving, cooperation, collaboration, creativity, communication, organization, intellectual rigor, aesthetic sense, and the ability to manage resources of time, money, and people are central to theater and dance studies. These and other theatrical skills are in high demand in the general job market. Theater and Dance study are an engaging, entertaining and fun way to enter into many fields job markets outside of the theater itself, and will set you apart in a competitive job market.
Theater:
Our Theater students are mentored in positions of responsibility in all of Sheridan College's productions. Students have the opportunity to shape these productions in a meaningful way, serving as actors, actresses, stage managers, designers, scene shop foremen, costume shop assistants, assistant directors, and in other vital production roles.
Musical Theater Track
As a theater student specializing in musical theatre, you will develop independent, creative, and responsive skills to become a bold performer. At Sheridan College you will gain knowledge of musical theater, dramatic literature, theater history and technical theater production. Our program provides you with extensive training in acting processes, vocal technique, and dance technique in the styles of ballet, modern, jazz and tap.
Broadway Musical Theater Intensive
Sheridan College offers a two-week Broadway Musical Theater Intensive each summer. Students have the chance to train and work alongside Broadway professionals, college faculty and local artists. Students take masterclasses and perform alongside professionals. They train in auditioning for Broadway. Our students in the 2023 Intensive worked with Thane Jasperson (Hamilton), Eric Kunze (Damn Yankees, Miss Saigon), Sarah Uriarte Berry (Beauty and the Beast, End of the Rainbow), and Pam Phillips (Side by Side, A Chorus Line). There is the option to take this Intensive for Musical Workshop Credit. Fees and tuition apply.
Dance:
Our Dance students will have the opportunity to work with professional dance companies, directors and choreographers each semester with our unique program. Students will dive deep into the understanding of movement through daily technique work, but they will also be given many performing and choreographic opportunities each semester as they are mentored through the study of their craft.
Why Sheridan College?
Unlike any other program in the state, our program is based in a working downtown theatre in the center of Sheridan. Our students have access to industry professionals and shows on a regular basis.
Perform in state-of-the-art facilities. We have access to a restored vaudeville mainstage, a black box studio, a fully equipped dance studio, the Whitney Concert Hall, a full theatre workshop and costume and sewing room.
Work with faculty who have real industry experience.
Our students work with other industry professionals throughout the year, recent visitors include: Alex Webb (playwright), Thayne Jasperson (Hamilton), Nancy Bannon (playwright and film maker), The Acting Company, Dance Iquail, Liz Dibble (BYU Dance Faculty), Daniel Gwirtzman Dance Company and Ririe-Woodbury Dance.

Available at Sheridan College
Industry Outlook
Theater & Dance graduates with specialized skills and broad liberal arts knowledge land jobs in numerous fields across the U.S. Many students graduate from Sheridan College and transfer to universities to continue their theater or dance education, while others earn internships or dance company positions and other entry-level positions in the theater, television, and film industries. Some students apply their skills to succeed in other disciplines such as business, politics, law, education and many other job markets.
The U.S. Bureau of Labor Statistics predicts that from 2016-2026 nearly 16,500 jobs will be added to the field of producers and directors, an increase of 12%. The Bureau also predicts job growth in fields such as actors and actresses, makeup artists, art directors, dancers and choreographers, camera operators, and writers and authors.
Faculty and Community
Our faculty at Sheridan College are passionate theater and dance professionals who enjoy teaching. With their extensive and successful professional backgrounds, Sheridan College Theater & Dance faculty know how to train students for the practical realities of the entertainment industry. Our faculty also have vast networks of professional contacts, which can help you land meaningful theater or dance jobs and opportunities after graduation.
As a student at Sheridan College, you will have access to incredible faculty, facilities and resources. Sheridan College partners with the WYO Theater, the Mars Black Box, the Carriage House Theater, the Sheridan Civic Theater Guild and more to provide you excellent, practical learning opportunities. The Sheridan College Theater Club also provides you with the opportunity to develop student-led productions, visit transfer schools, and attend professional productions.