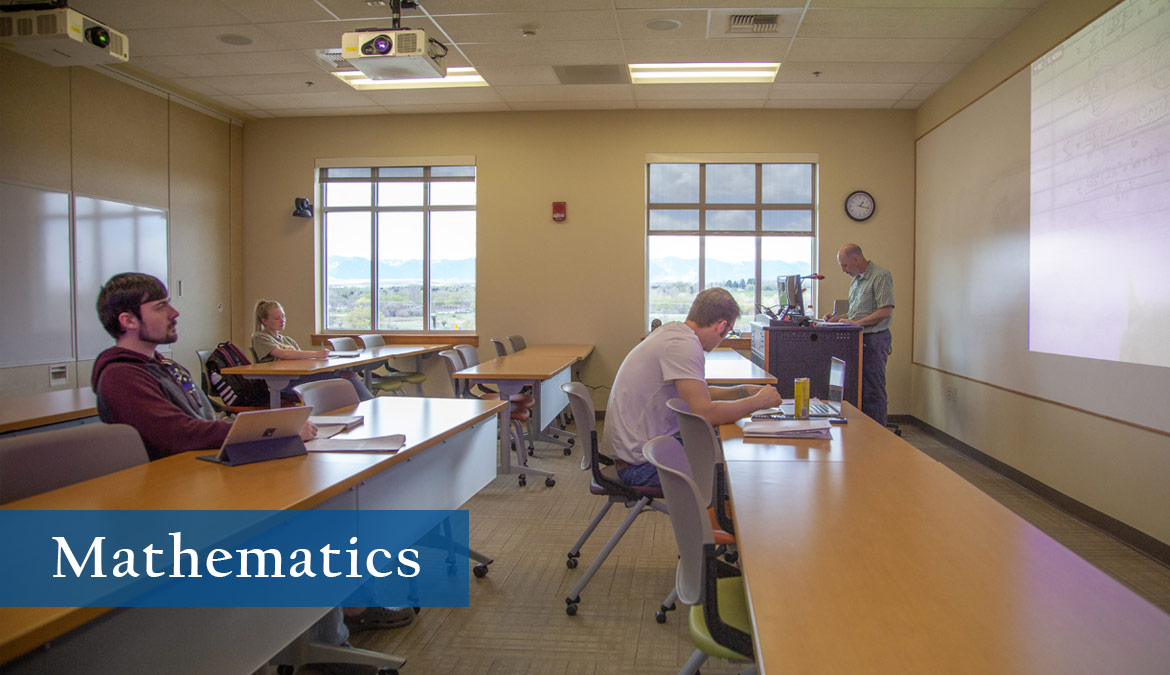 Mathematics Degree
From finance institutions and banks to airplane design and structural engineering, math is everywhere in our modern world. Mathematicians are employed across numerous job fields and organizations, from the U.S. Department of Defense to major automotive makers and insurance companies. Mathematicians find work in the public and private sectors.
Northern Wyoming Community College District's (NWCCD) Mathematics Associate of Science program provides a strong foundation for advanced math studies, giving you the basis you need to be successful in any math-related field, like engineering, statistics, computer sciences math education.
As a Math student at NWCCD, you will have a variety of resources, including an innovative Math Lab, as well as expert faculty members, to help you earn your degree and transfer into a four-year program.
Why NWCCD?
Our Mathematics program features high-quality instruction, small classes sizes and easy transfer paths to Bachelor's degree programs, including the University of Wyoming.
Tailor your course schedule to your interest with course including Accounting, Math for Teachers, Macroeconomics, Microeconomics, 3D Java Programming, Fundamentals of Statistics and more.
A degree in Math from NWCCD can lead to a variety of job and career options, like engineering, finance or math education.
Industry Outlook
Math degree graduates find work in an array of industries. Whether it's telecommunications, engineering, computer science, education or another related field, mathematicians are in high demand across the region and country. The U.S. Bureau of Labor Statistics predicts that from 2016-2026 nearly 13,500 jobs will be added to the field of mathematicians and statisticians, an increase of 33%. The Bureau also predicts steady job growth for math-related job fields like actuaries, architects, civil engineers, and operations research analysts.
Faculty and Community
Our Mathematics faculty at NWCCD will make sure you have the skills and understanding of mathematic principles to transfer with confidence into a Bachelor's degree program. Our award-winning faculty are experts in a variety of math-related fields, from calculus to economics. They will share with you their remarkable experiences and ensure you learn the fundamental aspects of math.
NWCCD partners with regional universities, including the University of Wyoming, to ensure your credits will transfer into Bachelor's degree programs. At NWCCD, we are committed to helping you succeed and reach your academic and professional goals.
Careers and Opportunities
Mathematicians use advanced formulas to address and solve problems and analyze data. Earning NWCCD's broad degree in Mathematics can help you transfer to a college or university and ultimately pursue a career like:
Mathematician
Architect
Economist
Software Engineer
Computer Engineer
Attorney
Stock Broker
Financial Advisor
Aerospace Engineer
Lawyer
Actuary
Statistician
Physicist
Nuclear Engineer
Petroleum Engineerr
Market Research Analyst
Computer Programmer