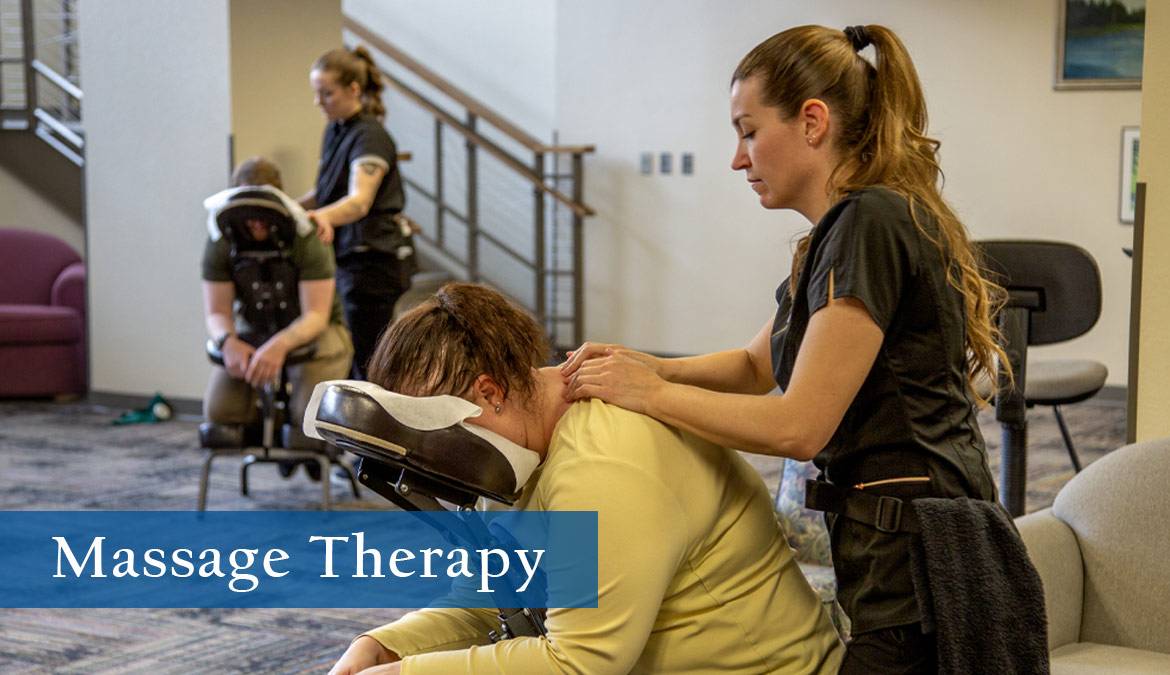 Massage Therapy
Get your Massage Therapy Certification in Wyoming at Sheridan College! We are the only community college in Wyoming to offer this certification.
Massage Therapists are trained to manipulate muscles, relieve pain and stress, rehabilitate injuries, and assist in the overall wellbeing of clients. Certified therapists travel with professional sports teams, work in spas, physical therapy practices, chiropractic offices, and private practices.
Massage therapy is a rapidly growing field with employment opportunities across the region and country. Our program gives you the therapeutic skills and knowledge of the human body to succeed as a professional massage therapist.
Students at Sheridan College experience small class sizes, excellent student-to-instructor ratios and opportunities to practice.
Sheridan College's on-campus Massage Therapy clinical classes and off-campus student clinical rotations provide you with diverse settings and learning environments.
Graduates are prepared for and may choose to sit for the national Massage & Bodywork Licensing Examination (MBLEx).
Why Sheridan College?
Our program is nationally accredited and features hands-on, clinical practice in a variety of settings on- and off-campus.
Sheridan College offers the only community college Massage Therapy Certification program in Wyoming.
Complete your credential in just 30 weeks (two semesters, Fall & Spring terms)
Industry Outlook
Demand is high for Massage Therapists across the United States. Businesses across the state and country contact our program director each year to hire our Massage Therapy graduates. With an array of options for employment, Massage Therapists are able to pursue work in a variety of locations and settings. The U.S. Bureau of Labor Statistics predicts 32% job growth for licensed massage therapists from 2020-2030, with a median annual income of $46,910 or $22.50/hr.
Program Outcomes:
Identify contradictions to MT
Integrate protocols of a given modality as needed during treatment.
Demonstrate effective use of techniques of a modality in the clinical setting
Design a comprehensive business plan.
Assess workforce readiness through self-appraisal.
Correlate Body Structure and Function to maintain health.
Faculty and Community
Sheridan College has some of the most experienced and dedicated Massage Therapy instructors in the area. They will help you understand each aspect of the industry and train you to succeed and thrive as a certified professional.
The Sheridan College Massage Therapy program is geared to meet the needs of the industry both locally and nationally.
Our faculty members have strong partnerships with medical offices, rehab centers, spas, hospitals, and more to give you unique learning opportunities through internships, clinical rotations, and jobs.
Careers and Opportunities
The Massage Therapy program closely follows industry standards and guidelines to ensure you are gaining the skills you need to work as a professional Massage Therapist. Our graduates have found employment in spas, medical settings, rehab centers, and more. Most, but not all states require a license to practice. You can become a licensed Massage Therapist by sitting for the Massage and Bodywork Licensing Examination (MBLEx).
Our graduates work in a professional setting such as:
Spas
Salons
Professional Athletes and Teams
Hospitals
Physical Therapy Clinics
Rehabilitation Centers
Chiropractic Clinics
Private Practices
Local Clinics