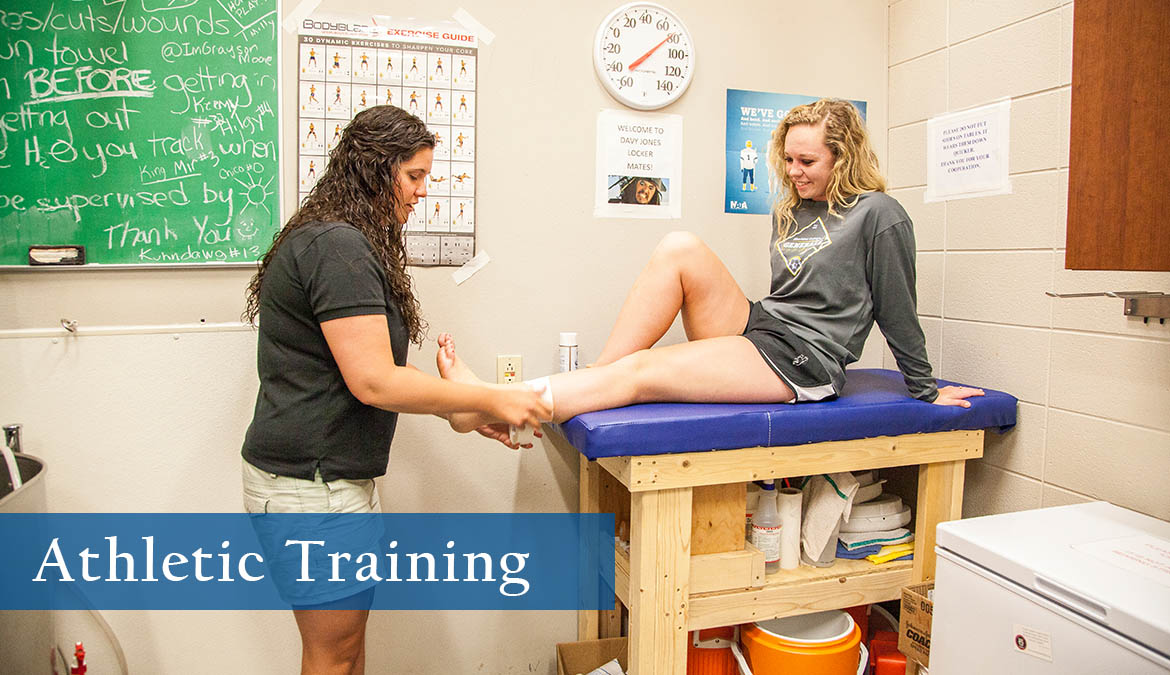 Athletic Training
Fitness programs, injury prevention, and rehabilitation treatment are a few of the many responsibilities of athletic trainers. Athletic Training is a rapidly growing and respected professional field of study and practice. NWCCD's Athletic Training Associate of Science program combines high quality academic instruction with many opportunities for hands-on learning. This program is an exact fit if you are interested in the study and practice of preventative and rehabilitative medicine.
NWCCD offers a variety of collegiate sports, including men's and women's basketball, rodeo, women's volleyball, and men's and women's soccer. You have direct and consistent access to all sports teams and are able to practice and perfect your hands-on skills. Our faculty will guide you through industry standards and best practices to help you prepare for your career in athletic training.
Why NWCCD?
You will learn from well qualified and experienced faculty and have opportunities to work with a variety of athletic teams.
Take a variety of courses related to human anatomy, physiology, rehabilitation, and strength and conditioning.
Our graduates take advantage of our partnerships with universities to earn bachelor's and master's degrees after graduating from NWCCD.

Available at Gillette College and Sheridan College.
Industry Outlook
Athletic Training is recognized by the American Medical Association as an allied health care profession, specializing in the practice of preventing, recognizing, managing, and rehabilitating injuries that result from physical activity and athletic performance. The U.S. Bureau of Labor Statistics predicts that by 2026 about 6,300 jobs will be added to this field of athletic trainers and exercise physiologists, an increase of 23%.
Faculty and Community
Our dedicated faculty at NWCCD will make sure you understand the fundamentals of Athletic Training. From Foundations of Exercise Science to Methods of Training and Conditioning, our enthusiastic, highly trained instructors will guide you through hands-on courses.
NWCCD has strong partnerships when it comes to Athletic Training. Students who complete the Associate of Science in Athletic Training pursue higher education across the country. NWCCD also has articulation partnerships with the University of Montana in Missoula and Montana State University-Billings to earn Master's degrees in Athletic Training within three years after graduating from NWCCD.
Careers and Opportunities
From working in high schools and colleges to professional sports teams, athletic trainers are found virtually everywhere sports and physical activities are played. Earning NWCCD's highly regarded Associate of Science degree will allow you to seamlessly transfer to a bachelor's degree across the region or country and ultimately pursue a career in the field. As an athletic trainer, your duties may include:
Evaluate athletic injuries
Develop rehabilitation programs for injured athletes
Apply braces, tapes and bandages to athletes to prevent injury
Write and manage injury reports