Sheridan College Campus Housing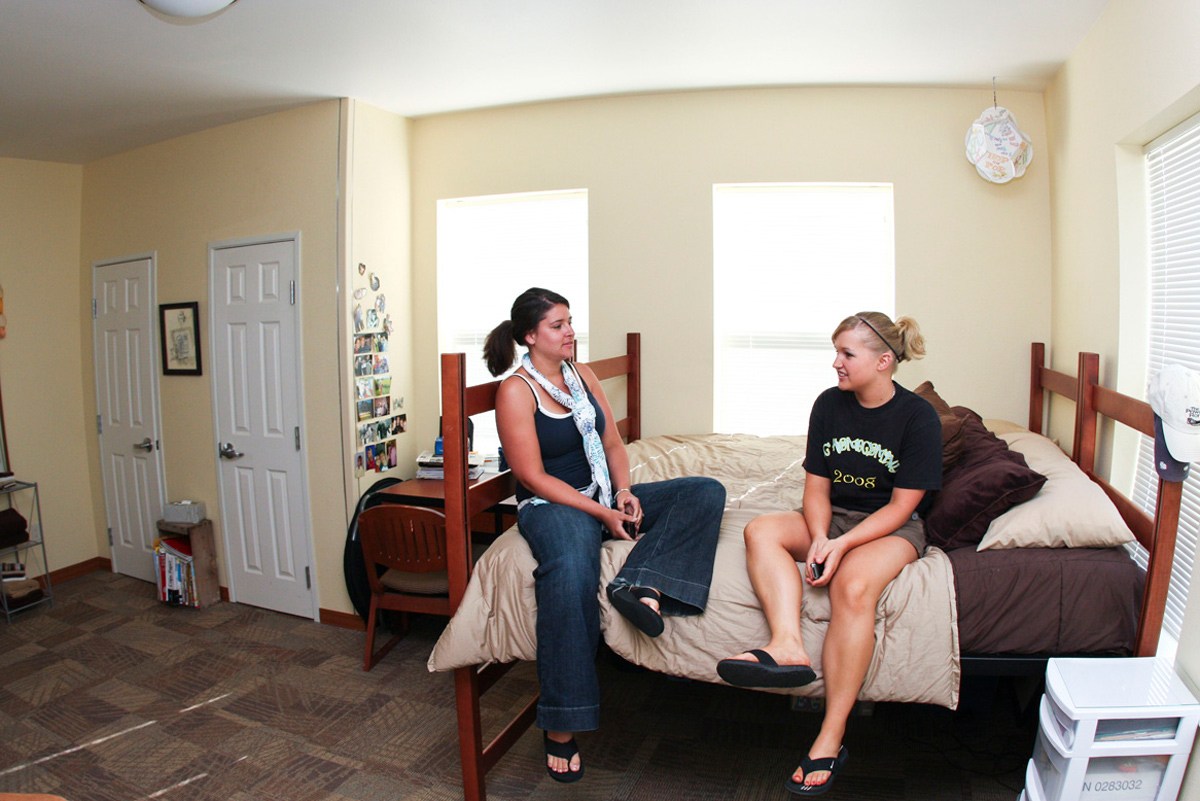 Are you interested in living on campus while attending Sheridan College? Our Department of Campus Life and Housing offers students several campus housing environments, from tight-knit communities to more independent living options. Located in one of the most beautiful settings in the world – at the base of the Bighorn Mountains – Sheridan College is proud to offer you safe and welcoming residential facilities.
Apply for Housing
Students must first be accepted to Sheridan College, prior to applying for housing. Click here for admissions application.
2021-2022 housing applications are available now.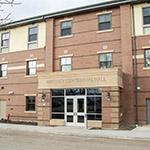 Centennial Hall
Centennial Hall includes three floors with 100 beds and opened in the fall of 2019. Each floor boasts a large common room with a fridge, microwave and lounging areas as well as a separate meeting room for studying and gaming. It features high ceilings and uses a cross-laminated timber panel system, which serves as a sound barrier both between rooms on the same floor and between levels. The residence hall is equipped with one fully accessible room and has the ability to convert a second room to that standard, which exceeds Americans With Disabilities Act requirements. Whitney Benefits made the new $9.4 million residence hall possible, covering the cost of the facility.
Whitney Villas/Lofts
Whitney Villas/Lofts consist of 11 "houses" and 3 "Lofts" with one to five apartments in each. Each apartment has a full kitchen and furnished living areas in addition to a combination of single and double bedrooms. The Villas/Lofts have both wired and wireless internet.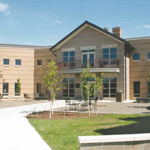 Founders Hall
Founders is configured into four wings with a central lobby. Each wing offers full kitchens and a common living space. Room configurations consist of traditional double rooms near group baths. A total of 92 students can reside in Founders. This building features electronic access, internet connections in all of the rooms and Wi-Fi throughout the building.
South Hall
This building features electronic access, internet connections in all of the rooms and Wi-Fi throughout the building. South Hall is configured into four wings with a central lobby. Room configurations consist of traditional double rooms near group baths, as well as a limited number of private-bath single and double rooms. There are 3 kitchens available for use in South Hall. South Hall can host up to 88 students.
The North Halls
North Halls (Crook, Kearney, and Connor) are small, two-story facilities that can house men, women, or both, depending on numbers of applications. If they are co-ed, men occupy the first floor while women occupy the second floor. The rooms are wired for high-speed internet and there is Wi-Fi throughout the buildings. Capacity for each of these buildings is 29 making for more cohesive community.
East Hall
East Hall features 7 suites housing 2 – 6 people each with private bathrooms. East Hall has both wired internet access points and Wi-Fi internet throughout the building. East Hall has a common kitchenette.
| | | | | |
| --- | --- | --- | --- | --- |
|   Cost* | Founders, East & South | Centennial | Whitney Villas & Lofts | Efficiency Apartment** |
| Double room | $1,500 | $1,735 | $1,735 | $2,725 |
| Double room w/private bath | $1,725 | NA | $1,950 | $2,725 |
| Single room | $1,975 | NA | $2,275 | $2,725 |
| Single room w/private bath | $2,300 | NA | $2,575 | $2,725 |
*Rates are per semester. All residents pay a $50 laundry fee per semester. There is also a $30 activity fee per semester unless living in the Efficiency Apartments.
** Efficiency Apartments are for students 26 or older; or for married students without children.
What we offer:
Furnishing – Each room is furnished with an XL twin bed, desk, desk chair, closet or wardrobe for each resident.
Internet – All rooms are wired and  have wireless internet.
Laundry – Laundry facilities are located in each residence hall. Each resident is assessed a $50 laundry fee each semester which gives them access to as much laundry as they care to do.
Parking – The Sheridan College campus provides ample parking space for residents living on campus. Please review our parking rules & regulations.
Bikes – There are bike racks placed around campus.  Bicycles may not be taken into the buildings or locked on porches. There is limited space available for rent in the bike storage room located in Centennial Hall. There are also bicycles available for rent through the Innominate House.
Safety – All residence halls are locked 24/7 and require a key or a key card to access the building. While Sheridan College is a safe campus, we encourage all students to take extra precautions to protect themselves and the community by locking their doors and not letting other people into the buildings.
Dining Options
We offer comprehensive meal plans for students living on campus with a variety of options to suit your lifestyle and preferences.
Meal plans are a required part of living on campus. Please click here for more information.
Living on Campus Helps Students Succeed
Higher grades – Studies* show that students who live on campus have a GPA that is nearly 1/10th higher than students who live off campus.
Community – Connect with your classmates and friends. Have constant access to support services like counseling, academic advising, and tutoring services.
Convenience – Save time and money. Live steps away from your classes, dining halls, computer labs, bookstore, gym, and library.
Security – Living on campus is a secure and comfortable alternative to an independent living arrangement and is much more fun than living at home. Our residence halls are locked 24/7.
*Studies done by Murray (2011) and Marchant (2012 )