Apply for Housing
Step 1: Fill out your Sheridan College Admissions Application. Must be admitted before applying for housing.
Step 2: Fill out the 2023-2024 Housing Application.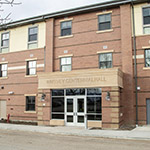 Centennial Hall
Our newest residence hall, Centennial Hall is perfect for meeting new friends. It was designed for fun, featuring a gaming room, meeting room, and large common areas on each floor. Three stories tall, Centennial Hall offers gorgeous views of the Bighorn Mountains and a comfortable living and learning environment.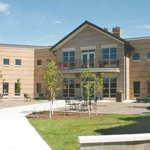 Founders Hall
Founders Hall is a popular choice for first-year students. It offers traditional double rooms near group baths with access to a full kitchen and common living space. Featuring a shady courtyard out front and a traditional residence hall feel, Founders is the perfect setting to dig into your studies.
East Hall
East Hall offers a small, suite-style setting featuring  private bathrooms. This residence hall is perfect for students who prefer more of an apartment style but want to live on campus. With a common kitchenette, students who call East Hall home find it easy to get to know their neighbors.
South Hall
Similar to Founders Hall, South Hall is a popular choice for first-year students and has more of a traditional residence hall feel. It offers mostly traditional double rooms near group baths with access to a full kitchen and common living space, as well as a few single rooms with private baths.
Whitney Villas & Lofts
Whitney Villas/Lofts are basically apartments on campus, complete with front porches. Each building has one to five apartments with a combination of single and double rooms. Enjoy the convenience of campus with all the amenities of an off-campus apartment.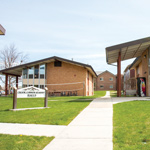 North Halls
Crook, Kearney, and Connor are small, two-story facilities that function as overflow housing as needed.
Top 3 Reasons to Live On Campus
Built-in Community – Easily meet new people. On-campus students have a built-in community starting on their first day of class. Support services like counseling, academic advising, and tutoring are also easily accessible.
Convenience & Safety – Save time and money. Live steps away from your classes, dining hall, computer labs, bookstore, gym, and library. Our residence halls are safe and secure with required key card access.
Academic Success – Studies* show that students who live on campus have a GPA that is nearly 1/10th higher than students who live off campus.
*Studies done by Murray (2011) and Marchant (2012 )
Residence Hall Costs
  Cost*
Meal Plan 1:
214 Meals,
$150 Meal Dollars
Meal Plan 2:
175 Meals,
$375 Meal Dollars
Villa/Loft Meal Plan:
125 Meals,
$775 Meal Dollars
Efficiency Meal Plan:
75 Meals,
$300 Meal Dollars
Single Room
$4,245
$4,245
$4,245
N/A
Double Room 
$3,630
$3,630
$3,630
N/A
Efficiency Apartment**
$4,785
$4,785
$4,785
$4,245
*Rates are per semester. There is an additional $50 laundry fee per semester. There is also a $30 activity fee per semester unless living in the Efficiency Apartments.
We offer comprehensive meal plans for students living on campus with a variety of options to suit your lifestyle and preferences. Meal plans are a required part of living on campus. Please click here for more information.
** Efficiency Apartments are for students 26 or older; or for married students without children.