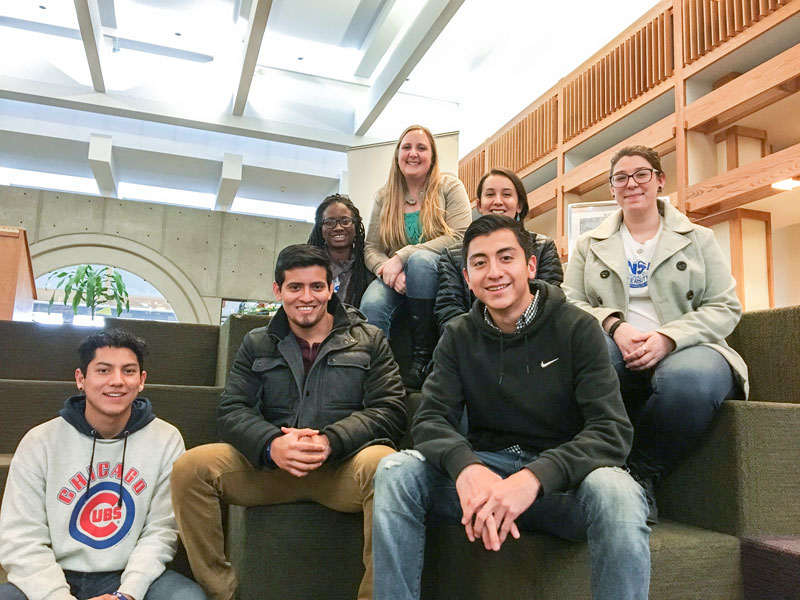 Last weekend, five Sheridan College students and two advisors traveled to Salt Lake City to attend the National Student Leadership Diversity Convention. They joined over 200 attendees from other colleges and universities around the country to learn how to create a more accepting, equitable environment on campus.
The convention featured experiential workshops, keynote sessions, and round table discussions designed to help students and advisors address the most critical topics of diversity and social justice on college campuses. All activities focused on four areas of learning: raise awareness, increase knowledge, develop skills, and plan for social action.
Business student Miguel Gio Arriaga said the keynote speech by Dr. Mykee Fowlin was something he "thinks the whole world should watch." He said Fowlin used his professional acting talents and training in psychology to celebrate the differences between people and create empathy.
"He took on the personas of about twenty different people during the speech, such as a person with a disability, a black person, and many others, to help you empathize with the struggles of all types of people," Arriaga said.
Empathy and knowledge of other cultures is something Rafael Escoto, Success Coach and Retention Coordinator at Sheridan College and one of the advisors on the trip, hopes the students bring back to campus and share with other students.
"Sometimes when we lack knowledge about different cultures, we are afraid of what we don't know, and that causes us to act in a negative way," he said. "I think the more experiences like this we can give students, the more they will learn to be curious instead of afraid."
The students also learned how to discuss difficult topics and listen to one another in a productive way. Yanique Linton, a Health Sciences major, said the conference was an opportunity for her to step outside her comfort zone and share her experiences with other students.
"The best thing about this conference was having the opportunity to talk one-on-one with other students and hear what they've been through and learn from each other," she said.
Fellow student Francisco Pacheco agreed. "We got into groups and people shared personal stories. Everyone felt comfortable and was willing to listen."
Both the students and advisors said that hearing and sharing personal stories about discrimination was also one of the most challenging aspects of their experience.
"The most difficult part for me was hearing people talk about times they were discriminated against and describing the pain they went through because of it," said Larissa Bonnet, Director of Campus Life and Housing and another advisor on the trip.
Even though it was difficult to hear, Linton said she thought the pain that comes from negative experiences could be a good thing.
Yanique Linton said, "Pain helps mold us into the people we are today, and I think it can inspire us to create positive change."
One of the most beneficial workshops for the group was called "No More Drama: Managing Conflict Effectively on Campus", which taught them conflict resolution skills that they can use to facilitate difficult conversations, meetings, or events. Escoto said that he and the students learned tools they will be able to use during campus discussions, such as what types of questions help people open up.
The group agreed the skills they gained and the experiences they shared at the conference will help them as they host many events and discussions this semester geared toward making Sheridan College a more inclusive, welcoming place.