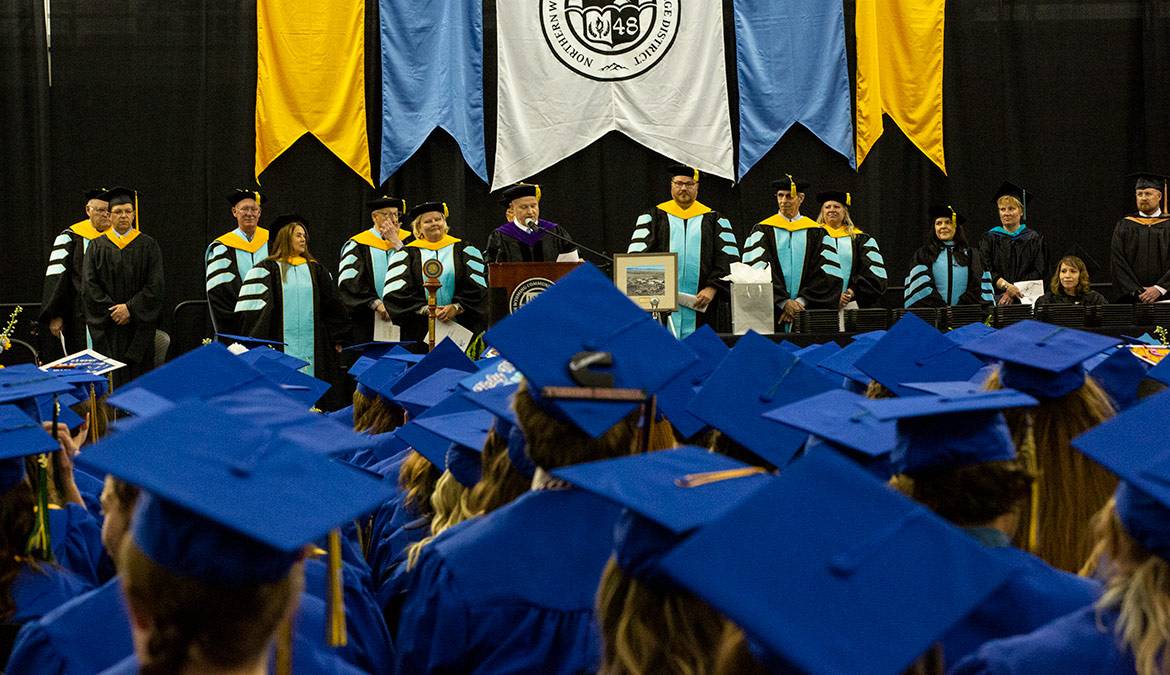 Sheridan College Commencement
Sheridan College will hold an in-person commencement ceremony on Saturday, May 13, 2023 at 1:00PM in the Bruce Hoffman Golden Dome. Admission is free.  The ceremony will also be live-streamed (see link below). The live-stream will be available for viewing on campus in our Whitney Center for the Arts, Kinnison Hall.
The Commencement Ceremony
Nursing Program Pinning Ceremony
The SC Nursing Program Pinning Ceremony will be held at 8:00AM on Saturday, May 13, 2023 in the Kinnison Hall at the Whitney Center for the Arts on the Sheridan College campus.
Dental Hygiene Pinning Ceremony
The SC Dental Hygiene Program Pinning Ceremony will be held at 10:00AM on Saturday, May 13, 2023 in the Kinnison Hall at the Whitney Center for the Arts on the Sheridan College campus.
Dental Hygiene Pinning Ceremony
Am I ready to graduate?
You may assess your progress in completing your program of study by generating a program evaluation via Self-Service. Your academic advisor can help you with this step, if you like. All requirements must show as complete or in progress (IP). If intending to transfer a course to be used in completing your program requirement, please indicate the course and the institution. An official transcript, if applicable for graduation requirements completed at another institution, must be received within 30 days of the last day of NWCCD courses. If received after that time frame, your graduation will be posted to the next semester. Be sure to discuss any concerns about your evaluation with the Records Office so any necessary adjustments can be made.
Candidates for graduation must complete a Graduation Application and submit it to the Record's Office by December 15th (Fall) or February 15th (Spring and Summer). Applications will be accepted after those dates, but you risk not having a gown for the Commencement ceremony or having your name in the program. It is your responsibility to complete the necessary steps to apply for graduation.
Requirements for Graduation
The following general requirements must be completed before a degree or certificate may be awarded by NWCCD. The student must:
complete all courses/requirements associated with the program of study,
have a cumulative grade point average of 2.00 in all hours attempted at NWCCD, and
have completed a minimum of fifteen credit hours applicable to the degree at NWCCD or one-half of the required credit hours applicable to the Certificate of Completion at NWCCD.
Diplomas
Diplomas are mailed out 3-4 weeks after the semester ends, assuming all transcripts for transferred courses are received. Certificates/degrees are indicated on transcripts. When requesting a transcript, you may indicate that your request be held until your degree is posted. This option is especially beneficial for those who intend to transfer to another institution or sit for a licensure exam.
Diploma covers are provided during the spring commencement ceremony.  Students not participating in the ceremony may pick up their diploma cover in the Records Office. Additional diploma covers may be purchased for $10 per cover.
Fall/Summer Graduates
Students who completed their requirements in December 2021 are invited to participate in Spring Commencement by indicating their preference on the graduation application. Summer graduates must be enrolled for their remaining requirements prior to participating in Spring Commencement.
Those who indicated they will be participating in Commencement will be provided further information in early April.