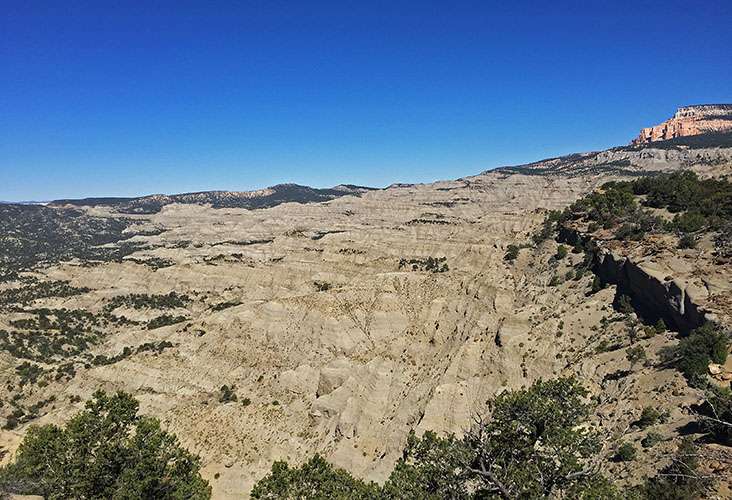 Science Museum Lecture
Wed., March 16, 7pm. Chemistry of the Fossils: Insight to Paleoclimate of the Kaiparowits Formation Using Stable Isotope Geochemistry
With Daigo Yamamura, Ph.D., Science Faculty, Miles Community College. To attend online, go to www.sheridan.edu/lecture at the event time.
The Late Campanian-aged Kaiparowits Formation (72.5–76.6 Ma) is a thick, fossiliferous fluvio-overbank-lacustrine complex deposited in south-central Utah.  Host to one of the richest, most diverse Campanian terrestrial fossil records in North America, the physical environment of the Kaiparowits ecosystem, particularly the dynamics of the hydrological system, remains obscure. Isotopic compositions of serially sampled tooth enamel phosphate (δ18Op) from tyrannosaur teeth were analyzed to see if they held data that could clarify the palaeohydrology of the Kaiparowits Formation. The δ18Ow calculated from tyrannosaur was low, suggesting that isotopically-light, high-altitude runoff strongly influenced the local hydrology of the Kaiparowtis Formation. This study provides unique insight to the paleoclimate during the Campanian, and conducting similar studies in Montana and Wyoming would provide greater insight to the Cretaceous paleoclimate and paleoecology.
Daigo is a new Science Faculty at Miles Community College and previously taught at University of Arkansas – Fort Smith as a visiting Assistant Professor.  Other professional experiences include mitigation paleontologist at SWCA Environmental Consultant and EXP.  His research focus is paleoclimate and paleoecology of the Cretaceous North America, and the majority of the fieldwork takes place in Montana and Utah.  Laboratory techniques employed include petrography, X-ray diffraction, scanning electron microscopy and stable isotope geochemistry.  Daigo studied stable isotope geochemistry of vertebrate fossils from the Kaiparowits Formation in south-central Utah while completing his Ph.D. in Geoscience at the University of Arkansas in 2017.  He plans to expand this paleoclimate investigation into Cretaceous formations in Montana and Wyoming.