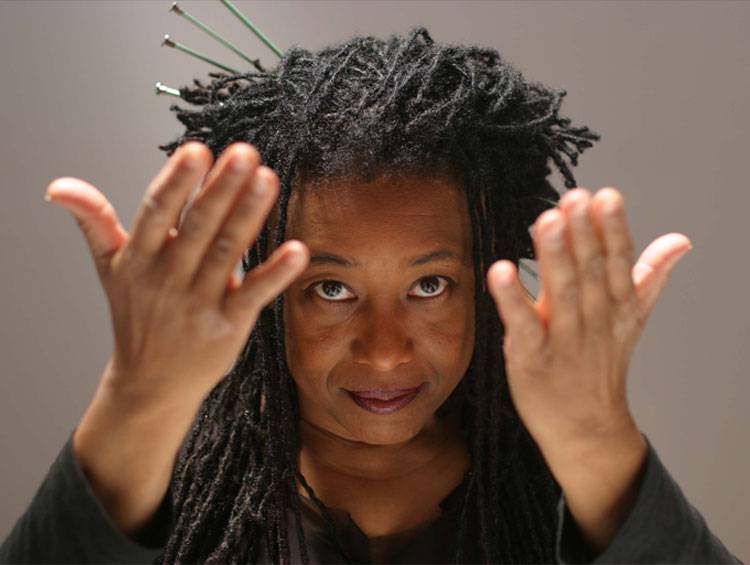 Pamela Z | Dinner and a Show
The Arts at Sheridan College presents Pamela Z in concert on Saturday, February 24th at 7pm in Kinnison Hall at the Whitney Center for the Arts. This event is part of our Dinner and a Show series.
$50 gets you prime seating to the concert, two complimentary drinks (beer, wine, soft drinks), and themed buffet. Bar opens at 5:15pm with dinner to follow. Limited to just 50 seats. The concert is at 7pm, and you can also purchase tickets for the concert only.
Get Tickets (you can choose either just the concert or dinner and a show tickets)
Pamela Z is a composer/performer and media artist making works for voice, electronics, samples, gesture activated MIDI controllers, and video. She has toured throughout the US, Europe, and Japan. Her work has been presented at venues and exhibitions including Bang on a Can (NY), the Japan Interlink Festival, Other Minds (SF), and the Venice Biennale, and the Dakar Biennale. She has composed scores for dance, film, and chamber ensembles (including Kronos Quartet and Eighth Blackbird). Her awards include the Rome Prize, Foundation for Contemporary Arts Dorothea Tanning Award, the Guggenheim, American Academy of Arts and Letters, and Robert Rauschenberg Foundation. www.pamelaz.com
Ticket Pricing: Dinner & Show: $50; Concert only: Adult: $30; Senior/Veteran: $20; Student (K-12, non-SC): $10
Box Office | 307-675-0360 | arts@sheridan.edu
Hours: Mon. – Fri. 12:30pm – 3:30pm
The Box Office is open one hour prior to all events.