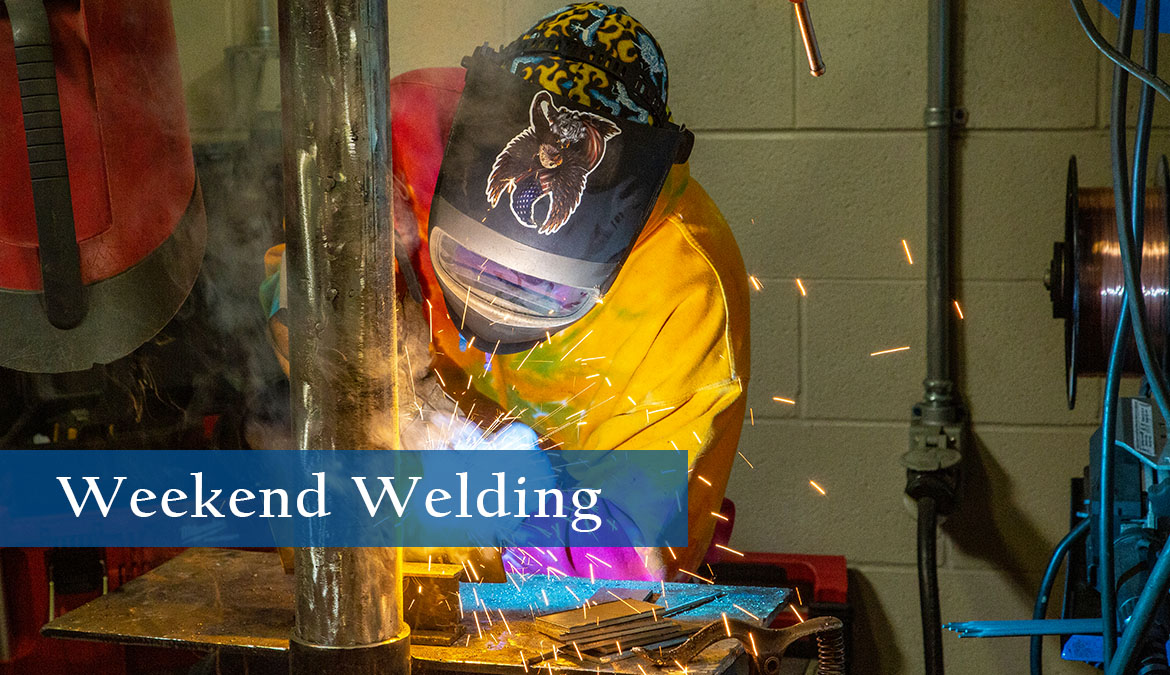 Weekend Welding Certificate
Prepare for entry-level work as a welder in just one year! The Weekend Welding Certificate works with your busy schedule, so you can keep your day job and go to school.
Not only can you continue working, but Weekend Welding Certificate students may be eligible for:
On-campus housing
Scholarships
Financial aid
Courses begin July 23, 2021.
Classes are held on Fridays and Saturdays.
Information Nights
Have questions about the program? Join us for one of our Information Nights to meet with faculty, ask questions, tour the facilities, and get registered.
Sheridan College – Wednesday, June 16th at 6pm
Technical Education Center, Room 131
Weekend Welding Certificate Program Schedule
These classes are required to be taken in sequence. Late enrollments will not be accepted.
Summer 2021
WELD 1555 Safety Course, WELD 1715 Thermal & WELD 2680 Metallurgy
Friday, July 23 & 30, August 6, 13, 20 & 27 | 8am-6pm
Saturday, July 24 & 31, August 7, 14, 21 & 28 | 8am-6pm
**No Class September 3 & 4 – Labor Day
Fall 2021
WELD 1773 Gas Metal Arc Welding & WELD 1755 Shielded Metal Arc Welding
Friday, September 10, 17 & 24, October 1, 8, 15, 22 & 29, November 5, 12 & 19, December 3, 10 & 17 | 8am-6pm
Saturday, September 11, 18, & 25, October 2, 9, 16, 23 & 30, November 6, 13 & 20, December 4, 11 & 18 | 8am-6pm
**No Class November 26 & 27 – Thanksgiving
**No Class December 24, 25 & 31, January 1 – Winter Break
Spring 2022
WELD 1772 Flux Arc Welding & WELD 1760 Advanced Shielded Metal Arc Welding
Friday, January 7, 14, 21 & 28, February 4, 11, 18 & 25, March 4, 11, 18 & 25 | 8am-6pm
Saturday, January 8, 15, 22 & 29, February 5, 12, 19 & 26, March 5, 12, 19 & 26 | 8am-6pm
**No Class April 1 & 2 – Spring Break
Spring 2022
WELD 2650 Gas Tungsten Arc Welding & WELD 1650 Welding Symbols and Print Design
Friday, April 8, 22, & 29, May 6, 13, 20 & 27, June 3 | 8am-6pm
Saturday, April 9, 23, & 30, May 7, 14, 21 & 28, June 4 | 8am-6pm
**No Class April 15 & 16 – Easter