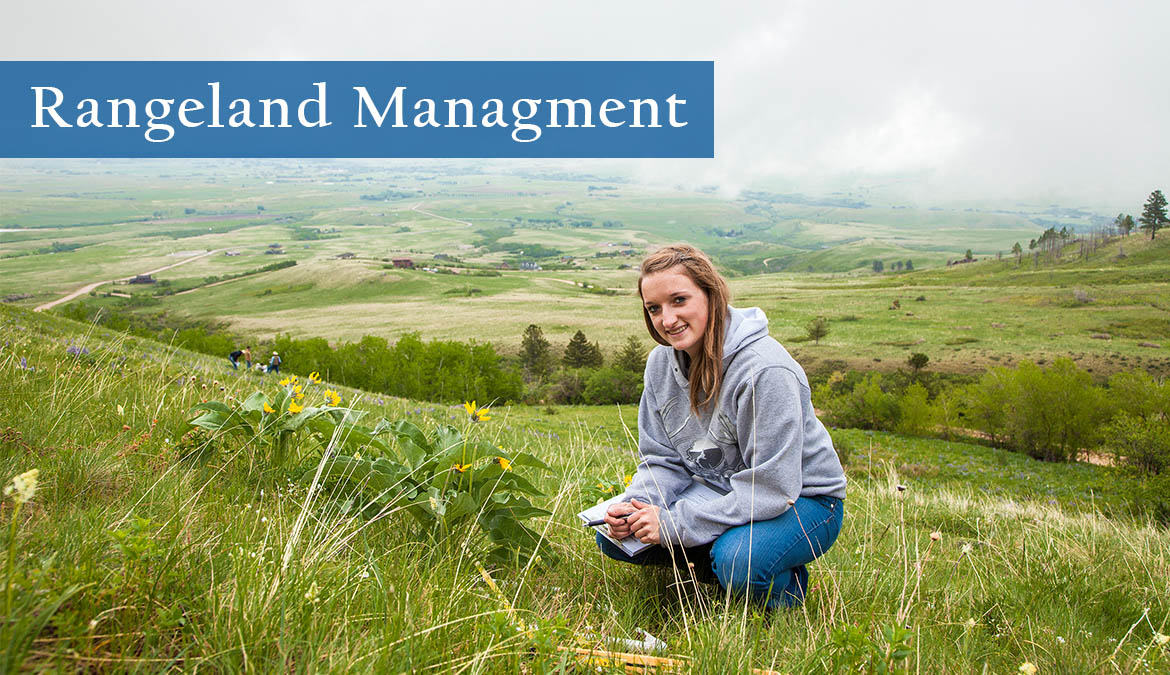 Rangeland Management
Do you enjoy working in the outdoors and researching in the field? Are you interesting in working in ranching, agriculture or land management? Our Associate of Science in Rangeland Management at Sheridan College is rooted in applied management and ecology and features a hands-on, outdoor-focused curriculum. As a student in the Rangeland Management program, you will learn from award-winning faculty and leading industry professionals, preparing you for a career in natural resources.
The Rangeland Management program prepares students to pursue careers or higher degrees in areas that involve management of our natural resources. This comprehensive program is hands-on and teaches students how to accomplish management goals such as: managing sustainable and productive livestock forage, ensuring clean and adequate water supplies, beautifying recreational scenery, and improving wildlife habitat. Students participating in this degree program will frequently pursue careers in rangeland ecology and management, ranch land stewardship, wildlife management, restoration ecology, and environmental consulting
You will take courses such as rangeland ecosystems, field ecology and intro to soil science. You will also have the opportunity to compete in the Wyoming Society for Range Management's student competitions. Our students have also competed on the national level, excelling at the Society for Range Management conference, traveling to California, Florida, Minnesota, and more.
Sheridan College's Associate of Science in Rangeland Management program allows students join the workforce as field technicians or transfer to four-year universities, including the University of Wyoming, to pursue Bachelor's degrees.
Why Sheridan College?
Our program emphasizes outdoor learning. Students spend valuable field time with professionals, earning real-world experiences.
The Rangeland Management program includes a capstone project where students design their own research project, land management plan or shadow a natural resources agency to complete a final project.
We partner with USDA Forest Service, USDA Natural Resource Conservation Service, Wyoming Game and Fish, Sheridan County Conservation District, and more to give our students professional experience.
World-Class Facilities
Learn in one of the leading agriculture education facilities in the region, the Mars Agricultural Center at Sheridan College.
The Mars Ag Center allows for a better ag learning experience with features such as an animal science lab, a soils and agroecology lab, an herbarium, a teaching greenhouse, a computerized commodities trading floor classroom, and other high-tech classrooms.
Industry Outlook
From the shrublands of Wyoming to the wetlands and grasslands of states like Florida, there are more than 700 million acres of rangelands in the U.S., according to the Forest Service. With the wide variety of rangelands across the map, including deserts, woodlands, and tundras, rangeland managers and ecologists hold several job titles in the public and private sectors. The U.S. Bureau of Labor Statistics predicts more than 9,900 new jobs will be added to the field of rangeland management between 2016 and 2026, which is a 11% increase. The Bureau also predicts steady job growth for agriculture-related fields, including conservation scientists and foresters.
Faculty and Community
At Sheridan College, we have a rich tradition in Agriculture. Sheridan College began as an Agriculture-focused community college in the late 1940s. We value Agriculture education here at Sheridan College and invest in our programs to help prepare you to succeed in today's economy.
Our Agriculture faculty are enthusiastic, well-liked and approachable. They will make sure you learn the foundational skills to pursue higher education or find a job following graduation. Sheridan College's strong relationships with local and national industries in rangeland management, wildlife management and agriculture present students unique opportunities to expand their college experiences.
Careers and Opportunities
The Sheridan College Rangeland Management program will prepare you to pursue a four-year degree or a job in fields such as rangeland ecology and management, ranch land stewardship, wildlife management, restoration ecology, and environmental consulting.
Rangeland Conservationist
Field Botanist
Restoration Coordinator
Natural Resources Specialist
Field Technician
Wildland Fire Specialist
Forestry Conservation
Mining Reclamation
Ecologist
Wildlife Management
Environmental Consultant