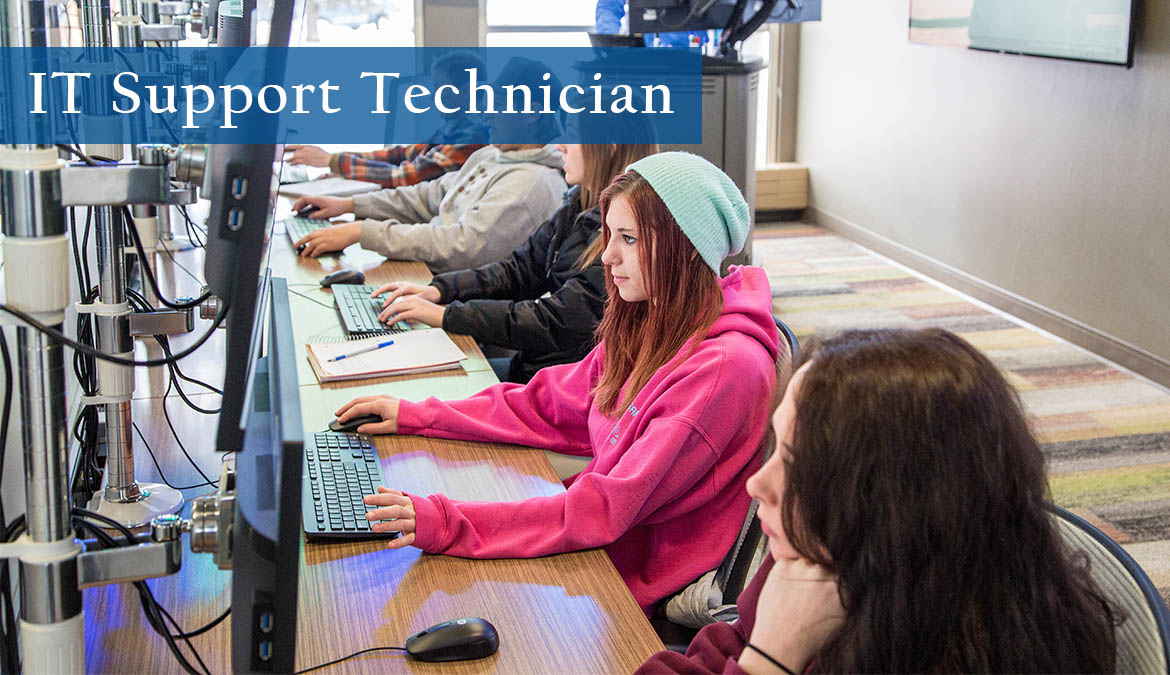 IT Support Technician Certificate
IT support technicians repair, install, configure, secure and manage computer hardware, operating systems and software for clients or employees. NWCCD's IT Support Technician Certificate Program will help you lay the foundation for a successful career in information technology.
NWCCD's IT Support Technician Certificate Program uses tools and techniques embraced by TestOut, CompTIA, Cisco and Microsoft to prepare you to become a valuable asset to any company or organization. As a student, you will learn the foundational concepts that will prepare you to take up to five certification exams including: CompTIA's A+, Linux +, and Network + exams and Microsoft MCSA: Windows 10 (two exams) and MCSA: Windows Server 2016 (one of three exams) certifications.
Why NWCCD?
Become prepared for the certification exams demanded in the workplace by using our industry approved learning tools
Enjoy small class sizes, low instructor-to-student ratios and advanced online learning environments.
The IT Support Technician Certificate program is available completely online.

Available at Gillette College, Sheridan College and online.
Industry Outlook
Computers have forever changed the way we work, connect, share and communicate.  Technology is now an integral part of any business, so demand is high for IT support technicians who have the skills needed to install, repair, secure, configure, and manage computer hardware, operating systems and software. The U.S. Bureau of Labor Statistics predicts that by 2026, nearly 87,100 jobs will be added to this field, an increase of 10%.
Faculty and Community
At NWCCD, our instructors have years of experience working in the IT field and use their expertise to help you learn the fundamentals of IT support. Course timelines are designed to support student success and ensure readiness for certification exams. Many local businesses offer internship opportunities for NWCCD's goal-oriented students ready for real-world jobs and application.
Careers and Opportunities
IT support technicians work for a wide variety of companies to support clients or employees by resolving technical problems, answering questions, and maintaining a company's network, software, and equipment. NWCCD's IT Support Technician Certificate Program will prepare you for entry to mid-level job opportunities in the support of desktop and mobile computer hardware, software, network infrastructure and cabling.
You can join a related field like:
Computer Technician
Help Desk Technician
IT Support Specialist
Tech Support Engineer