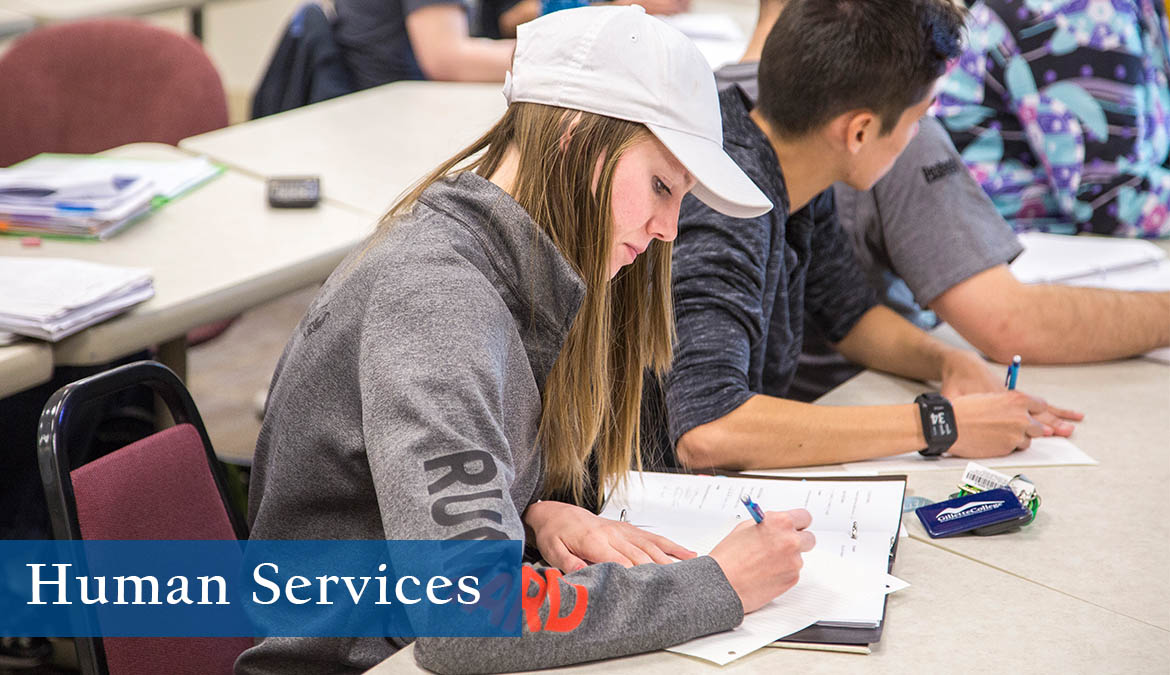 Human Services
From assisting social workers and psychologists to connecting clients to the services they need, social and human service assistants play an important role in serving others. Coordinating services, assisting the elderly, researching available services and determining clients' needs are among the crucial responsibilities of social and human service assistants. Northern Wyoming Community College District's (NWCCD) Human Services program will guide you through courses relevant to the industry, helping you understand theories while gaining hands-on learning to launch your career in human services.
Our Associate of Arts degree and Certificate of Completion programs provide a broad range of course work directly applicable to social, human and community service occupations.
Many students continue their education, transferring to colleges and universities nationwide to complete Bachelor's degrees in Social Work or related fields.
Why NWCCD?
You will be qualified for entry-level positions working with the elderly, children and families, people with disabilities, people with addictions and veterans.
Our Associate degree in Human Services is designed to meet the transfer requirements for the University of Wyoming's Bachelor's degree in Social Work.
Our expert faculty will prepare you for your career with courses such as Counseling Ethics, Psychology, Social Work, Drugs and Behavior, Counseling Skills, Alcoholism, Case Management, Theories of Counseling, Sociological Principles and more.

Available at NWCCD and Online.
Industry Outlook
Many social workers, addiction practitioners and public health case managers earn degrees in Human Services. Increased demand for medical and social services has resulted in new job growth and opportunities for an array of human service arenas. The U.S. Bureau of Labor Statistics predicts 16% job growth for social and human service assistants, resulting in more than 63,900 new jobs from 2016-2026. The field of social workers is expected to grow by 16%, adding more than 109,700 new jobs. Strong job growth is also predicted for related fields like Substance Abuse and Behavioral Disorder Counselors, Social and Community Service Managers and Psychologists.
Faculty and Community
Our Human Services faculty are dedicated to your success and preparing you for your career.  Our faculty actively network with community and private agencies within social services to ensure you gain the knowledge and skills you need for the job market.
Many of our expert faculty have worked in social services, counseling, or substance abuse career fields related to the program's comprehensive courses. This allows our faculty to guide you through the academic-to-career pathway. Many of our adjunct faculty are professionals within the counseling and substance abuse disciplines currently serving local and regional communities.
Our award-winning Human Services faculty will guide you through courses available in several formats, including online courses and concurrent enrollment courses with local and regional high schools.
Careers and Opportunities
Social and human service assistants have many job titles, helping clients to identify and obtain benefits and services. Social and human service assistants may follow-up with clients to ensure they are receiving services and that the services are meeting their needs. Earning your degree from Sheridan College will allow you to join a variety of human service organizations and compete for jobs such as:
Case Work Aide
Social Service Worker Assistant
Clinical Social Work Aide
Family Service Assistant
Addictions Counselor Assistant
Human Service Worker
Public Health Case Manager
Addictions Practitioner Assistant
Disaster Relief Coordinator
Housing Coordinator