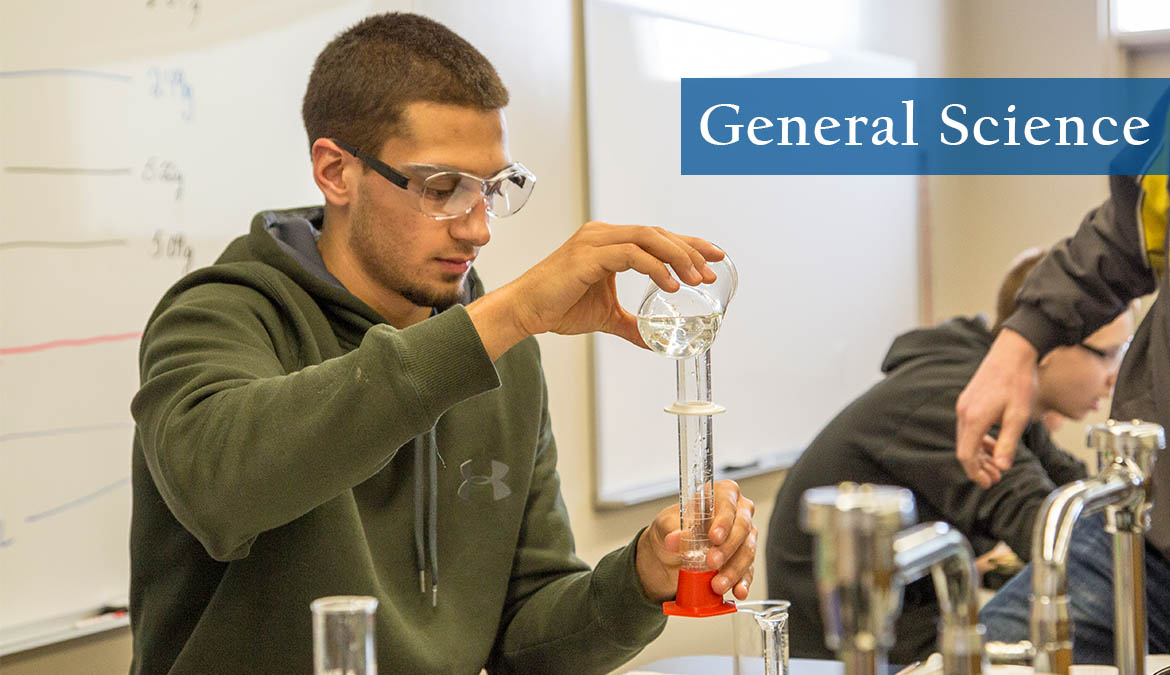 General Science Degree
There are literally thousands of scientific fields, ranging from astronomy to biology, chemistry to geology. If you are interested in studying across multiple scientific disciplines, NWCCD's Associate of Science in General Science degree program will give you the broad scientific knowledge and research skills to succeed in a number of scientific fields.
Our General Science degree is flexible for students interested in pursuing higher education. As a student at NWCCD, you will have the opportunity to choose your course schedule based on your passions and interests, with course offerings such as Astronomy, Biology, Chemistry, Computer Science, Engineering Science, Geology, Mathematics, Molecular Biology, Microbiology, Physics and Zoology.
NWCCD faculty members guide many students through research projects, competing and presenting in the National Science Foundation's Community College Innovation Challenge, the University of Wyoming's Undergraduate Day, and more. NWCCD also hosts Discovery Science Lectures throughout each academic year, bringing in regional and national experts to present on various science-related topics, from geology to landscape management.
Why NWCCD?
You will gain the scientific background, research and lab skills you need to excel in a Bachelor's degree program.
NWCCD's General Science degree program gives you the flexibility to tailor your courses to your interests.
NWCCD partners with the University of Wyoming to give students hands-on learning and researching opportunities on campus.

Available at NWCCD, Sheridan College, EveningPlus+ and Online.
Industry Outlook
A degree in General Science from NWCCD can lead to a myriad of job and career opportunities, providing the foundation for advanced degrees in science-related fields.  The U.S. Bureau of Labor Statistics, part of the U.S. Dept. of Labor, predicts new job growth in several science-related fields, including Geoscientists, Microbiologists, Hydrologists, Nuclear Technicians, Zoologists, Biological Technicians, Meteorologists and more.
Faculty and Community
Our Science faculty at NWCCD are dedicated to helping you succeed. Our award-winning faculty members are knowledgeable about transfer options to colleges and universities across the nation as well as career opportunities for General Science students. They will teach you the broad principles and background of numerous scientific fields, allowing you to identify and pursue your scientific interests.
NWCCD partners with the University of Wyoming and several regional universities to give hands-on learning experiences to our students. Our faculty take advantage of our prime location in Wyoming to take classrooms outside and guide students through research in the field.
Careers and Opportunities
Considering the nearly endless possibilities of a General Science degree, careers and jobs are wide-ranging, dynamic and everywhere. Earning NWCCD's highly regarded Associate of Science degree in General Science will allow you to pursue higher education and professional interests in fields such as:
Medicine
Geology
Engineering Science
Environmental Sciences
Biology
Physical Therapy
Astronomy
Computer Science
Physics
Zoology
Statistics
Mathematics
Occupational Therapy
Education
Science Writing
Law
Business
Chemistry