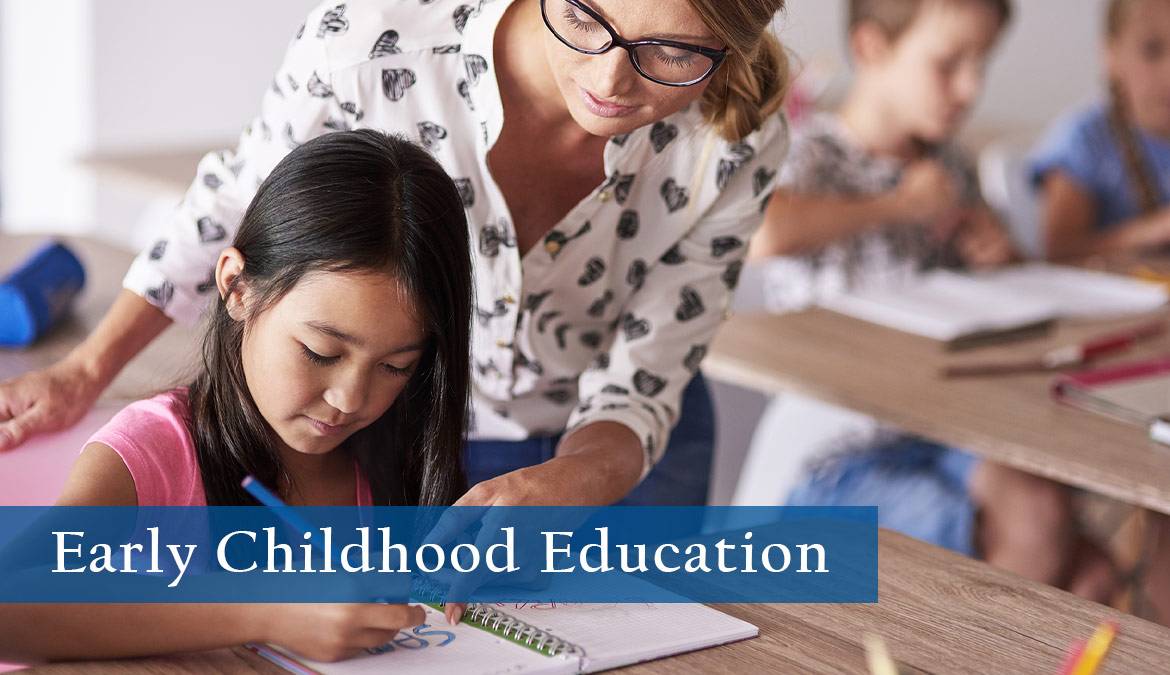 Early Childhood Education
Early childhood educators and preschool teachers are vital to helping young children prepare for school all across the country. Sheridan College's Early Childhood Education certification will provide you the hands-on training, theoretical knowledge and field experiences in child care, preschool, and early elementary school settings to prepare you for your career.
The Early Childhood Education Certification is designed to prepare you for employment as a teacher, assistant teacher, or administrators in early childhood programs including center-based child care, preschools, and Head Start programs. The program provides foundational knowledge in child development, early childhood professional standards, program and curriculum planning and administration, and guidance and assessment techniques.
Our Early Childhood Education program is the only in Wyoming to offer core courses completely online in eight-week sessions. Sheridan College program is one of two programs in Wyoming to offer the Child Development Associate certificate, which requires a national board test.
Our Early Childhood Education program aligns with the Child Development Associate credential and the Wyoming Early Childhood Apprentice.
Why Sheridan College?
Gain field experience in child care, preschool, and early elementary school settings during your courses.
Sheridan College has strong partnerships with universities to help you easily transfer into Bachelor's degree programs.
The Early Childhood Education Certificate is also available online.

Available at Sheridan College, EveningPlus+ and Online.
Industry Outlook
Employment opportunities are numerous, as Early Childhood Education graduates are in high demand. Many students earning a certification in Early Childhood Education pursue Bachelor's degrees in Education, allowing them to teach and work in a variety of educational settings. The U.S. Bureau of Labor Statistics predicts that by 2026 over 50,100 preschool teacher jobs will need to be filled throughout the nation, an increase of 10%. Kindergarten and elementary school teachers will also grow with more than 116,300 new jobs from 2016-2026, a 7% increase, and 84,300 childcare worker jobs will be added, up 7%.
Faculty and Community
Sheridan College's Early Childhood Education faculty are dedicated to ensuring you will have the skills and knowledge to succeed in the education field. Our expert faculty members will guide you through our online, eight-week course options to help you earn your degree and transfer into a Bachelor's program or find a job in the field.
Our Early Childhood Education students enjoy opportunities to work in local school districts and childcare centers through Sheridan College's strong community partnerships. Our faculty believe in hands-on application and practice to help you learn, using field hours associated with each course to help you bridge theory to practice.
Careers and Opportunities
Demand is high for Early Childhood Education graduates, as the need for more qualified teachers and workers in the field of early childhood education continues to increase. The national demand on early childhood centers has also increased. Early childhood care centers in the region and state are in need of high-quality Early Childhood Education graduates. With a degree from Sheridan College, you may find jobs like:
Preschool and Pre-kindergarten Teacher
Assistant Teacher
Childcare Worker
Early Childhood Education Provider
Preschool Center Director
Special Education Teacher
Instructional Coordinator
School Counselor
Social Worker
Childcare Center Director