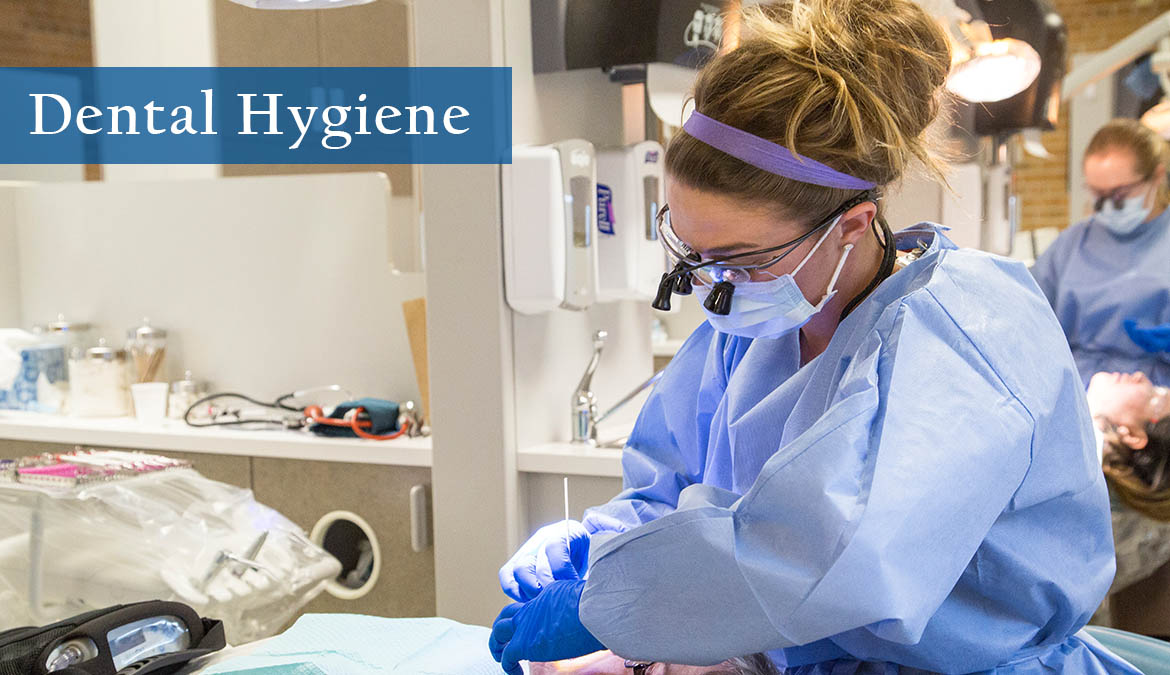 Dental Hygiene
Dental hygienists play an important role in promoting health by helping patients understand the connection between good oral health and overall healthy bodies. Dental hygienists provide patient education and individualized therapeutic services to help patients reach their oral health goals. Our Associate of Applied Science in Dental Hygiene degree program is offered only on the Sheridan College campus.
Sheridan College's Dental Hygiene degree is one of the leading programs in the Rocky Mountain Region. Our cutting edge technology and state-of-the-art equipment provides you current didactic and clinical experiences.
The Dental Hygiene program accepts 24 students each year. As a student, you will develop strong friendships and learn to work well as a team. Our students enjoy this relationship with each other and with their patients. The setting of our program at the foot of the beautiful Bighorn Mountains offers lots of outdoor experiences many find appealing while they are students here.
Sheridan College has a cooperative agreement with the University of Wyoming. This unique partnership gives you the opportunity to earn a Bachelor of Science degree from UW while simultaneously earning an Associate of Applied Science in Dental Hygiene from Sheridan College. The Bachelor of Science option offers increased career opportunities, and can be completed during the program or at a later time.
Many graduates join private dentistry practices, employed by a dentist providing dental hygiene care to patients. Many dental hygienists make a life-time career of this type of employment, or pursue research or education opportunities.
Why Sheridan College?
With only 24 students accepted into the program each year, you will enjoy a low faculty-to-student ratio and individualized instruction.
Our Dental Hygiene degree program partners with the University of Wyoming to give you the option of simultaneously completing a Bachelor's degree.
Sheridan College offers rotations to several off-site clinics, as well as a full on-campus dental hygiene clinic.

Available at Sheridan College.
Community Courses – Dental Assistants
Take a hands-on course for the Application of Pit & Fissure Sealants for Dental Assistants.
Industry Outlook
Demand is high for Dental Hygienists across the state and region. Ongoing research that connects oral health to general health will continue to increase the demand for preventative dental services, according to the U.S. Department of Labor. The U.S. Bureau of Labor Statistics predicts that the field of Dental Hygienists will experience 20% job growth, adding more than 40,900 jobs from 2016-2026.
Faculty and Community
The faculty in the Sheridan College Dental Hygiene program are dental hygienists who want to make a difference for students and the communities they serve. We are committed to providing you the best education possible and are dedicated to providing support for your success and the safety of the public.
The faculty strive to help you accomplish your academic goals in order to be prepared for clinical and national board exams. Sheridan College provides multiple opportunities and experiences to prepare you for the clinical world of dental hygiene after graduation.
Careers and Opportunities
Many dental hygienists will work in clinical practices which include family general practices, pediatric practices, and periodontal offices. Some dental hygienists work in Public Dental Health Clinics, Indian Health Service (IHS) Clinics, and VA Dental Clinics. Others pursue careers in education, research, legislation, and public advocacy. To help you prepare for your career in Dental Hygiene, Sheridan College offers numerous resources, including:
On-Campus Dental Hygiene Clinic
Expert Faculty
Off-Site Clinical Experiences
Dentistry Guidance and Oversight
University of Wyoming Bachelor's Degree Partnership
Service-Learning Experiences
Hands-On Training
Industry-Leading Technology