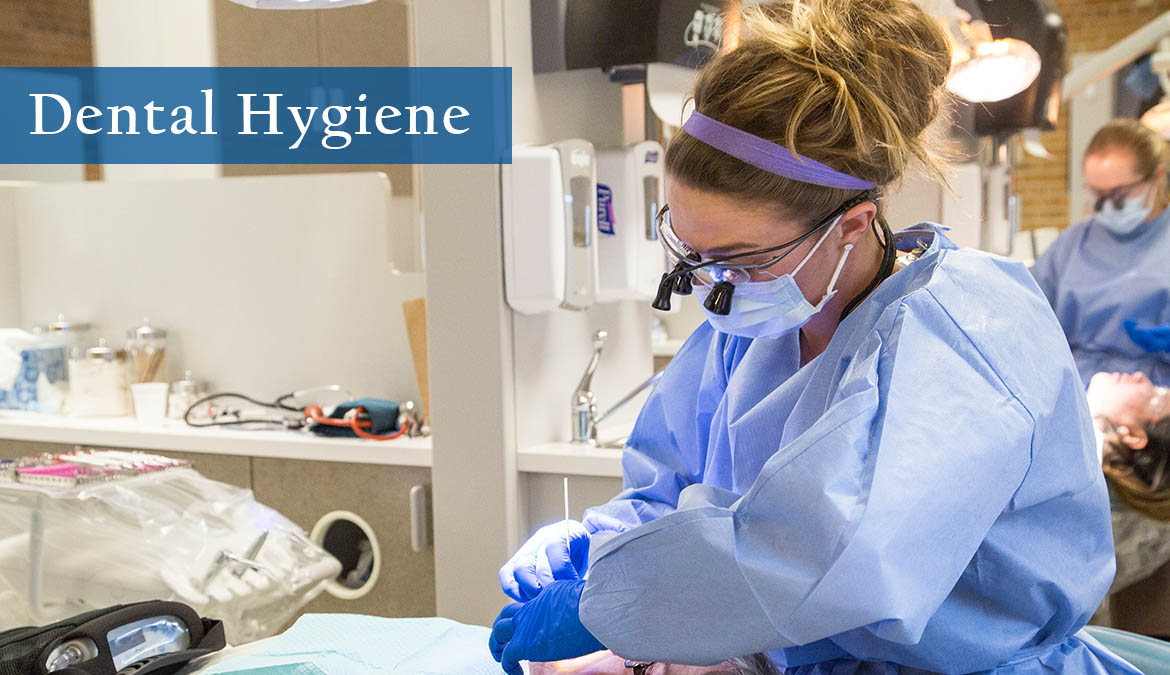 Dental Hygiene
Dental hygienists play an important role in promoting health by helping patients understand the connection between good oral health and an overall healthy body. Dental hygienists provide patient education and individualized therapeutic services to help patients reach their oral health goals. Our Associate of Applied Science in Dental Hygiene degree program is offered only on the Sheridan College campus.
Sheridan College's Dental Hygiene degree is one of the leading programs in the Rocky Mountain Region since 1969. Our cutting-edge technology and state-of-the-art equipment provides students with the most current didactic and clinical experiences possible.
In March of 2021, the Perkins Health Science Center received a $12 million renovation project that refurbished 7,100 square feet of the current Dental Hygiene Program, that was originally constructed in 1958. So far, one of two construction phases has been complete. After the first completed phase, the clinic now holds 24 state-of-the-art dental hygiene operatories, instructor stations, a sterilization room, locker rooms, and administrative offices. The second phase is estimated to conclude March of 2023, and will include dental hygiene and nursing classrooms, a dental materials lab, nursing simulation, and faculty offices.
The Dental Hygiene program accepts 24 students each year. As a student, you will develop strong friendships and learn to work well as a team. Our students enjoy this relationship with each other and with their patients. Our location at the foot of the Bighorn Mountains provides students with unmatched outdoor experiences.
Sheridan College has a cooperative agreement with the University of Wyoming (UW). This unique partnership gives you the opportunity to earn a Bachelor of Science degree from UW while simultaneously earning an Associate of Applied Science in Dental Hygiene from Sheridan College. The Bachelor of Science option offers increased career opportunities, and can be completed during the program or at a later time. Many of our students are able to walk at graduation for both degrees in dental hygiene.  Some students are eligible for a third degree at graduation, an AS in Health Science.
Many graduates join private dentistry practices, employed by a dentist providing dental hygiene care to patients. Many dental hygienists make a life-time career of this type of employment while others pursue research or education opportunities.
Why Sheridan College?
With only 24 students accepted into the program each year, you will enjoy a low faculty-to-student ratio and individualized instruction.
Our Dental Hygiene degree program partners with the University of Wyoming to give you the option of simultaneously completing a Bachelor's degree.
Sheridan College offers rotations to several off-site clinics as well as at the Kim and Mary Kay Love Dental Hygiene Clinic located on campus.

Available at Sheridan College.
Kim and Mary Kay Love Dental Hygiene Clinic
Schedule your appointment at our full-service clinic that is open to the public with services offered at a reduced cost.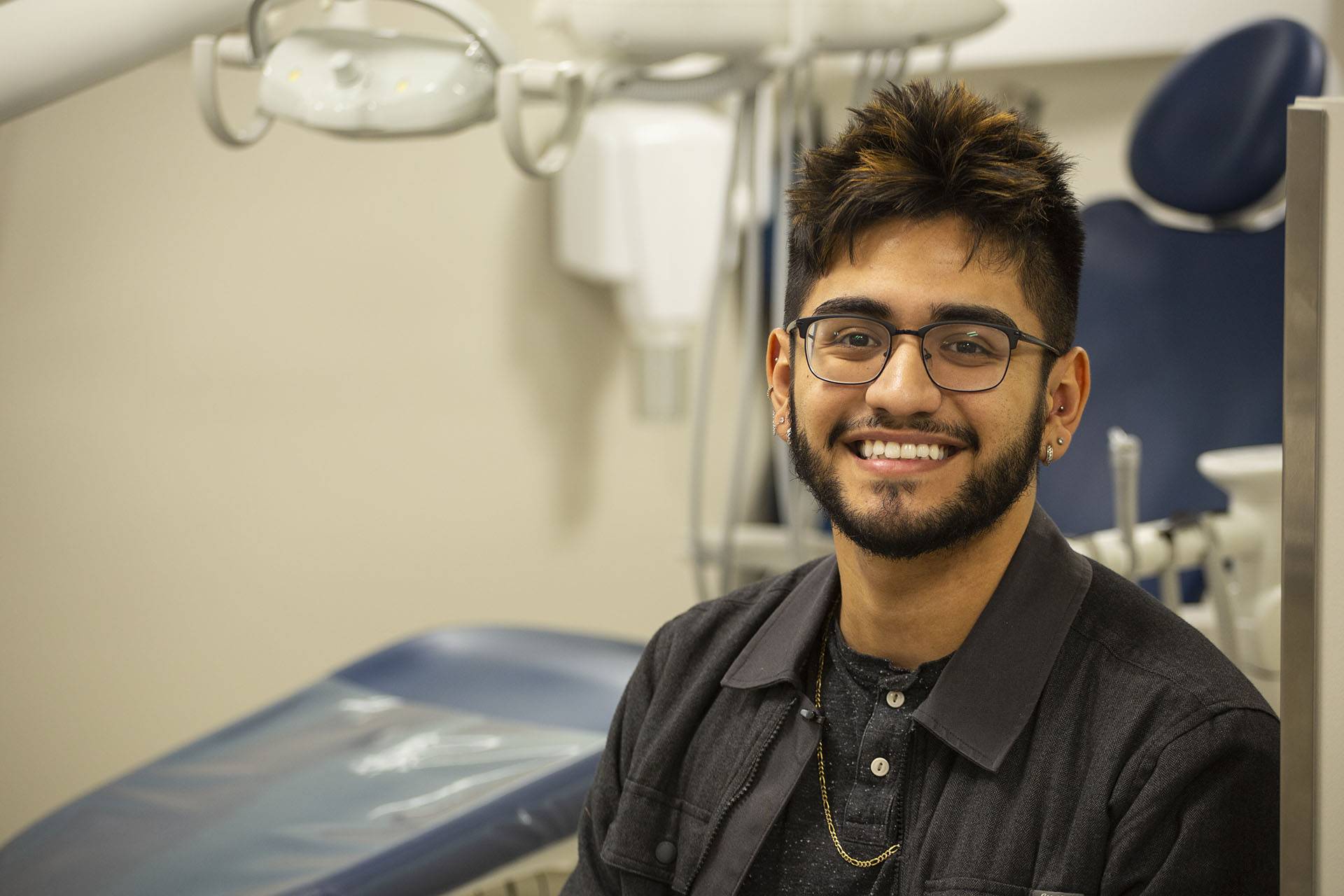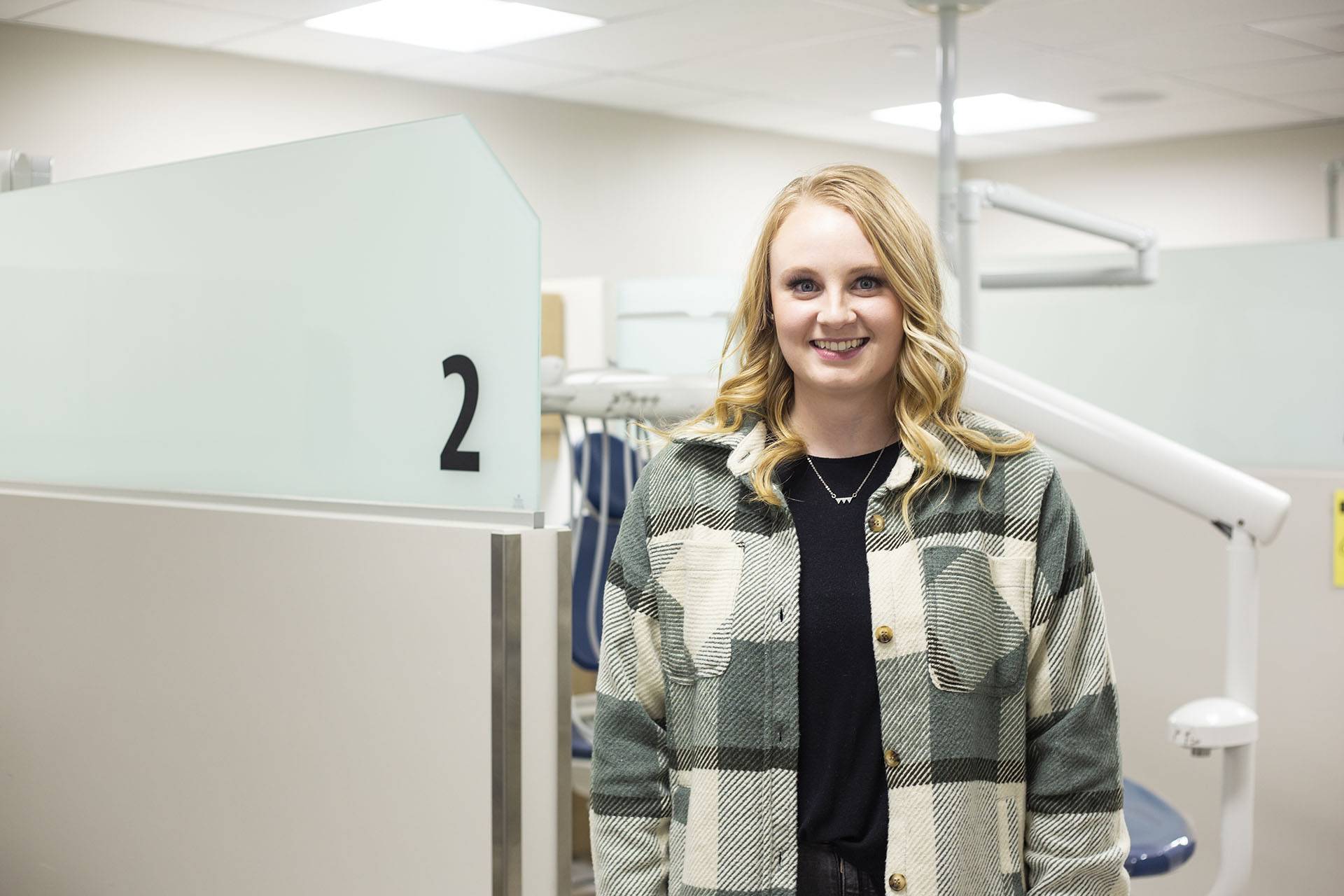 Testimonial_Kaija
Carlos Hernandez. / Hometown: Sheridan, WY
Dental Hygiene

"The faculty make sure that you're feeling comfortable throughout the entire program. Regardless of how difficult it is, they'll make sure you're on the right path towards success."
Testimonial_Tyson
Chelsea T. / Hometown: Wibaux, MT
Dental Hygiene

"The hands-on experience is definitely eye -opening and definitely my favorite part of the program. The new clinic is awesome, our patients have nothing but great things to say about it."
Admission
Applicants to the dental hygiene program must be accepted to NWCCD and submit official transcripts (including High School or HSEC) to the Records office. Admission to the college does not guarantee admission to the dental hygiene program; application to the dental hygiene program is a separate process.
Prerequisites
Students applying to the dental hygiene program must complete all the pre-requisite courses listed on the following page, by the end of the spring semester they apply to the program (Fall 2022 for Feb 2023 spring deadline).  A maximum of two pre-requisite courses may be in progress in the spring semester that the student applies.
Prerequisites include:
ENGL 1010: English Composition I – 3 credits
ENGL 2030: Critical Reading and Writing (may substitute ENGL 2005 or approved AW 0000) – 3 credits
MATH 1400: College Algebra (may substitute MATH 1000 Problem Solving 3 cr) (GenEd-BM) – 4 credits
PSYC 1000: General Psychology (GenEd-CS) – 4 credits
ANTH 1200: Cultural Anthropology (may substitute SOC 1000 Sociological Principles) – 3 credits
COMM 2010: Public speaking (may substitute COMM 1030 Interpersonal Communications) – 3 credits
FCSC 1140: Nutrition (may substitute FCSC 1141 Principles of Nutrition) – 2-3 credits
BIOL 1010: General Biology I – 4 credits
CHEM 1000: Introductory Chemistry (may sub CHEM 1020 Gen Chem I or CHEM 1030 Gen Chem
II)(GenEd-Sci of choice) – 4 credits
MOLB 2210* General Microbiology – 4 credits
ZOO 2010* Human Anatomy and Physiology I – 4 credits
ZOO 2020* Human Anatomy and Physiology II – 4 credits
*Courses must be 5 years current at the time of application
GPA
Pre-requisite courses must be completed with a "C" or better and applicants must have a cumulative GPA of 2.75 to apply for admission.  Admission selection is based on cumulative GPA of the non-science pre-requisite courses and cumulative GPA of the science pre-requisite courses.  All pre-req courses must be completed by the end of the SPRING semester in which the student applies.  No SUMMER course grades are accepted for the summer following the student's application!
All applications, transcripts, and forms must be completed by February 15 to be considered for Fall Semester admittance to the dental hygiene program. All pre-req courses must be completed by the end of the spring semester that the student applies – we do not wait for SUMMER course grades!
Step 1. Apply to Sheridan College using the college application (if not a current Sheridan College student).
Step 2. Send official transcripts from your high school and all colleges you have attended to Sheridan College by the application deadline of February 15. Official transcripts can be requested and sent electronically through the National Student Clearinghouse at https://studentclearinghouse.org.
Step 3. Complete the dental hygiene program application form.
Step 4. Submit observation form or observation waiver form (found in the Information Packet) to the dental hygiene program by mail, fax, or email.
After February 15, the dental hygiene admissions committee meets to review applications. The top tier of applicants will be contacted to schedule an interview. These interviews are conducted via Skype or other such technology between February 15 and March 15. In late March, applicants are notified of their status.
Sheridan College Dental Hygiene Program
2020
2021
2022
Program Completion
(24 students accepted into each 2-year cohort)
100%
100%
91.67%
Written Exam (NBDHE)
95.83%
100%
100%
Clinical Exam (CRDTS/ADEX)
100%
100%
95.45%
Industry Outlook
Demand is high for Dental Hygienists across the state and region. Ongoing research that connects oral health to general health will continue to increase the demand for preventative dental services, according to the U.S. Department of Labor. The U.S. Bureau of Labor Statistics predicts that the field of Dental Hygienists will experience 20% job growth, adding more than 40,900 jobs from 2016-2026.
Faculty and Community
The faculty in the Sheridan College Dental Hygiene program are dental hygienists who want to make a difference for students and the communities they serve. We are committed to providing you the best education possible and are dedicated to providing support for your success and the safety of the public.
The faculty strive to help you accomplish your academic goals in order to be prepared for clinical and national board exams. Sheridan College provides multiple opportunities and experiences to prepare you for the clinical world of dental hygiene after graduation.
Four of the six full-time faculty members are graduates of Sheridan College's program. Seven of the eight clinical adjunct instructors earned their credentials at Sheridan College.
Careers and Opportunities
Many dental hygienists work in clinical practices, including family general practices, pediatric practices, and periodontal offices. Other dental hygienists work in Public Dental Health Clinics, Indian Health Service (IHS) Clinics, and VA Dental Clinics while others pursue careers in education, research, legislation, and public advocacy. To help you prepare for your career in Dental Hygiene, Sheridan College offers numerous resources, including:
On-Campus Dental Hygiene Clinic
Expert Faculty
Off-Site Clinical Experiences
Dentistry Guidance and Oversight
University of Wyoming Bachelor's Degree Partnership
Service-Learning Experiences
Hands-On Training
Industry-Leading Technology