Cyber Security
Computer networking has forever changed the way we work, connect, share, communicate, and more. Increasing threats have created high demand for trained professionals who can set up, implement, and maintain company-wide security programs. The Cyber Security degree is offered at Sheridan College and online. Your Associate of Science degree or Certificate of Completion will prepare you to join this in-demand field.
Our cyber security degree teaches you the tools and techniques used by TestOut, CompTIA, Cisco, and Microsoft to help you become a valuable asset to any company. You will learn from expert faculty to develop information security strategies, perform risk analyses, install security software, monitor network traffic, develop emergency response plans, and more.
Why Cyber Security at Sheridan College?
Learn the latest industry standards from our expert faculty.
Sheridan College's Cyber Security degree is also available online.
Cyber security professionals are in high demand across the nation.

Available at Sheridan College, EveningPlus+ and Online.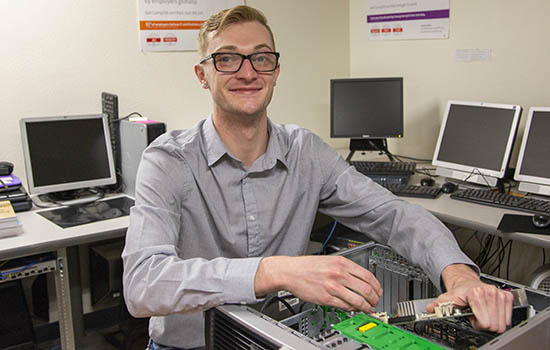 Aaron Baker
"I would definitely recommend the program! You learn all the information you need to know to get a good job in the field after you graduate. Especially if you get a few certifications on top of your two-year degree, you're more than employable."

Aaron is one of 10 in the nation selected for a 10-week paid cyber security internship.
Industry Outlook
Security analysts use problem-solving skills in order to investigate threats, hacks and breaches, determine the causes and modify or repair security systems. With security threats and cyber attacks occurring across the globe, trained Cyber Security analysts are in high demand for businesses and organizations in the public and private sectors. The U.S. Bureau of Labor Statistics predicts by 2026 more than 28,500 new jobs will be added to the information security analyst field, which is an increase of 28%.
Faculty and Community
One of the first colleges to offer a Cyber Security program in Wyoming, Sheridan College is considered a regional leader in today's computer-related programs. Our instructors bring years of experience in the IT industry to help you learn the fundamentals of Cyber Security as well as the broader computer-networking field. Our faculty are dedicated and enthusiastic, and connect with you in small class sizes to help prepare you for your career.
Sheridan College's strong partnerships provide internships and learning opportunities for students. During these internships you will gain additional hands-on training to succeed in the ever-expanding, globally connected field. The Cyber Security program follows the International Systems Security Certification Consortium (ISC)² standards which ensures you are learning best practices and relevant skills.
Careers and Opportunities
Cyber Security analysts implement security strategies and measures to protect an organization's data, information, networks and systems. Duties for Cyber Security analysts continue to expand as cyberattacks increase and target businesses and organizations of all sizes. A degree from Sheridan College's Cyber Security program may lead to you a related career like:
Security Auditor
Information Security Analyst
Malware Analyst
Computer Crime Investigator
Network and Database Administrator
Network Security Engineer
Disaster Recovery Manager
Security Architect
Computer Information Research Scientist