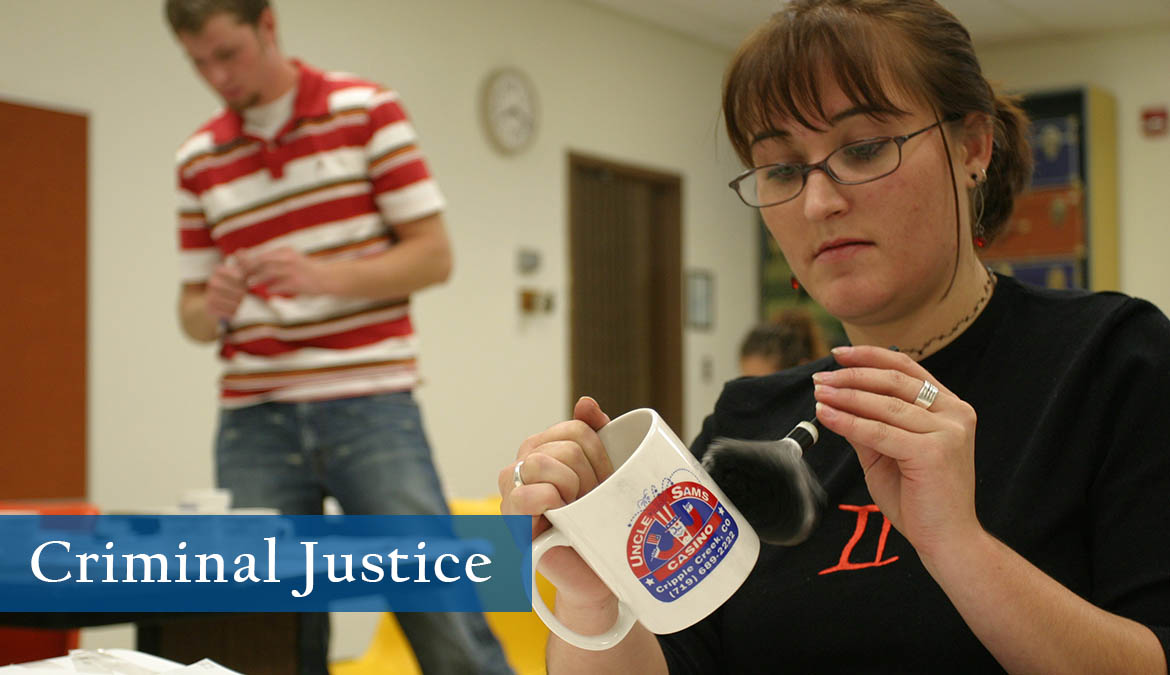 Criminal Justice
Criminal Justice professionals do more than just keep our streets safe and respond to emergencies. They investigate crimes, patrol borders, work for the Drug Enforcement Agency, provide personal security, work in crisis management and more. The Criminal Justice field offers broad and diverse opportunities, with jobs ranging from corrections to victim advocacy to law enforcement. A degree from Northern Wyoming Community College District (NWCCD) in Criminal Justice, with the option to pursue a number of career-enhancing certificates, will prepare you for a career in this fast-paced field.
Our NWCCD Criminal Justice degree program allows you to pursue your interests and passions. We have topic experts for each of our classes.  You may study law with the county attorney or prosecutor; law enforcement operations with one of Wyoming's top police officers; or juvenile issues with a professional who works with children.
As a Criminal Justice student, you will have course options including Law Enforcement Operations, Juvenile Justice, Firearms, Criminology, Domestic Violence, Crisis Intervention, Criminal Law, Sociological Principles, Crime Prevention and more. NWCCD Criminal Justice courses integrate real-life experiences and theory to prepare you for your future. You will be equipped to transfer into Bachelor's degree programs or gain employment as law enforcement or probation officers following graduation.
Why NWCCD?
Our Criminal Justice program is one of the most comprehensive programs in the region and state.
All of our instructors are expert, working professionals in the field.
Choose from our variety of degree program allows you to pursue your interests and passions.

Available at NWCCD and Online.
Students in the Criminal Justice Associate of Arts and Associate of Science degree options will be exposed to all aspects of the criminal justice system. The degree options assure you will learn the marketable skills in the fields of law enforcement, adult and juvenile corrections, adult and juvenile victimology, and security. This program is taught by experts who have extensive hands-on experience in the fields they teach. Courses offered include Law Enforcement Operations, Constitutional Law, Criminal Law and Criminology.
Degree Options: AAS 
The Law Enforcement program is available as an Associate of Applied Science. The program emphasizes the activities of the agencies responsible for maintaining public order and enforcing the law, particularly the activities of prevention, detention and investigation of crime and the apprehension of criminals.  The role of a police officer as a crisis manager is explored as a critical piece of the criminal justice system. Courses offered include Criminal Investigation, Criminal Law, Criminology and Judicial Functions.
Industry Outlook
Increased demand for public safety has resulted in an increased demand for criminal justice professionals. With complex and diverse job opportunities, criminal justice professionals need the knowledge and skills to succeed. NWCCD's criminal justice program can help prepare you. The U.S. Bureau of Labor Statistics predicts that over 53,400 new jobs will be added to field of police and detectives from 2016-2026.
Faculty and Community
Our dedicated faculty at NWCCD will make sure you have the knowledge and skills to excel in whichever Criminal Justice field you choose.
Northern Wyoming Community College District with law enforcement agencies and correctional facilities, providing you numerous hands-on, real-world learning opportunities and internships.
Careers and Opportunities
From protecting lives and property to investigating crimes and advocating for families and victims, careers in the Criminal Justice field are wide-ranging. NWCCD's Associate degree and certificate options in Criminal Justice will help you pursue job opportunities with the knowledge and skills to thrive. You can join a Criminal Justice-related field like:
Police Officer
Deputy Sheriff
Criminal Investigator
Corrections Officer
Park Ranger
Military Police
Detective
Border Patrol
Juvenile Officer
DEA Agent
Game Warden
Security Guard
Private Investigator
Homeland Security Coordinator
Family Crisis Counselor
Child Advocate