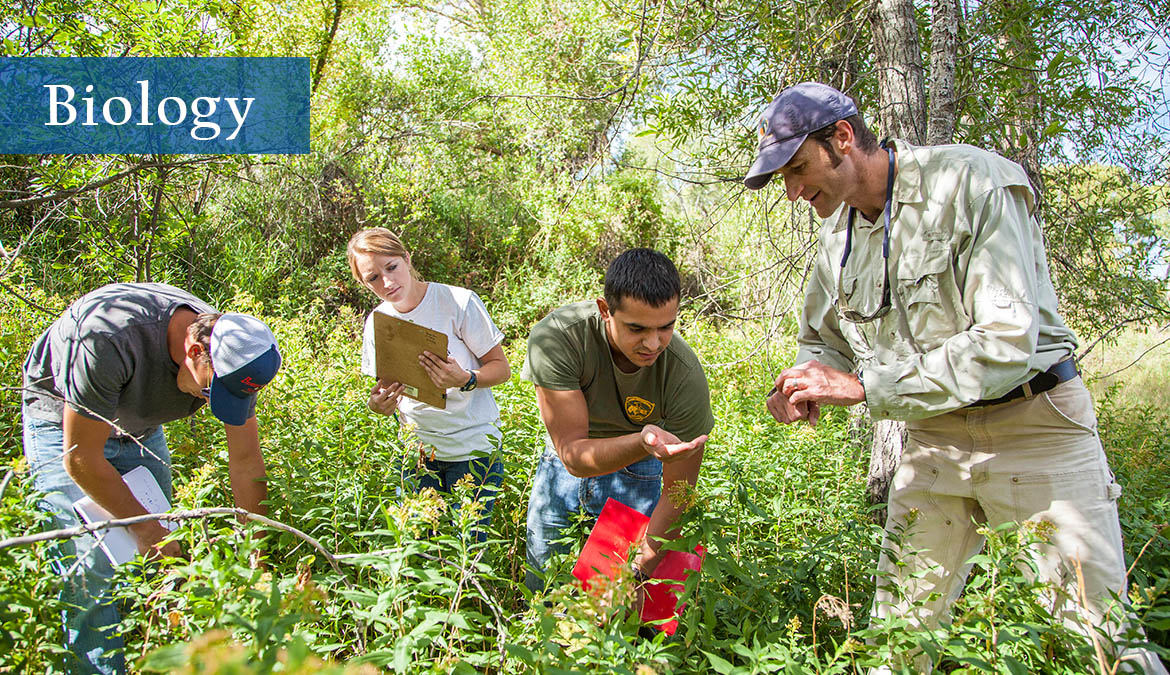 Biology Degree
Whether you are interested in managing wildlife populations or discovering new medical breakthroughs, Northern Wyoming Community College District's (NWCCD) Biology Program will start you on the right path. The Biology Program has two main areas of emphasis: Biochemical and Molecular Biology, and Conservation and Wildlife Biology.
A degree in Biology from NWCCD will open doors to a career full of possibilities, from working as a game warden to pharmaceutical researcher to a National Park biologist.
Small, interactive classes, dedicated faculty with diverse backgrounds, plentiful outdoor research opportunities, and strong collaborations with the University of Wyoming and state agencies provide Biology students an ideal, hands-on learning environment.
Why NWCCD?
Study Biology in a region with a broad diversity of ecosystems, from grasslands to alpine systems, from geothermal hot springs to high-desert shrublands.
A team of NWCCD students earned national recognition as a finalist for the 2015 National Science Foundation's Community College Challenge for their research in biofuel production.
Learn to address important issues of our time like invasive species, climate change and human population growth.
Industry Outlook
As STEM (Science, Technology, Engineering, and Math) careers continue to grow, Biology graduates will find work in a variety of fields. Biologists today are faced with complex issues, like climate change, wildlife management, energy production, and medical practice, presenting Biologists a variety of career opportunities. The Bureau of Labor Statistics predicts an 8% increase in the number of jobs related to biology and wildlife biology by 2026.
Faculty and Community
NWCCD's thoughtful, approachable instructors will guide you through inquiry-based instruction and hands-on, field-based courses, giving you the opportunity to study—and experience—nature. Faculty also serve as advisors for students who are interested in pursuing research and presenting findings at the University of Wyoming's annual Undergraduate Research Day. Faculty also assist students who are interested in pursuing higher education in transferring to four-year colleges and universities.
Northern Wyoming Community College District's strong relationships with local and national agencies, including the Wyoming Game and Fish and U.S. Forest Service, enrich students' experiences. Our community partnerships provide real-world internships and research opportunities, preparing students for successful careers.
Careers and Opportunities
Biologists monitor water and air quality, study wildlife migration patterns, extract and amplify DNA, and make discoveries in the natural world. Biology graduates from NWCCD typically transfer to four-year universities, earning Bachelor of Science degrees. Career fields include:
Wildlife Conservation
Pharmaceutical Research
Biological Research
Zoo Caretakers
National Park Biology
Science Museum Curation
Environmental Consultation
Natural Resource Management
Science Education
Healthcare