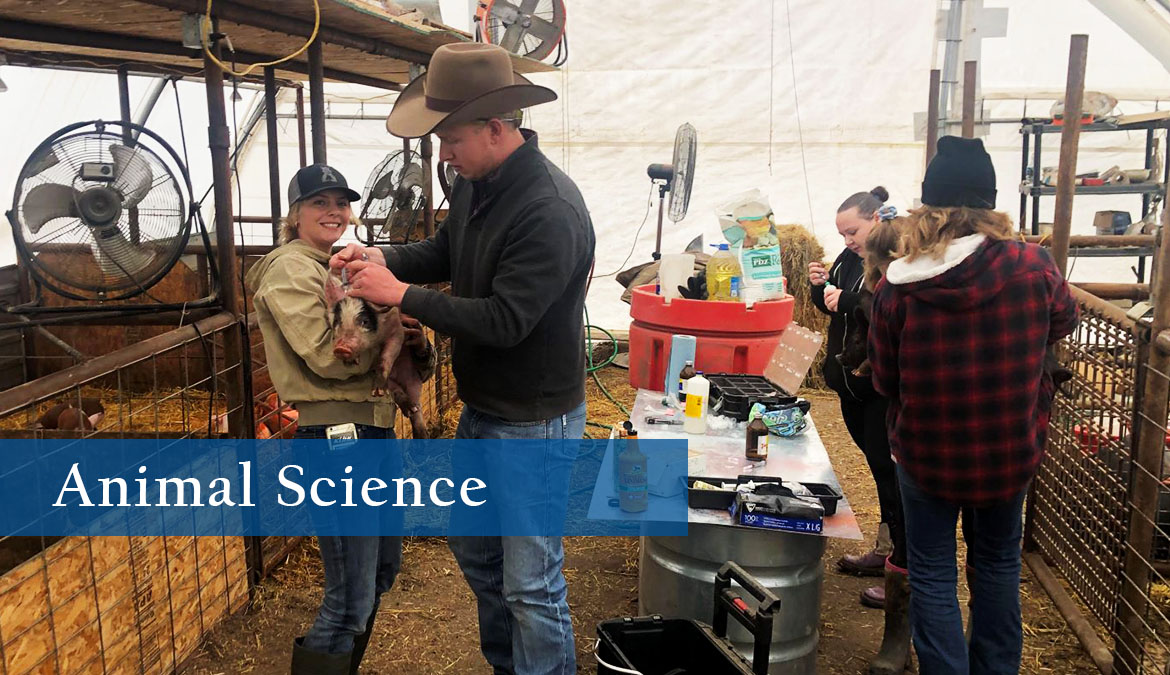 Animal Science
Are you interested in working with animals? Do you want a career in livestock production? Sheridan College's Animal Science Program gives you the scientific background and skills you need to pursue a rewarding career within the livestock production, veterinary, or research fields.
Our SC Animal Science Program is available as an Associate of Science degree. As a student in our Animal Science Program, you will learn all aspects of the field and related industries, including marketing, management, and economics of livestock production; livestock health; and nutrition for beef cattle, horses, sheep, and more. Students gain hands-on experience with growing, care for, and learn from the animals that are housed in our livestock barn. These animals are utilized for lab class and students care for these animals on a daily basis learning best management practices. SC also houses and maintains a flock of free-range hens in our two-acre field lab that helps students gain production and marketing experience through the care of the hens and selling of the eggs.
Sheridan College faculty will assist you toward your education and career goals, and work closely with regional universities to help you transfer to earn a bachelor's degree.
Why Sheridan College?
Learn in the state-of-the-art Mars Agricultural Center and through hands-on field experiences.
Gain experience working with a variety of live animals housed on campus.
Sheridan College partners with regional universities which allows students to easily transfer to pursue bachelor's degrees or find a job following graduation.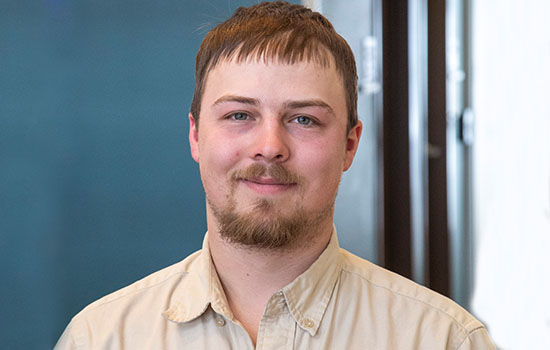 Riley Anderson
"When I came here I didn't really know much about the economics and marketing of ranching.

Now I feel much more well rounded and prepared to take over my family's ranch."
World-Class Facilities
As an Animal Science student, you will learn in one of the leading agriculture education facilities in the region, the Mars Agricultural Center at Sheridan College.
The Mars Ag Center allows for a better ag learning experience with features such as an animal science lab, livestock barn, a two acre field lab, a soils and agroecology lab, an herbarium, a teaching greenhouse, a computerized commodities trading floor classroom, and other high-tech classrooms.
Industry Outlook
Highly trained in a variety of related fields, including livestock reproduction and nutrition, equine anatomy, natural resource management, and microbiology, animal scientists' skills are in demand across the nation and globe. The Bureau of Labor Statistics predicts that employment of veterinarians is projected to grow 19% between 2016 – 2026, much faster than average.
Faculty and Community
At Sheridan College, we have a rich tradition in Agriculture. Sheridan College began as an Agriculture-focused community college in the late 1940s. We value Agriculture education here at Sheridan College and invest in our programs to help prepare you to succeed in today's economy.
Our Agriculture faculty are enthusiastic, well-liked and approachable. They will make sure you learn the foundational skills to pursue higher education or find a job following graduation. Sheridan College's strong relationships with local and national industries in rangeland management, wildlife management and agriculture present students unique opportunities to expand their college experiences.
Careers and Opportunities
Sheridan College's Associate of Science and Associate of Applied Science in Animal Science will provide the foundation of knowledge and skills for you to pursue higher education and ultimately, jobs across numerous fields. A degree in Animal Science can lead you to a career like:
Livestock Nutritionist
Veterinarian
Biotechnician
Animal Scientist
Ranch Manager
Agriculture Production Manager
Artificial Insemination Technician