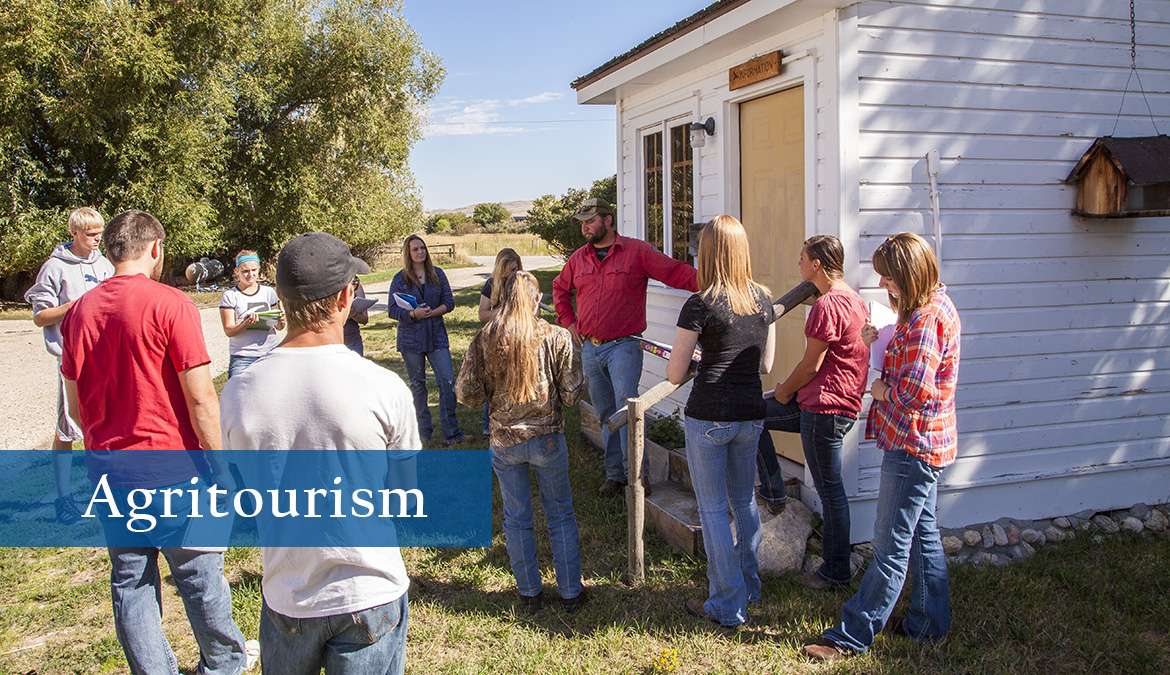 Agritourism
Agritourism describes a tourism opportunity built into a working agricultural operation. Visitors often learn about and take part in activities on a farm or ranch during a visit which enhances their experience, and their lodging or participation in events offers additional income for the agricultural producer. Earning a certificate in Agritourism provides a cutting-edge option for students looking to enter the agricultural industry or those looking to increase the viability of their family operation.
The certificate combines elements of agricultural business, technology, hospitality and event planning to give you all the tools you need to build and operate an Agritourism enterprise. As a student, you will have the opportunity to learn from local Agritourism businesses and experienced faculty as you explore ideas from across the nation.
Why Sheridan College's Agritourism Program?
Farm agritourism revenue more than tripled between 2002 and 2017, according to data from the Census of Agriculture. Adjusted for inflation, agritourism revenue grew from $704 million in 2012 to almost $950 million in 2017. The 2017 data excluded wineries, although they were included in the 2002, 2007, and 2012 data, which suggests agritourism revenue growth may have been even greater during that period.
Facts
Within the broad category of Hospitality and Tourism are subcategories of careers including Outdoor Recreation, Hotel Management, Agricultural Tourism Event Planners, Sales & Marketing, Casino Operations, Food and Beverage Management, Travel Coordinators, Tour Guides.  The average growth for hospitality and tourism is 18% with annual salaries (depending on the job) ranging from $27,000 to $56,000.
Courses May Include:
Intro to Agriculture and Agritourism
Foundations of Customer Service and Hospitality
Agricultural Microeconomics
Ag Marketing
Computers in Agriculture
Agritourism Development
Farm Ranch Business Management
Event Planning, Design and Delivery
Beverage Service Operations
Food Service Operations
Event Catering Operations
World-Class Facilities
As an Agriculture student, you will learn in one of the leading agriculture education facilities in the region, the Mars Agricultural Center at Sheridan College.
The Mars Ag Center allows for a better ag learning experience with features such as an animal science lab, a soils and agroecology lab, an herbarium, a teaching greenhouse, a computerized commodities trading floor classroom, and other high-tech classrooms.
Faculty and Community
At Sheridan College (SC), we have a rich tradition in Agriculture. SC began as an agriculture-focused community college in the late 1940s. Today, more than half a century later, our commitment to agriculture education is as strong as ever. We value agriculture education and invest in our programs to help prepare you to succeed in today's economy.
Our Agriculture faculty are enthusiastic, well-liked and approachable. They will make sure you learn the foundational skills to pursue higher education or find a job following graduation. SC's strong relationships with local and national industries in range land management, wildlife management, and agriculture present students unique opportunities to expand their college experiences.
Agritourism and Career Opportunities
Earning a Certificate in Agritourism will prepare you to start your own agritourism venture to increase profitability of your agricultural operation or to work within this growing industry. Potential agritourism opportunities include:
Guest Ranch


Horseback Riding

Hunting or Fishing Operation

Farm Stand or Pick-Your-Own

Creamery, Winery or Cider Mill

Ranch Wedding Venue

Farm Family Entertainment (Corn Mazes or Pumpkin Patch)

Outdoor Farm or Ranch Camping Sites

Harvest Festivals