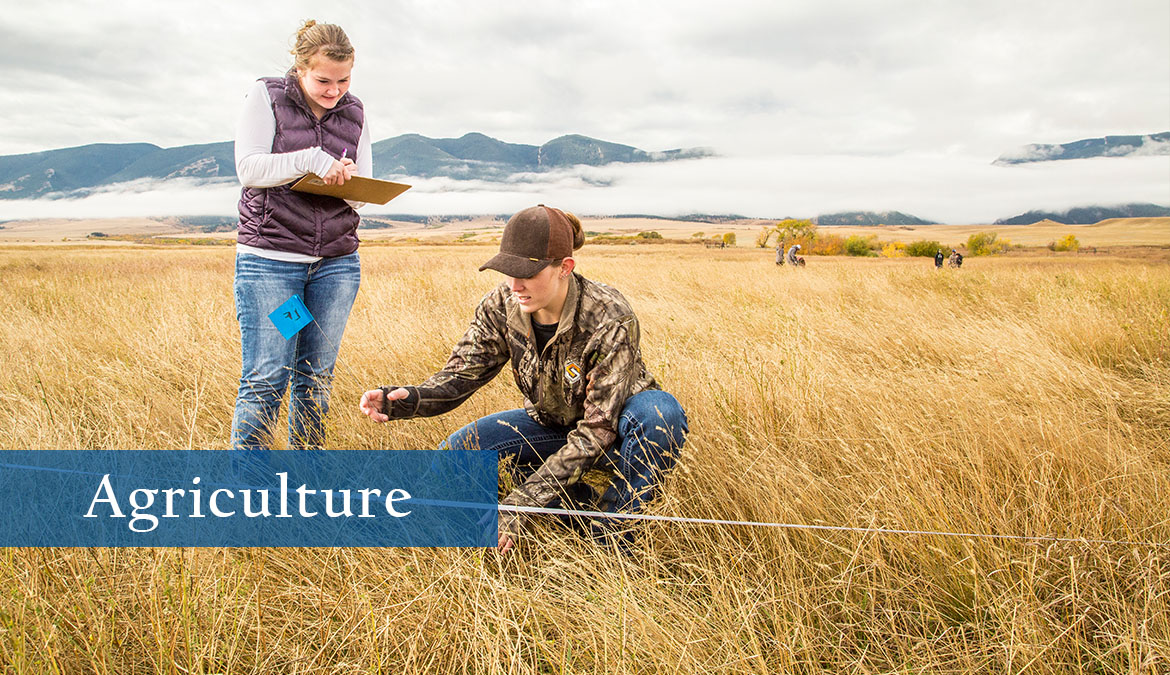 Agriculture
An applied science degree in Agriculture gives you the skills and knowledge to go directly to work after graduation whether you want to start your own business, go back to your home operation, or work in another field within the ag industry. Sheridan College puts a high priority on course work and internships that provide hands-on experience so you are ready to puts those skills to use immediately. Our faculty have years of experience in their fields and are passionate about connecting students with local businesses and internships.
Earning an Associates of Applied Science degree in Agriculture will prepare you to start your career in agriculture. As a student, you will take foundational classes across all agriculture disciplines then you tailor your course of study to your interests and career goals.
This Agriculture degree options allow students join the workforce following graduation or transfer to four-year universities to pursue four-year degrees.
Why Sheridan College's Agricultural Degree?
Learn through hands-on experiences and small class sizes from highly respected faculty.
Sheridan is the only community college to have a commodities trading classroom.
Sheridan College partners with regional colleges and universities, including the University of Wyoming, to help students transfer to pursue Bachelor's degrees.
World-Class Facilities
As an Agriculture student, you will learn in one of the leading agriculture education facilities in the region, the Mars Agricultural Center at Sheridan College.
The Mars Ag Center allows for a better ag learning experience with features such as an animal science lab, a soils and agroecology lab, an herbarium, a teaching greenhouse, a computerized commodities trading floor classroom, and other high-tech classrooms.
Industry Outlook
New technology, climate change, globalization, and food sustainability, present Agriculture graduates many job opportunities. Sheridan College Agriculture graduates are working across the country, in a variety of business ventures both the private and public sectors. The U.S. Bureau of Labor Statistics predicts job growth in the fields of livestock management, marketing and sales, agriculture education, and more.
Faculty and Community
At SC, we have a rich tradition in Agriculture. Our institution began as an agriculture-focused community college in the late 1940s. Today, more than half a century later, our commitment to agriculture education is as strong as ever. We value agriculture education here at SC, and invest in our programs to help prepare you to succeed in today's economy.
Our Agriculture faculty are enthusiastic, well-liked and approachable. They will make sure you learn the foundational skills to pursue higher education or find a job following graduation. SC's strong relationships with local and national industries in rangeland management, wildlife management, and agriculture present students unique opportunities to expand their college experiences.
Careers and Opportunities
Agriculture is a major part of Wyoming's economy, as well as surrounding states, including Montana, South Dakota, and Nebraska. With globalization and sustainability making the agriculture industry increasingly complex, Agriculture graduates can find a variety of career opportunities:
Agriculture Business Administration
Livestock Management
Rangeland Management
Government Agencies
Sustainability Research Analyst
Marketing and Sales
Family Operations
Agriculture Education