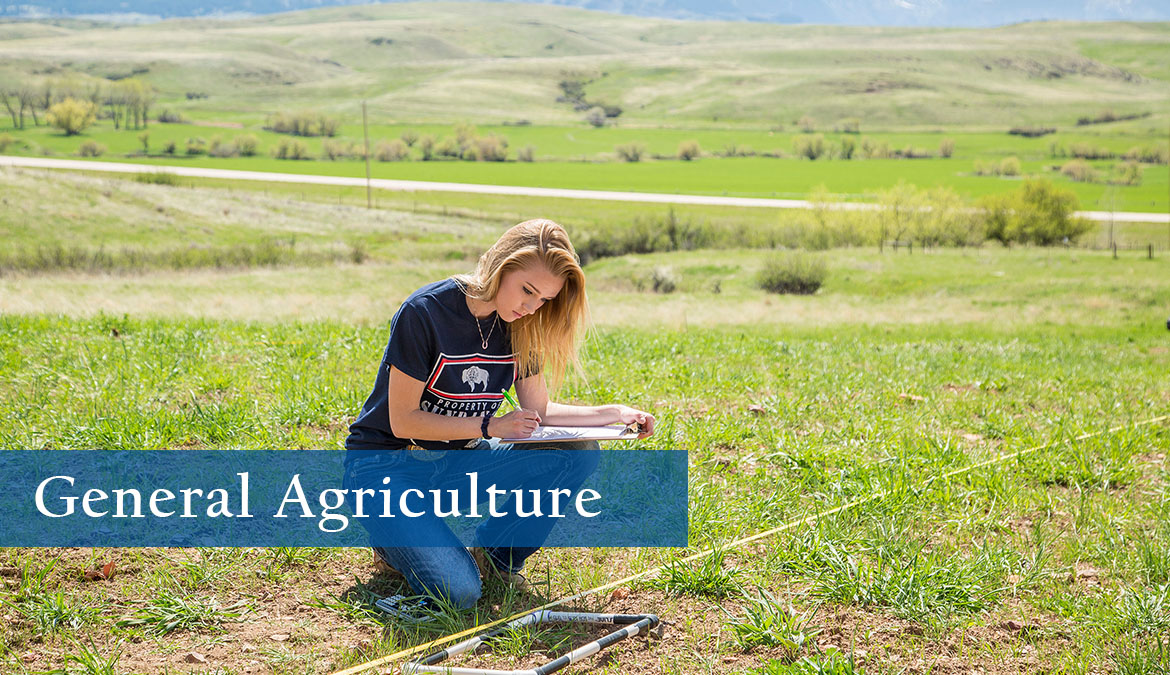 General Agriculture
The General Agriculture program prepares students to obtain an education with courses from a diversity of ag related disciplines. This degree will require students to take courses in livestock production, range management, horticulture, ag economics, and science. Students completing this associate's degree will have enough flexibility in electives to transfer to a wide range of 4-year agricultural degrees. Those students preferring to not work on an advanced degree will be well diversified for general ag employment opportunities.
Field and lab research, livestock and rangeland management, and food production are all key parts of agriculture science careers. General Agriculture will give you a wide number of courses that allow you to learn about disciplines in agriculture business, plant sciences, animal science, and related skills like agriculture computers and communication skills. This field of study will teach you about producing food and fiber, managing natural resources, and researching innovative ways to work with agricultural lands.
The General Agriculture program is designed for student who know they want to go into an Ag field but aren't quite sure which one. This program offers a broad range of ag classes to explore students' interests. Sheridan College also offers advising guides to help students pursue a career in Ag Education or Ag Communications.
Why Sheridan College?
Learn in the state-of-the-art, Mars Agricultural Center, and through hands-on field experiences.
Tailor your course of study to your interests with a variety of program areas, including Animal Science, Biology, Chemistry, Horticulture, and Rangeland Management.
The majority of our students easily transfer on to four-year colleges and universities.
World-Class Facilities
Learn in one of the leading agriculture education facilities in the region, the Mars Agricultural Center at Sheridan College.
The Mars Ag Center allows for a better ag learning experience with features such as an animal science lab, a soils and agroecology lab, an herbarium, a teaching greenhouse, a computerized commodities trading floor classroom, and other high-tech classrooms.
Industry Outlook
Agriculture scientists conduct research, study agriculture systems, manage natural resources, and educate others about the agriculture industry. The U.S. Bureau of Labor Statistics predicts more than 3,100 new jobs will be added to the Agriculture and Food Science field from 2016-2026, an increase of 7%. There are also many jobs in the agriculture education sector.
Faculty and Community
At Sheridan College, we have a rich tradition in Agriculture. Sheridan College began as an Agriculture-focused community college in the late 1940s. We value Agriculture education here at Sheridan College and invest in our programs to help prepare you to succeed in today's economy.
Our Agriculture faculty are enthusiastic, well-liked and approachable. They will make sure you learn the foundational skills to pursue higher education or find a job following graduation. Sheridan College's strong relationships with local and national industries in rangeland management, wildlife management, and agriculture present students unique opportunities to expand their college experiences.
Careers and Opportunities
A degree in General Agriculture prepares you for an exciting career in business, industry, government, education, or research. This degree can lead you to a career such as:
Extension Educator
Food Scientist
Biological Technician
Agriculture Science Technician
Farmer / Rancher
Landscape Manager
Agriculture Instructor
Farm Manager