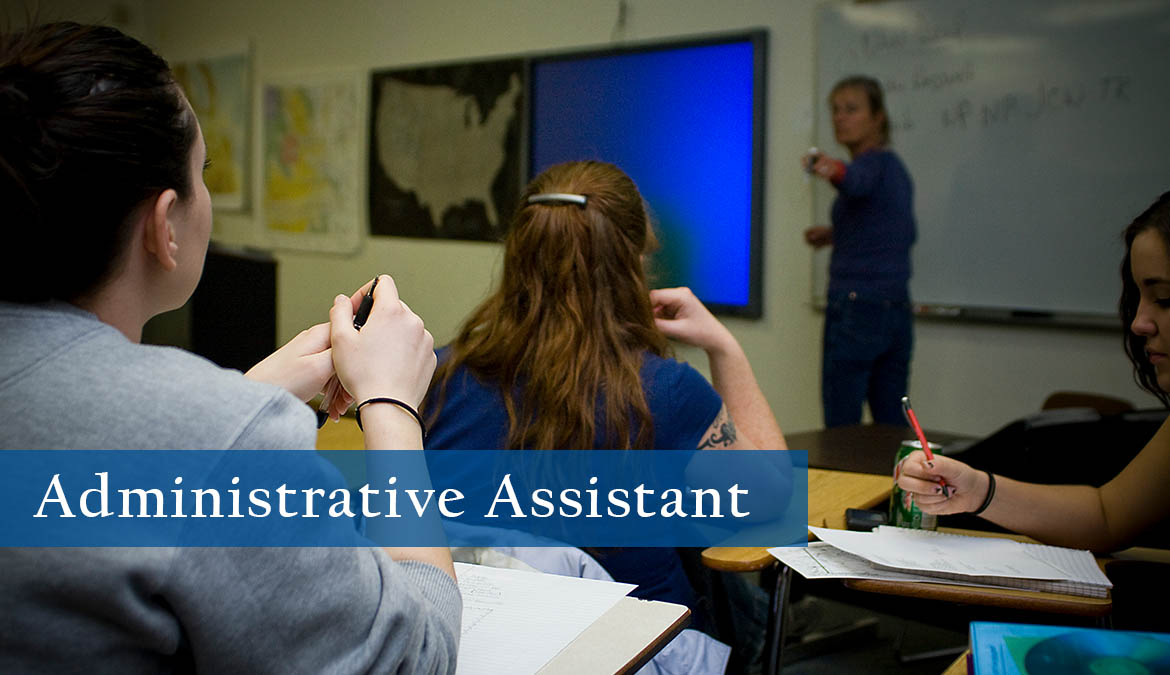 Administrative Assistant Certificate
Administrative assistants are responsible for an array of tasks to help businesses, schools, medical offices and hospitals run efficiently. From scheduling meetings and assisting customers to answering phones and managing filing systems, administrative assistants play an important role for organizations big and small. The Administrative Assistant Certificate of Completion will prepare you to for immediate employment in a variety of settings. This program is available in Gillette, through the Northern Wyoming Community College District (NWCCD), and can be completed in one year.
Our Administrative Assistant Certificate program features courses in Accounting, Records Management, Microcomputer Applications, Job Search, Professional Development and Business Communication and Writing. You will also have the opportunity to choose elective courses in Business to enhance your credentials while learning computer applications such as Microsoft Word, Excel, PowerPoint, Access and Outlook.
Many Administrative Assistants receive advanced training and education to become bookkeepers, accountants, medical record technicians, information clerks, court reports and legal assistants.
Why NWCCD?
This certificate program can be completed in one year.
Administrative Assistant Students can build on their education and earn an Associate degree in Business or a related field.
An Administrative Assistant Certificate will allow you to compete for jobs immediately following graduation.
Industry Outlook
Administrative assistants are in demand nationwide as organizations ramp up productivity, customer service and workplace efficiency. Technology advancements, such as electronic file archiving, have created job opportunities in settings such as medical offices, hospitals, schools and universities. The U.S. Bureau of Labor Statistics predicts approximately 479,500 jobs will be added to the field of Secretaries and Administrative Assistants from 2012-2022, a 12% growth change.
Faculty and Community
Our faculty at NWCCD are dedicated to making sure you have the fundamental skills you need to become a successful Administrative Assistant in a number of locations and settings. Our faculty will teach you the foundations of the career, such as accounting, record management and computer applications, giving you the confidence to build your career.
NWCCD has strong relationships with organizations, businesses, industries, schools, hospitals and more to provide you with occupational internships, hands-on learning and job opportunities.
As a student in the NWCCD's Administrative Assistant Certificate program, you will have the opportunity to learn how to operate a variety of computer programs and take the Microsoft Office Specialist Certification test to enhance your resume.
Careers and Opportunities
Administrative assistants coordinate responses, schedule meetings, answer calls, and more, helping maintain order for businesses. Earning NWCCD's highly regarded certificate will allow you to join the workforce directly after graduation. Administrative assistants manage a variety of tasks crucial to organizational success, including:
Managing Filing Systems
Assisting Customers, Clients and the Public
Editing Company Correspondence
Answering Calls
Planning and Organizing Meetings
Bookkeeping
Drafting Bills, Memos, Emails and Letters
Accounting
Scheduling Appointments