Northern Wyoming Community College District Scorecard
Our Scorecard comprises seven essential high level measures of institutional health that also help track progress on our Strategic Goals. The goal of the Scorecard is to give a snapshot at a point in time. These high-level measures are produced by combining important data used in department and institution decision-making.
Our strategic goals are to:
Increase the rate of earned graduation awards to 1,000 per year by 2020
Improve student success by ensuring academic relevance for students, accelerating the pathway through developmental studies and improving student retention and completion
Support community success by partnering with community leadership organizations to help grow the economy of our region and providing breadth and depth in cultural and intellectual opportunities for our communities
Improve the work climate for all employees by building leadership capacity and effectiveness at all organization levels and achieving a high level of shared ownership and responsibility
NWCCD Scorecard
Student Learning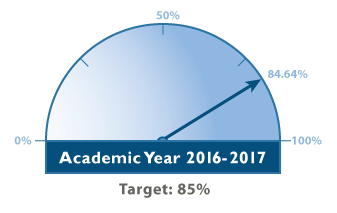 Student learning is measured by the Enrollee Course Success rate, calculated as the percentage of students enrolled in credit-bearing, college-level courses who earn a grade of A, B, C or S. We serve a wide variety of individuals, from those ambitiously pursuing academic achievement and higher learning to those taking a single course to improve a work-related skill or for personal enrichment, and this measure captures the effort of all these categories.
Certificates & Degrees Awarded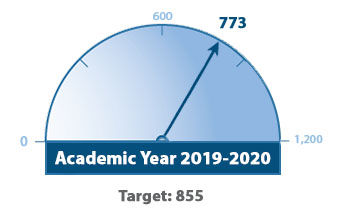 Student Success is defined as earning a degree or certificate; students may earn multiple awards in the same year. This measure is calculated annually and includes all awards from Summer, Fall, and Spring Semesters. Our goal is to reach 1,000 awards by 2020.
Annualized Degree Seeking Headcount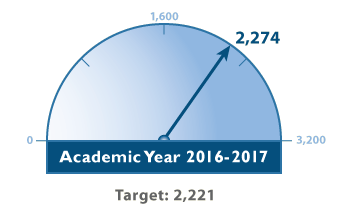 Enrollment is defined as annualized degree-seeking headcount as of the tenth day of term enrollment. The Wyoming Community College Commission prescribes a calculative formula to annualize enrollment (summing the headcount in summer, fall, and spring semesters and dividing by two); that methodology is reflected here.
Composite Financial Indicator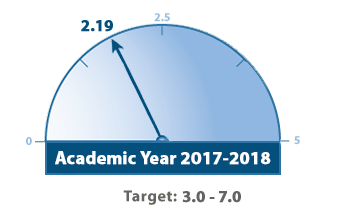 Overall Financial Health of the District is measured by the Composite Financial Indicator (CFI), which is made up of four weighted financial ratios. Our current CFI is 5.56, above our desired target of 3.0. Adjusting for pledge payments that pay for recorded debt, our CFI rises to 7.00, within our target range of 3.0 to 7.0. Our 16 year average CFI is 3.86 at the lower end of our target, which reflects assumption of appropriate risks, taking advantages of opportunities, and meeting emerging needs. Our most recent CFI (2020-2021) increased to 5.56 because of debt repayments for capital construction projects. The debt service is fully paid for by a private grant.