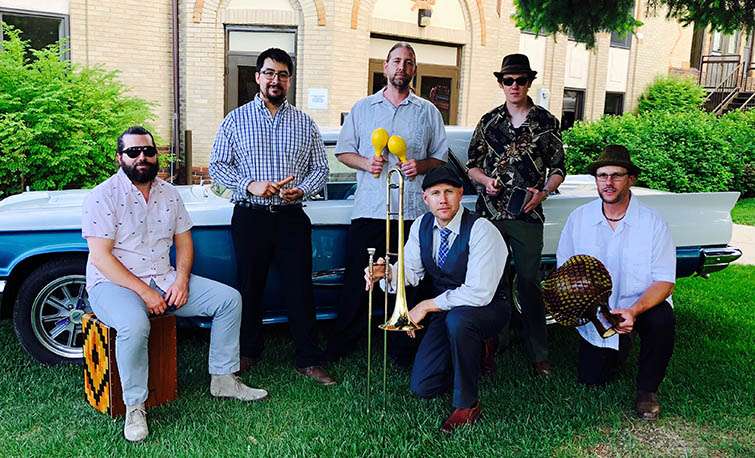 John Roberts y Pan Blanco
Kicking off the 2022-23 season on Saturday, Aug. 27 at 7 p.m. in Kinnison Hall at the Whitney Center for the Arts.
This ticketed event is part of Sheridan's fourth annual Celebrate the Arts.
In addition to the concert, John Roberts y Pan Blanco will conduct two educational opportunities while at Sheridan College. There will be an Afro-Latin Music Master Class on Friday, Aug. 26 from 3:30-5 p.m. in Kinnison Hall and a Salsa Dance class on Saturday, Aug. 27 from 4:30-5:30 p.m. in the choir room (W129). Both classes are free and open to the public.
This family-friendly, Afro-Latin ensemble is full of energetic musicians, and designed to make the audience move! With vocals in Spanish, English, and Portuguese, John Roberts y Pan Blanco are melding high energy, danceable funk, African, and Latin grooves with soulful instrumental solos, sharing musical and cultural diversity with the audience.
John Roberts y Pan Blanco has toured nationally and internationally, recorded and performed with West African, Funk, Soul, Salsa, Jazz, and Orchestral ensembles, which has molded the live performance that will be showcased in the Whitney Center for the Arts.
John Roberts is a Southeastern Montana native who began playing the piano at the age of five. After finding his love for music as a child, Roberts would eventually graduate from Montana State University-Billings with a BA in Music Performance, and then he would earn his Master of Fine Arts in Western Orchestral Performance from the California Institute of the Arts.
After 16 years of professional experience in Los Angeles, Roberts is now faculty at MSU Billings as a Jazz, music theory, low brass, and World Music instructor. Along with his private studio, he regularly works and performs as a clinician, guest artist, and soloist in schools, continuing to hone his skills as an educator by sharing the "real world" of music with his students.
Ticket Pricing: Adult: $30; Senior/Veteran: $20; Student (K-12, non-SC): $10