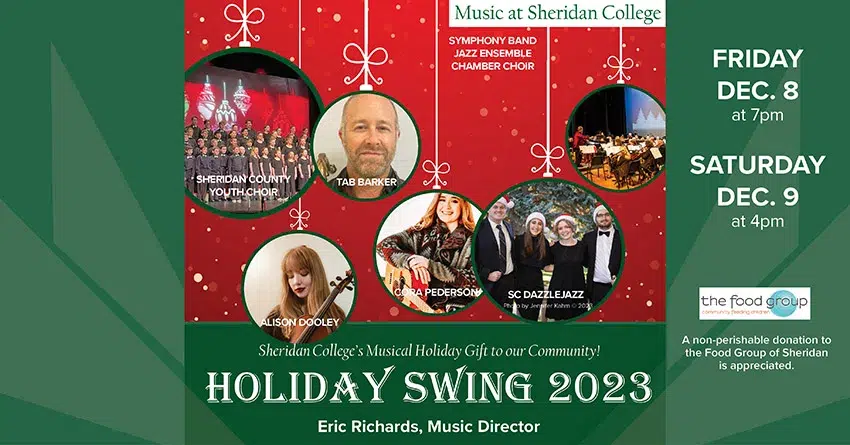 Holiday Swing
The Arts at Sheridan College presents Holiday Swing '23 – 2 nights! Friday, December 8th at 7pm and Saturday, December 9th at 4pm in Kinnison Hall at the Whitney Center for the Arts.
Tickets are FREE, but make sure you reserve your seat in advance by grabbing a ticket.
In collaboration with the Food Group of Sheridan, non-perishable donations of groceries or funds will be received at the performances.
The program features the SC Symphony Band, SC Jazz Ensemble big band, SC DazzleJazz vocal quartet, and several special guest soloists. Pre-concert music will be presented by the SC Chamber Choir, directed by Dr. Robert Psurny. Several new premieres, specially written for this year's production will be performed: A Christmas Carol (music by Eric Richards with text by Christina Rossetti) was composed for the Sheridan County Youth Choir; a new swing setting of Silver Bells arranged by Dr. Richards will highlight SC's new DazzleJazz vocal quartet; and singer-songwriter Cora Peterson will premiere her new song, The Reindeer Rodeo.
Violin soloist Alison Dooley will be featured with the SC Symphony Band on A Yuletide Rhapsody, a concert work by Dr. Richards based on Holiday themes. Sheridan's own Tab Barker joins the SC Jazz Ensemble as saxophone soloist on Christmas Time Is Here (from Vince Guaraldi's beloved music for A Charlie Brown Christmas) and Greensleeves. The concert finale will again be our contemporary setting of the African American spiritual "Go Tell It On The Mountain."