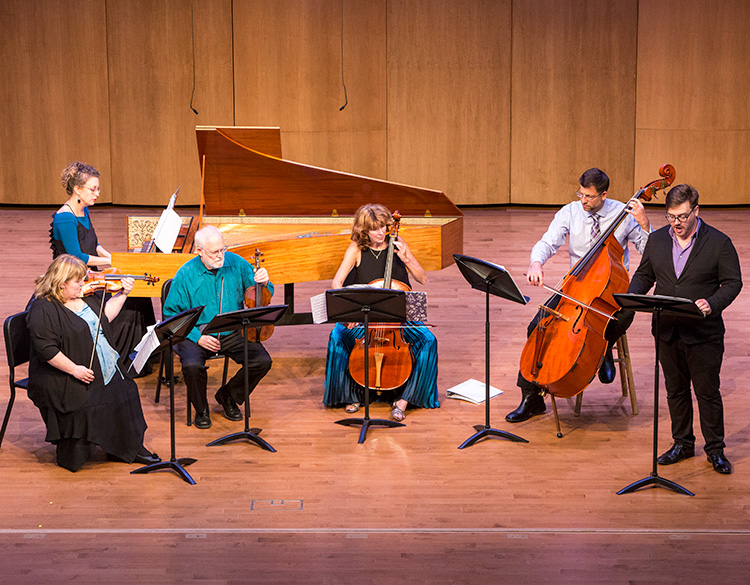 Wyoming Baroque
Friday, Mar. 31 at 7 pm in Kinnison Hall at the Whitney Center for the Arts.
Wyoming Baroque brings together nationally known artists specializing in historically informed performances to perform in the Cowboy State. The ensemble, directed by Dr. Mark Elliot Bergman, specializes in 17th and 18th Century repertoire and contemporary compositions featuring baroque instruments. Wyoming Baroque is the ensemble-in-residence at Sheridan College in Sheridan, Wyoming. Audiences in Sheridan (WY), Laramie (WY), Billings (MT), and Bozeman (MT) enjoyed recent performances. In addition, the ensemble released two CDs, including the world-premiere recording of Giambattista Cimador's arrangements of Mozart's symphonies in 2022.
During the 2022-23 season, Wyoming Baroque will perform at Sheridan College and the University of Wyoming. The Billings Symphony Orchestra will also feature the group as a part of their Suskin Concert Series.
Ticket Pricing Adult: $25; Senior/Veteran: $15; Student (K-12, non-SC): $10
This will also be live streamed.
Box Office | 307-675-0360 | arts@sheridan.edu
Hours: Mon. – Fri. 12:30pm – 3:30pm
The Box Office is open one hour prior to all events.