The North Halls
The North Halls (Crook, Kearney and Connor Halls) are small, two-story facilities that can house men, women, or both, depending on numbers of applications. If they are co-ed, men occupy the first floor while women occupy the second floor.   The rooms are wired for telephone, cable, and high-speed internet. These buildings have wireless internet as well. Crook, Kearney and Connor are not air conditioned at this time. Capacity for each of these buildings is 29 making for a tighter community.
Sample Room Layout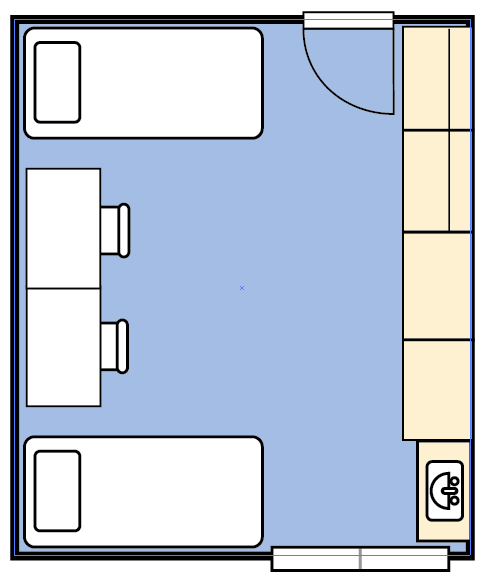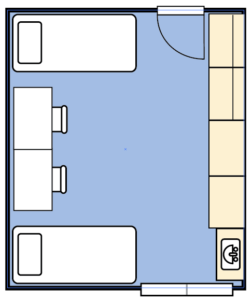 Furnishing
Each room in the North Halls is furnished with an XL twin bed, desk, desk chair, closet or wardrobe for each resident.
TV/Cable
North Halls provides a Roku with Philo T.V service in the main lobby.
Parking
The Sheridan College campus provides ample parking space for residents living on campus. Please review our parking rules & regulations and refer other questions to Sheridan College Campus Police office, 307-675-0250.
Internet
All rooms in the North Halls have wired and wireless internet.
Bikes
There are bike racks placed around campus.  Bicycles may not be taken into the buildings or locked on porches. There are a limited number of bicycle lockers available for rent. There are also bicycles available for rent through the Innominate House.
Laundry
Laundry facilities are located in each residence hall. Each resident is assessed a $30 laundry fee each semester which gives them access to as much laundry as they care to do.
Safety
All residence halls are locked 24/7 and require a key or a key card to access the building. Sheridan College has a Campus Police Department which employs 3 full time swore police officers and multiple part time officers. While Sheridan College is a safe campus, we encourage all students to take extra precautions to protect themselves and the community by locking their doors and not letting other people into the buildings.