Everyone Has a Place at Gillette College
Fill out your housing application to join our campus community!
**Students must first be accepted to Gillette College, prior to applying for housing. Click here for admissions application.
Gillette College Housing
Living on Campus
A campus community can enhance your academic pursuits. Together, our staff and students strive to promote values of community, inquiry, integrity, and caring. There's no better way to experience our values than to live on campus. Gillette campus living offers resident students the support and skills to become engaged citizens and dynamic leaders while they immerse themselves in our academic programs.
Campus Housing at Gillette College
Are you interested in living on campus while attending Gillette College? Our Department of Campus Life and Housing offers Gillette students several campus housing environments, from tight-knit communities to more independent living options. Conveniently located on campus, minutes away from all classrooms– Gillette College is proud to offer you safe and welcoming student residential facilities.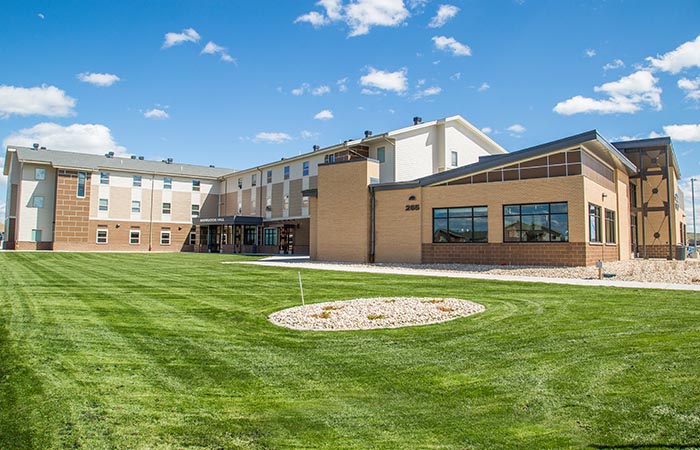 Opened in January 2017, Inspiration Hall offers a high level of convenience and affordability! Student can enjoy the common lounges and study rooms throughout the building, as well as, the common area which has game tables and video games. With 70 traditional suite-style rooms available over three floors, Inspiration hall has plenty of living and study space.
Tanner Village offers amenities and accommodations not offered within a traditional dormitory setting. Tanner Village has four residential buildings  containing 17 residential suites. In addition, for residents' convenience, coin-operated laundry facilities are located on-site in Tanner Village's community room. This laundry facility is open to students 24 hours a day, seven days a week.