Northern Wyoming Community College District is a vibrant, growing, improvement-oriented multi-campus system actively engaged in the national effort to raise college completion rates. We offer a rich array of professional and technical programs as well as transfer preparation; our Nursing and Dental programs are professionally accredited.
We are committed to improving the entire student experience, first contact to commencement. Our annualized FTE is over 2,000 and Goal 1,000 aims to double our 2010 completion rate by 2020.  We aim to become a highly effective information-driven college that provides leadership at the state and regional level. We seek strong team players to join us in that effort. We are part of the AQIP Pathway to accreditation and Continuous Quality Improvement is central to our operations.
Information about us is available on our website and an in-depth overview of our operating systems and processes is available in our 2015 Systems Portfolio.
NWCCD provides locally based higher education for all of Northeast Wyoming with full-service residential campuses in Sheridan and Gillette.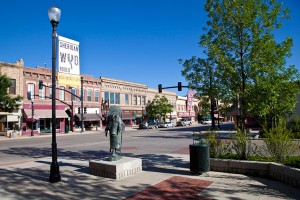 Sheridan is a "best of the west" small city at the base of the Bighorn Mountains with active tourism, excellent quality of life and a growing business base.
Our home communities are welcoming small cities, perfect for someone who likes small towns, wide open spaces and outdoor life. They are family-oriented and an excellent place to raise children.
This position will be located in Sheridan.
NWCCD is an EEO employer, strongly and actively committed to increasing diversity and providing equal opportunity within its community. NWCCD does not discriminate against persons based on age, color, disability, gender, marital status, national origin, race, religion, or veteran status.