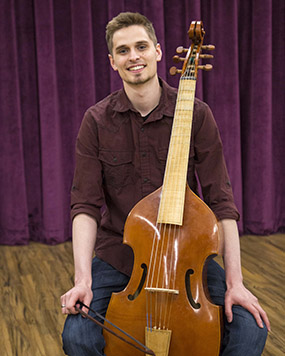 Colton Hodge was not a musical prodigy; he didn't even learn to read music until a few years ago. But his natural talent and passion for music eventually led him to master the viol de gamba. Hodge graduated from Sheridan College with an Associate of Fine Arts in Music in 2018. He just finished his first semester at Peabody Institute of The Johns Hopkins University in Baltimore, Maryland, where he is pursuing his bachelor's degree in Historical Performance.
"I always wanted to go to college for music but had been told by many people that it was too late for me, because I didn't have a background in music or have musical theory skills," he said.
Unlikely beginnings
Hodge spent his childhood in Bozeman, Montana, but moved to Basin, Wyoming, for middle school and high school. He never received any formal musical training, but he started begging his parents for a violin at the age of two or three. After a brief obsession with the drums, he fell in love with the guitar when his grandfather gave him one for his 11th birthday.
When he graduated high school, Hodge worked as a power line technician and a cemetery maintenance worker before deciding to go to Sheridan College. His goal was simply to get a degree to increase his job opportunities, but he kept playing guitar and enrolled in a few music classes. Eventually, he decided to pursue a degree in Music instead.
He was introduced to the viol de gamba, a historical instrument that Hodge describes as sort of a mix between a cello and a guitar, when he was looking for an ensemble to join.
"The first time I tried to play it, I could only make scratching noises. It was extremely embarrassing," he said.
But he loved the unique sound of the instrument, so he went online to watch videos of performances. He found one that was so beautiful it gave him chills, and he realized that the viol de gamba was the instrument for him.
"It was the most gorgeous thing I had ever heard," he said. "So I played it every day during Christmas break and was so excited that I even convinced my church to let me perform at the Christmas service – it was terrible, but I didn't care."
The next semester he switched his primary instrument to the viol de gamba. He also joined the Sheridan College Viol Consort and signed up for private lessons with Dr. Mark Elliot Bergman, a music instructor at Sheridan College.
"I just loved it so much – I still do," Hodge said.
"At that point, I knew I wanted to make a career out of it. But viol de gamba programs are only held at high end conservatories, which freaked me out, but also encouraged me to work even harder." 
Turning point
One day, he stumbled on The Free Viol Residency online, launched in 2017 by Josh Lee, one of America's leading viol de gamba performers. Hodge immediately contacted Lee and was accepted to attend a six-day residency at Lee's home in Florida.
Much like Hodge, Lee grew up playing other instruments, first the violin, then the double bass, but eventually switched to the viol de gamba. A sought after soloist, chamber artist, and teacher, he is also a Peabody Institute alumnus.
"Josh told me that I had potential, and he would try to help me get into a good school," said Hodge.
Not only did Hodge get accepted to Peabody, he was also awarded a $24,500 annual scholarship. The scholarship, combined with additional assistance from the Witzel Foundation, made it possible for him to attend.
"The Peabody Institute is one of the top 10 conservatories in the United States," said Bergman. "Not only are their faculty first-rate, but Colton's colleagues will challenge and inspire him. It is wonderful to see our Sheridan College graduates being successful not only regionally, but nationally."
Eventually, Hodge hopes to complete his master's and doctoral degrees in music. After that, he would like to open his own teaching studio and do freelance solo performances. But he says the most important thing to him is sharing the instrument he loves so much with others.
"I really want other people to know what this instrument is," he said. "There is probably some kid out there who has a dormant musical talent like I did, and they just need the right instrument to blossom – I'd love to be a part of that."