Jed Meunier, a Research Scientist with the Wisconsin Department of Natural Resources, will give a lecture titled "Fire, Climate Change & Forest Resilience in Sub-boreal Forests," on Wednesday, Nov. 9, at 7 p.m. The lecture will be held in person in the Mars Ag Center, room 201. Meunier's lecture is part of Sheridan College's 2022 Museum of Discovery Science Lecture series. This event is free and open to the public.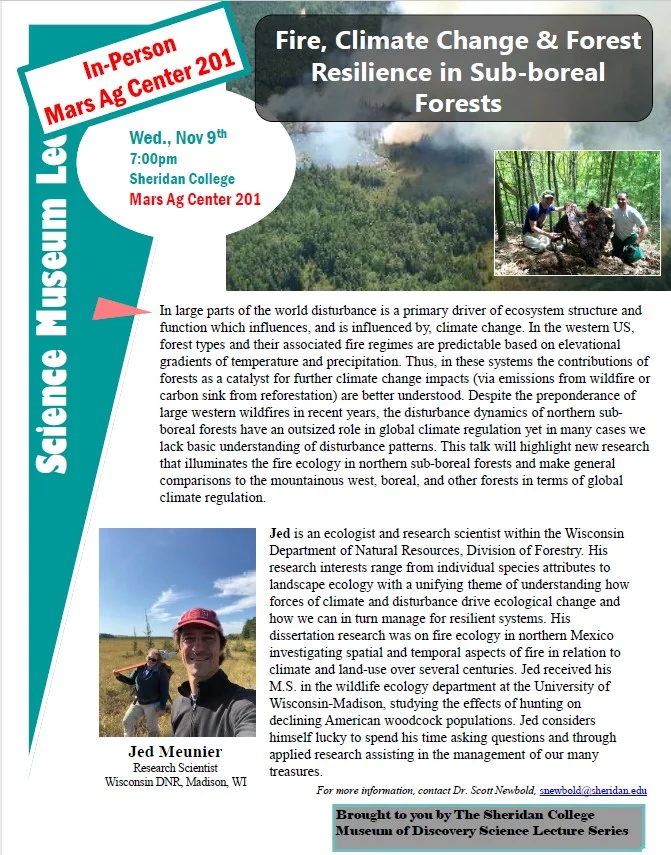 This talk will highlight new research that illuminates the fire ecology in northern sub-boreal forests and make general comparisons to the mountainous west, boreal and other forests regarding global climate regulation.
Meunier will discuss how in large parts of the world, disturbance is a primary driver of ecosystem structure and function, which influences climate change. According to Meunier, forest types in the western U.S. and their associated fire regimes are predictable based on elevational gradients of temperature and precipitation. Thus, in these systems, the contributions of forests as a catalyst for further climate change impacts (via emissions from wildfire or carbon sink from reforestation) are better understood.
"Despite the preponderance of large western wildfires in recent years, the disturbance dynamics of northern sub-boreal forests have an outsized role in global climate regulation, yet in many cases, we lack a basic understanding of disturbance patterns," said Meunier.
Meunier is an ecologist and research scientist within the Wisconsin Department of Natural Resources, Division of Forestry. His research interests range from individual species attributes to landscape ecology with a unifying theme of understanding how forces of climate and disturbance drive ecological change and how society, in turn, manages for resilient systems. Meunier's dissertation research was on fire ecology in northern Mexico, investigating spatial and temporal aspects of fire concerning climate and land use over several centuries. Meunier received his M.S. in the wildlife ecology department at the University of Wisconsin-Madison, studying the effects of hunting on declining American woodcock populations.
For more information about this or upcoming lectures, contact Dr. Scott Newbold at snewbold@sheridan.edu or call (307)-675-0770.