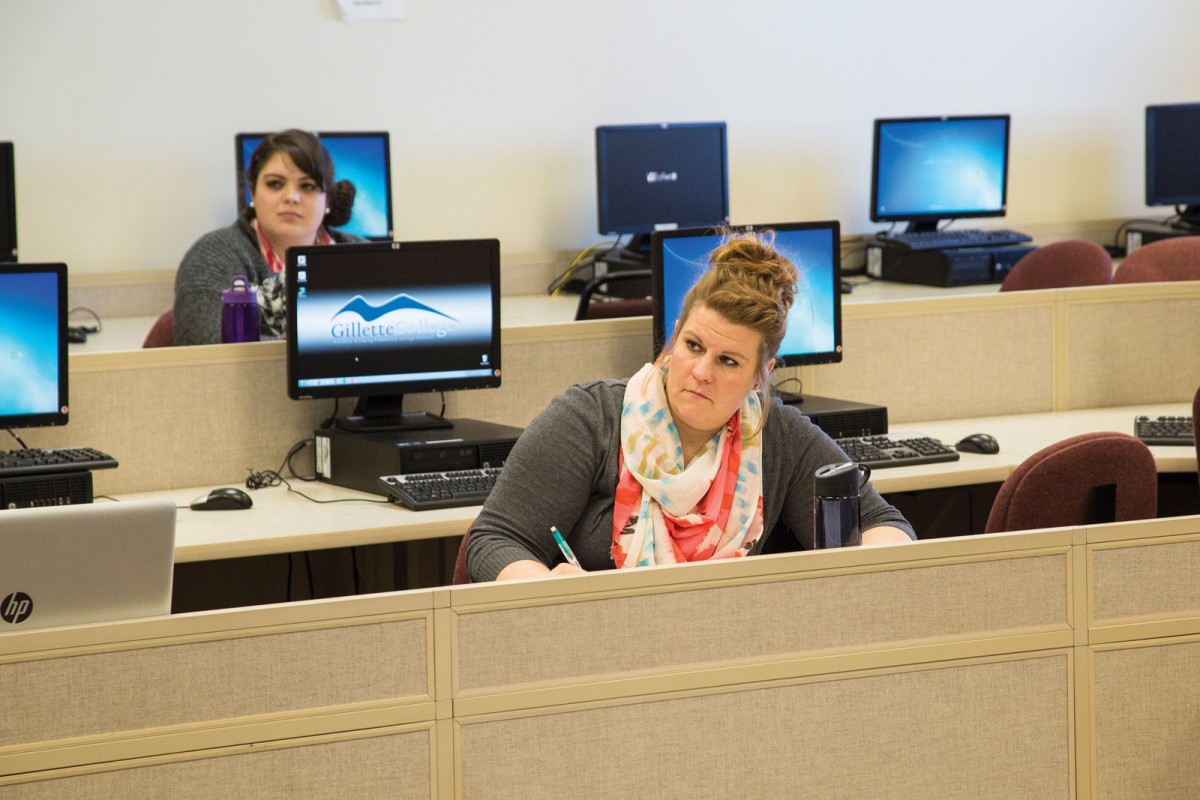 Tessa Robinson has a full slate of courses this spring, including Management and Organization, and Microeconomics. An ultra-involved student and former Campbell County business owner, Robinson enrolled at Gillette College to pursue an Associate degree in Business. She will graduate in May.
"I came to Gillette College because I needed to go back to school and further my education," said Robinson, originally from Montana. "Having a husband and two kids, being able to attend college right here is really convenient."
Robinson, who met her husband Josh on a logging barge in Alaska before finding work in the Energy Capital, is using Gillette College's dynamic Business program to prepare for an advanced degree. She will transfer to Black Hills State this fall.
Robinson is rounding her spring coursework with Ethics in Practice and English II. She helps fellow students in the college's on-campus Tutoring Center, works part-time with the Business faculty, and takes part in Gillette College's chapter of Phi Theta Kappa. "I think the community support of Gillette College is great," Robinson said.
"I think it's good that we are growing, both on campus and in the community. I think that is really important."
The Gillette College Business faculty has helped guide the program into a relevant, applicable course of study. Whether a student is looking to own and operate her own business, or pursue a higher degree, majoring in Business at Gillette College can provide the right platform for students to succeed, Associate Dean Scott Engel said.
"Students will get an opportunity to experience the depth and breadth of a great Business program with courses ranging from management to marketing, finance to macro- and microeconomics," Engel said. "They will learn how professionals behave, what business leaders think about, how to channel ambition in a positive direction and develop leadership skills.

"Ultimately we would like to see students continue on and obtain a Master's of Business Administration. Getting the prerequisites completed at Gillette College and the four-year school of their choice will prepare them for that goal."
Studying business in a region defined, in part, by its dominant energy sector and continuous economic development, provides an exclusive prospect for students, Engel said.
"The best part about the business program at Gillette College is the opportunity to learn in the Energy Capital of America," Engel said. "We have Fortune 500 companies right in town, which is unique for a community of our size. We also have explosive retail growth and expansion of existing industries so students have a chance to learn to manage growth in terms of sales, marketing, entrepreneurship and even international business."
Robinson said she has enjoyed learning about the international aspect of business during her time at Gillette College. Engel echoed the tunes of diversified coursework.
"We have an organization in town with 250 worldwide clients and we have small businesses of one or two employees. Gillette is really a business hub where there is lots of investment from venture capital to Dow stock," Engel said. "What an opportunity for students; to get in and get connected is what it is all about."