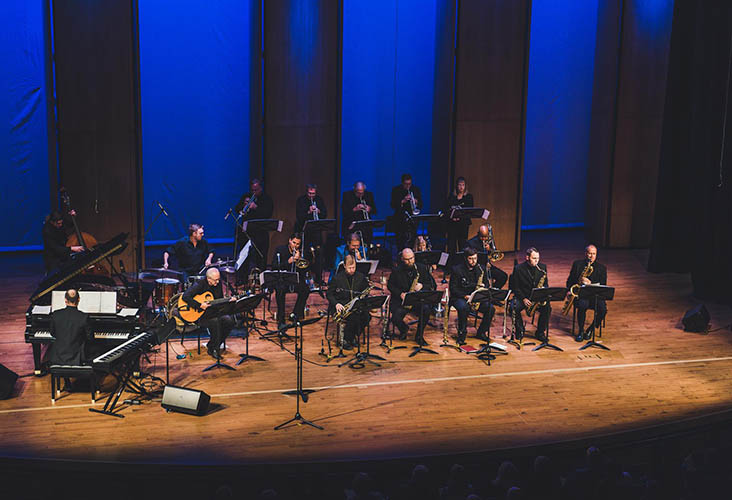 Whitney Center Jazz Orchestra
Saturday, April 22 at 7 pm in Kinnison Hall at Whitney Center for the Arts.
The Whitney Center Jazz Orchestra (WCJO) is the professional jazz orchestra in residence at the Whitney Center for the Arts at Sheridan College. This 19-member jazz ensemble is comprised of the finest professional jazz musicians in the region, many of whom serve on the faculties of the University of Wyoming, Montana State University, MSU-Billings, Northwest College, Casper College, and Sheridan College. The Musical Director of the WCJO is composer-arranger-trombonist Dr. Eric Richards, Director of Bands and Jazz Studies at Sheridan College. Eric's music for jazz orchestra is published worldwide and has been performed on six continents by professional and educational ensembles. Concert venues include Carnegie Hall, the Montreux, North Sea, and Nice Jazz Festivals in Europe, and the Shanghai Conservatory of Music. For more information, please visit http://www.soundcloud.com/ericrich
WCJO's artistic mission is to honor the great American Big Band tradition through performance of important repertoire and to advance the development of large jazz ensemble repertoire by performing new compositions, arrangements, and improvisations at the highest professional standard. WCJO's educational mission is to illuminate and inspire jazz musicians of all ages and backgrounds through an array of outreach activities and master classes. For more information on the Whitney Center Jazz Orchestra, please contact Eric Richards
Tickets: Adult: $25 Senior/Veteran: $15 Student (K-12, non-SC): $10 Live streaming: $10
Sheridan College students can attend for free.
This will also be live streamed.
Box Office | 307-675-0360 | arts@sheridan.edu
Hours: Mon. – Fri. 12:30pm – 3:30pm
The Box Office is open one hour prior to all events.