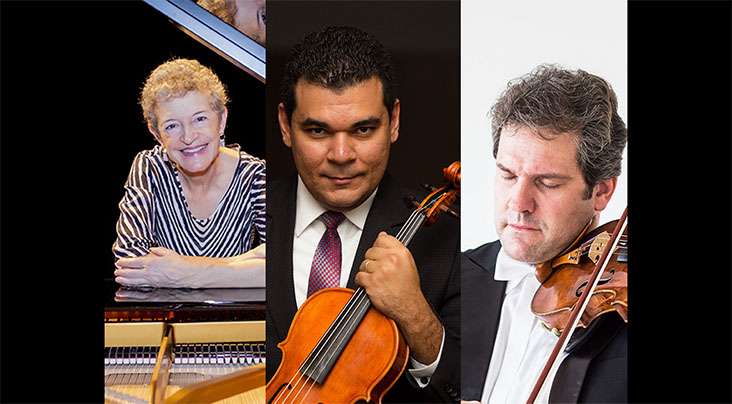 Trio Goiânia
Join us for a night of Brazilian music Friday, Oct. 14 at 7 pm in Kinnison Hall at the Whitney Center for the Arts. 
Featuring: Alessandro Borgomanero, violin; Luciano Pontes, viola; Theresa Bogard, piano.
Born in Rome, Alessandro Borgomanero graduated in 1992 with the Master of Art degree, at the University "MOZARTEUM" in Salzburg in the class of Ruggiero RICCI. He continued his studies with Boris BELKIN, at the Accademia Chigiana in Siena, with Salvatore ACCARDO in Cremona and with Rodolfo BONUCCI in Rome. As a soloist he performed with different orchestras such as: Philadelphia Virtuosi Chamber Orchestra, London Mozart Players, Berlin Chamber Orchestra, Salzburg Chamber Soloists, Filarmonica del Nisseno (Italy), Budapest Festival Orchestra, Orchestra Armonica Temperanza di Roma, Sinfonietta Salzburg, Budapest Strings, Tblisi State Chamber Orchestra ( Georgia), Vaasa Symphony Orchestra (Finland), Guayaquil Symphony Orchestra, National Orchestra of Ecuador, Bachiana Philharmonic Orchestra, New York Sinfonietta, Georgian Sinfonietta and most of the symphony and chamber orchestras of Brazil. In 2002 he played the first brazilian performance of the Violin Concerto nr. 2 from D. Schostakovich, and in 2005 he was invited to perform as soloist with the Kremlin Chamber Orchestra in two concerts at the Kremlin in Moscow, performing the Mendelssohn violin concerto. In 2009 he did the world premiere of the violin concerto "Katabasis" composed for him by Jaime Zenamon with the Paraná Symphony Orchestra. During the season of 2015, Mr. Borgomanero was invited to perform, also the world premiere, of the concerto for violin, saxophone and orchestra written by Helene Rasquier and presented at the Carnegie Hall in New York.
Born in the city of Goiânia Brazil, Luciano Pontes began playing violin at the age of fifteen. He graduated with a Doctorate of Cultural Performances, a Master of Music, and a Bachelor of Music, both from Goiás University (Brazil). Luciano has received prizes in international music competitions playing the viola, including Audience Favorite at the Boulder Bach Festival´s World Bach Competition (EUA), second prize at The North International Music Competition (Sweden), second prize at Kings Peak International Music Competition (EUA) and the second prize at Golden Awards Classical Music Competition in New York, where he played in the winner's concert at Carnegie Hall. Currently, he teaches viola, chamber music and orchestral practice at the Goiás University and directs the Jean Douliez Chamber Orchestra at the same university.
American pianist, Theresa Bogard is a dynamic, versatile performer dedicated to expanding the canon of traditional piano repertoire. Her early career focused on performances of music by women composers, and she continues to include works by other lesser known composers in her varied programs. As a recipient of a coveted Fulbright grant, Bogard was able to explore her interest in historical performance practice and fortepiano studying at the Royal Conservatory of the Hague in the Netherlands. That same year she was a top-prize winner in the International Mozart Fortepiano Competition in Bruges, Belgium. A world traveler with a passion for other cultures, Bogard has performed on five continents in Belgium, Austria, Germany, The Netherlands, Italy, Mexico, Bolivia, Brazil, New Zealand, Australia, Korea, Indonesia, Thailand, China, Taiwan, Singapore, and throughout the United States. Her extensive discography includes a wide variety of recordings ranging from solo piano to chamber music collaborations, from music of living composers to her specialty in fortepiano and historical performance practice. She has served on the faculty of the InterHarmony International Music Festival in Italy and the Sulzbach-Rosenberg International Music Festival in Germany and has performed at Carnegie Hall's Weill Recital Hall and at the Ravinia Steans Institute with cellist Misha Quint. Since her first concert tour in Brazil in 2007, she has become obsessed with the music of Brazilian composers. Returning to Brazil whenever possible, she has given masterclasses and performances at universities in São Paulo, Rio de Janeiro, Cuiaba, Curitiba, Florianopolis, Goiania and Porto Alegre. In 2018, she toured five cities in Brazil with the Trio das Nações and will return to Brazil in 2022 for a recording of works for flute and piano by Brazilian composers.
Ticket Pricing
All tickets: $10
Box Office | 307-675-0360 | arts@sheridan.edu
Hours: Tues. & Thurs. 1:00-3:00pm Wed. & Fri. 12:00-3:00pm
The Box Office is open one hour prior to all events.