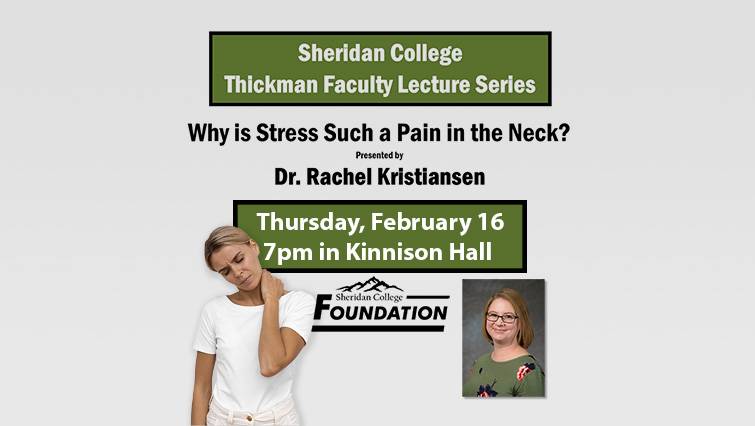 Thickman Faculty Lecture Series: Why is Stress Such a Pain in the Neck?
Presented by Dr. Rachel Kristiansen, Thursday, Feb. 16 at 7pm in Kinnison Hall.
Free and open to the public.
Stress: it is something with which we're all familiar, but do you truly understand how it affects you? In this lecture, Dr. Kristiansen will explain how both acute and chronic stress manifests in the brain and body, how it affects our physical and mental health, and most importantly, how to reduce it!
Dr. Rachel Kristiansen, a Sheridan native, is a full-time tenured faculty member at Sheridan College in the Psychology department. She received her PhD in Experimental Psychology from the University of Southern Mississippi in 2011. During her graduate career, she studied various species of cetaceans (dolphins and whales) in the Gulf of Mexico, Caribbean, Atlantic Ocean, and Pacific Ocean, and served as a research assistant in several projects with small primates. Her doctoral dissertation examined a factorial analysis of personality in horses across the globe. Publications of her research may be found in peer-reviewed journals such as Zoo Biology, the International Journal of Comparative Psychology, and the Encyclopedia of Animal Behavior and Cognition. In 2017, she completed a master's degree in Veterinary Sciences with a focus on animal shelter medicine from the University of Florida, as well as a graduate certificate in nonprofit leadership. She currently serves as the Animal Care Director for Second Chance Sheridan Cat Rescue.