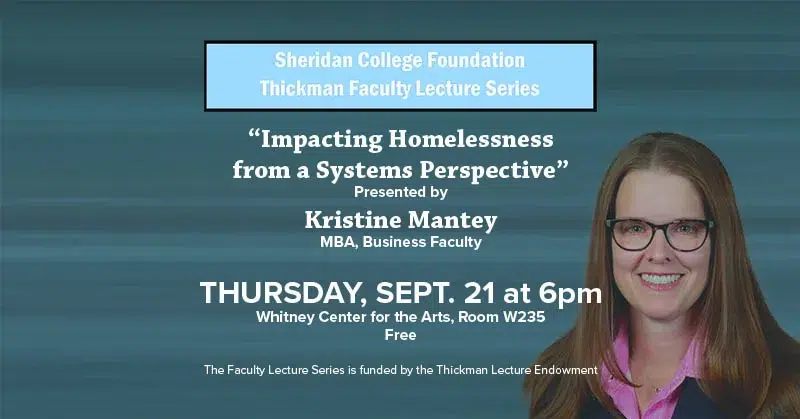 Thickman Faculty Lecture Series: Kristine Mantey
"Impacting Homelessness from a Systems Perspective" presented by Kristine Mantey, MBA, Business Faculty on Thursday, September 21 at 6 p.m. in W235 in the Whitney Center for the Arts.
The lecture will touch on some main points:
Social work is the ultimate big dollar project with a high risk of failure.
Systems thinking can be applied to social problems.
We can redefine decision-making in social work.
Empowering people to succeed through the use of metrics.
In various positions in finance and education over the past two decades, Kristine Mantey has worked on projects involving underserved and homeless populations. The experiences and information gained from these projects led to her involvement in the Acres of Diamonds program that is successfully helping homeless women become self-sufficient.  In her research, she has learned the importance of data-supported techniques for strategic decision-making and evaluating successful outcomes for societal problems.
Kristine believes one of the critical success factors in solving societal problems is education.  Coming to Sheridan College is giving her the opportunity to be part of a program where she can teach business and economics to people who are starting or growing a career, working in one of the trades, or have a dream of being their own boss.  She has a passion for sharing her knowledge and experience to help students achieve their educational goals.
Kristine holds a Master's in Business with a concentration in Finance from Seattle University and a Bachelor's of Arts in Economics with a minor in Architecture from the University of Washington.