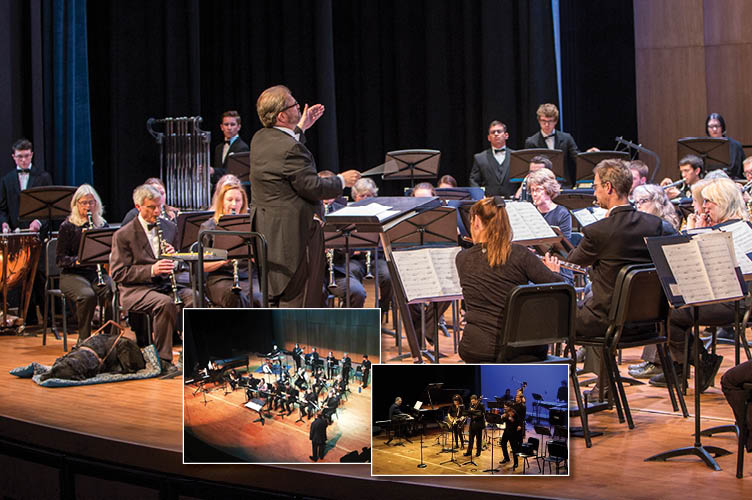 SC Bands POPS Concert
The Sheridan College Bands Program will present their 7th annual Spring POPS concert on Thursday, May 12 at 7p.m inside Kinnison Hall at the Whitney Center for the Arts.
This event is free and open to the public.
This family friendly concert celebrates music by Sheridan College students and community musicians in the Trombone Choir, Concert Brass Ensemble, Symphony Band, Jazztet combo and Jazz Ensemble big band.
The informal 'party concert' will feature everything from marches to concert overtures to funk, jazz and blues. Come join in on the fun to hear a retrospective program encompassing Dixieland Jazz, music of the Buffalo Bill Cody Cowboy Band, John Williams' "March from 1941", a concert suite from the musical "Hamilton", and exciting classic and contemporary jazz selections.
Featured soloists include: • Rayne Goins (AFA '22) and Cora Wood (AFA '22) performing Delibes' lovely "Flower Duet" on flutes
• Cora Wood performing her original song, "If Wishes Were Horses"
• Daniel Bleak singing Stephen Foster's "Come Where My Love Lies Dreaming"
• Rocio Gosende-Washburn performing Bobby Troup's "Route 66"
According to Dr. Eric Richards, Director of Bands and Jazz Studies, this annual tradition celebrates music created by Sheridan College ensembles throughout the year and closes the semester with a wonderful musical experience. "We hope to create a fun atmosphere of celebration for our campus community and as our Sheridan College Bands Program wraps up another successful year," said Richards. "It's a great chance for the community to relax and enjoy a wide range of music. We hope families attending Graduation will make this part of their visit to campus as well."