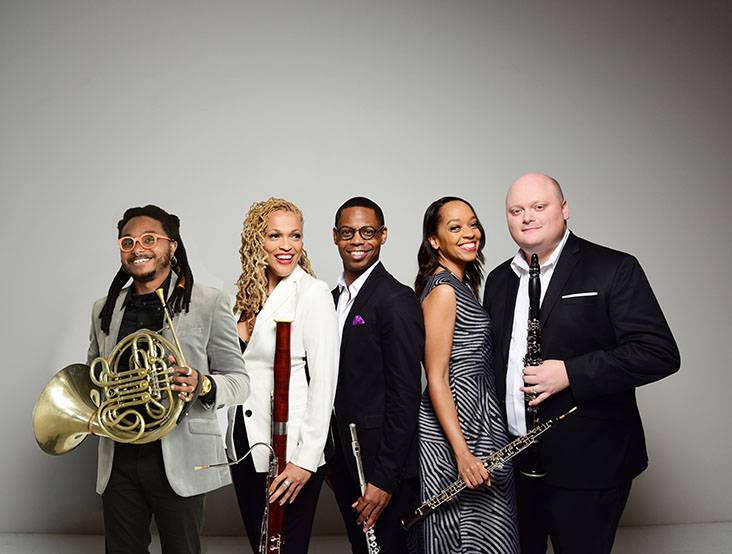 Imani Winds | Dinner and a Show
Join us Friday, April 28 at the Whitney Center for the Arts as we debut a new approach to concert-going here at Sheridan College by offering Dinner and a Show! 
$50 gets you prime seating to Grammy-nominated Imani Winds, two complimentary drinks (beer, wine, soft drinks), and a buffet themed "Little Italy." Bar opens at 5:15pm with dinner to follow. Limited to just 50 seats. The concert is at 7pm. 
Purchase Dinner and a Show Tickets
Celebrating over 20 years of music making, the twice Grammy-nominated Imani Winds has led both a revolution and the evolution of the wind quintet through their dynamic playing, adventurous programming, imaginative collaborations and outreach endeavors that have inspired audiences of all ages and backgrounds.
The ensemble's playlist embraces traditional chamber music repertoire, and as a 21st century group, Imani Winds is devoutly committed to expanding the wind quintet repertoire by commissioning music from new voices that reflect historical events and the times in which we currently live.
Tickets just for the concert: Adult: $30 Senior/Veteran: $20 Student (K-12, non-SC): $10 Live streaming: $10
Sheridan College students can attend for free.
Box Office | 307-675-0360 | arts@sheridan.edu
Hours: Mon. – Fri. 12:30pm – 3:30pm
The Box Office is open one hour prior to all events.